Amazon 4K Streamer Trades Remote for Voice Control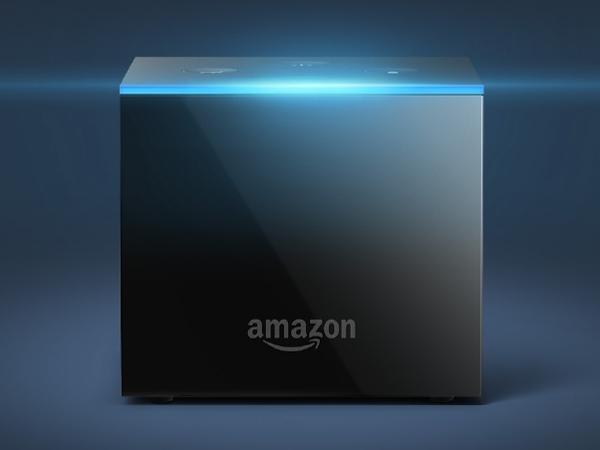 Amazon has expanded its popular Fire TV family of streaming media players with a new 4K/HDR-ready model featuring Alexa voice control.
The Cube is Amazon's first media player to incorporate Alexa, which lets you control your TV and cable box with voice commands from across the room.
The Cube is compatible with set-top boxes from Comcast, Dish, and DirecTV — which Amazon says covers more than 90 percent of households with a cable or satellite subscription — and supports high dynamic range (HDR) video content and Dolby Atmos surround sound — another first for Amazon streamers.
Amazon's far-field voice recognition technology uses eight microphones and advanced beamforming to help Alexa discern commands at a distance from any direction. The beamforming technology combines signals from individual microphones to suppress noise, reverberation, and competing speech to ensure voice commands are "heard."
Viewers can turn the TV on and off, adjust the volume, switch inputs, and change channels without picking up the supplied remote. Alexa will even wake up the TV when it's turned off. Say "Alexa, play Billions on Showtime," for example, and the player will turn on the TV and start playback where you left off.
A guided routine makes it easy to set up Alexa voice control for AV devices and navigating popular apps such as Netflix, Prime Video, Hulu, ESPN, Fox Now, Showtime Starz, PlayStation Vue, CBS All Access, and NBC. Many Alexa responses are optimized for the big screen and accompanied with "rich visual information," according to Amazon.
The Fire TV Cube will be available June 21 but can be pre-ordered in advance for $120. Amazon is offering a limited-time discount to Prime members, who can pre-order the player on June 7 and 8 for $90, and a $10 Prime Video credit for customers who purchase and register the Cube before July 1.
For more information visit amazon.com.