The Adjustment Bureau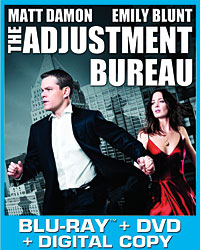 Philip K. Dick struggled to make a living as a science fiction writer through the majority of his life. It wasn't until shortly before his death that Do Androids Dream of Electric Sheep? was adapted to the screen and became the classic Blade Runner. After his death in 1982, nine additional Dick stories have turned into feature films, including box-office successes Total Recall and Minority Report. His latest adaptation is from his short story The Adjustment Team, in which humanoid creatures can influence people's lives without them knowing in order to ensure that they comply with a mysterious Plan orchestrated by the Chairman.
Matt Damon stars as David Norris, a popular New York congressman who's a shoo-in to win a U.S. Senate seat in 2006 until a political scandal derails his campaign. Before he gives his concession speech, he ventures into a hotel bathroom and is interrupted when Elise (Emily Blunt) emerges from a stall and encourages him to be more honest. Her advice inspires David to drop the political speech and instead ad-lib from the heart. Thanks to this honesty, he becomes the front runner for the 2010 election. According to the Plan, David and Elise are never to meet again, but when a worker at the Adjustment Bureau screws up, the two run into each other on a city bus, and the Bureau will do whatever it takes to ensure that the Plan gets back on track.
This release doesn't have one of the better-looking video transfers I've seen this year, with middling detail and some crushed blacks. Daytime scenes look the best, with adequate depth and bright colors. The sound design is very engaging, with many front-to-back pans, lifelike atmo- sphere, and a plethora of discrete effects when our hero is trying to evade the Bureau.
Supplements include the obligatory feature commentary from director George Nolfi, seven deleted and extended scenes, a cumbersome interactive map that shows how the Bureau moves around Manhattan, and three short featurettes. Also included is a DVD and Digital Copy of the film along with limited BD-Live access to Universal's network.
Nolfi combines elements of political thriller, romance, and science fiction to create a wildly entertaining experience. Blunt and Damon have genuine chemistry, and notwithstanding the impossible odds against them, you want them to end up together despite the efforts of the Adjustment Bureau hooligans. While this isn't the best adaptation of Dick's work, it's definitely worth checking out.
Ratings
Picture: 4
Sound: 4.5
Extras: 3
Interactivity: 1
Specs
Studio: Universal, 2011
Aspect Ratio: 1.85:1
Audio Format: DTS-HD Master Audio 5.1
Length: 106 mins.
MPAA Rating: PG-13
Director: George Nolfi
Starring: Matt Damon, Emily Blunt
LATEST VIDEO