Acurus Announces 20-Channel Upgrade for ACT 4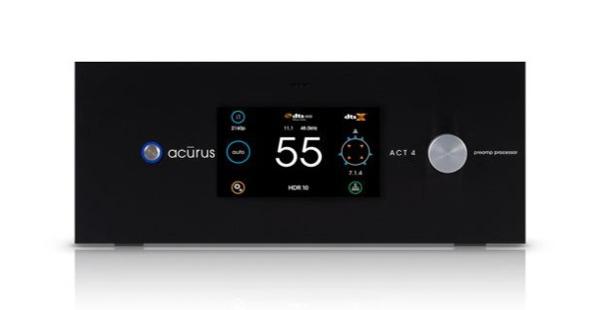 Indy Audio Labs (IAL), owner of the high-performance audio brands Aragon and Acurus, has announced plans to expand the immersive audio capabilities of it ACT 4 preamp/processor to 20 channels.
IAL says with the upgrade the ACT 4 becomes the first processor to offer that level of immersive-audio performance for less than $10,000.
Starting in April, new ACT 4 processors will ship with the ability to natively decode Dolby Atmos 9.1.6-channel layouts with support for up to four more configurable channel outputs for systems with 9.5.6 or 9.7.4 channels. The units are built at IAL's factory in Jeffersonville Indiana. Pricing had not been finalized as of this writing but is expected to be between $9,499 and $9,999.
The company will also offer a hardware/firmware upgrade kit in April that adds the new processing capabilities to existing ACT 4 processors. Pricing was not available but IAL said it will be reasonable for the substantial upgrade it will deliver.
The upgrade will also enable a new proprietary automatic room correction tool — the Acurus Speaker Parameter EQ Tool, or ASPEQT — which will "dramatically simplify" EQ and room tuning for high-performance immersive audio setups. The tool is slated for release in the spring.
The ACT 4 is covered by a five-year warranty and supports home automation control systems from Savant, C4, Crestron, Elan, Kramer, and URC.
"We were the first sub-$10,000 wholly-designed American immersive audio processor, first with both 7.3.6 Dolby Atmos and 7.1.4 DTS:X native decoding, first with full support of HDMI 2.0b with HDCP 2.2, and now first to expand into the 20-channel realm with 15.1 Dolby Atmos native decoding plus 4 extra configurable channels," said Indy Audio Labs co-founder and CTO, Ted Moore.
"Couple this layout expansion with the ACT 4's superb implementation of the latest Dolby and DTS upmixers and you have a listening experience that's as phenomenal as it is flexible."
For more information, visit indyaudiolabs.com.