Acer VL7860 DLP Projector Review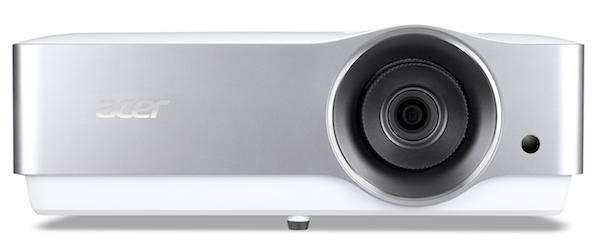 PRICE
$3,999
AT A GLANCE
Plus
Bright picture with powerful contrast
Detailed Ultra HD image
Maintenance-free laser light engine
Minus
Some loss of highlight detail with HDR
Requires calibration for best performance
Limited wide color gamut display
THE VERDICT
The Acer VL7860's detailed picture and impressive contrast elevate it above the entry-level 4K DLP projector pack. In this case, 4K for 4K is a good deal.
With DLP projectors capable of displaying 4K Ultra HD signals now selling for $1,500 or even less, they present an affordable alternative to higher-cost 4K LCOS models from Sony and JVC. Even longtime LCOS stalwart JVC has jumped in on the game, with the company recently announcing its first DLP projector, a $2,500 4K-capable model.
What separates the new DLPs from most 4K projectors in the LCOS camp is the way they display UHD. Starting with a Texas Instruments Digital Micromirror Device chip that has a native resolution of 2716 x 1528 pixels, a combination of video processing and pixel-shifting is used to present two half-UHD frames in rapid succession. This sequence happens so rapidly that the eye processes a full 8.3 million-pixel UHD image, one virtually indistinguishable from what you see with projectors that use native 4K-resolution imaging chips with a full set of discrete pixels.
One of this new breed of 4K-capable DLP projectors is Acer's VL7860, a model that, at $4,000, doesn't exactly have an entry-level price tag. What elevates the VL7860 in value is its laser phosphor light engine, which delivers 3,000 lumens brightness and is rated to last 30,000 hours in Eco mode. It's also compatible with HDR10 high-dynamic range (HDR) signals, provides 10-bit processing, and has onboard ISFccc modes for a calibration tech to store custom settings for daytime and dark room viewing.
Acer pitches the VL7860 as the "world's smallest 4K UHD laser projector." Not surprisingly, the VL7860 has a relatively compact form-factor, its white case measuring 18 x 6.2 x 11.4 inches (WxHxD). Inputs on the rear panel include a pair of HDMI jacks, one of them labeled "UHD/4." That's where you'll want to plug in your Ultra HD Blu-ray player or other 4K/HDR-compatible source. There's also a VGA input for a computer and a 5-volt DC output to power a Chromecast or other streaming stick connected to one of the projector's HDMI inputs.

The small remote control that Acer packs with the VL7860 has a fully backlit keypad and buttons to call up a range of basic and advanced picture settings. These let you quickly tweak brightness and contrast or switch between gamma settings and HDR display modes without having to route through a succession of onscreen menus. It also lets you switch on the Super Resolution feature to heighten image detail in soft-looking TV programs or discs without having to resort to the coarser Sharpness adjustment.
Setup
I evaluated the VL7860 with the projector positioned 10 feet from a 92-inch diagonal, 1.1 gain Stewart Filmscreen Cima screen, a distance that placed it approximately in the middle range for the projector's 1.6x zoom lens. Zoom and focus controls on the VL7860 are manual, with both surrounded by ribbed control rings that make it easy to dial in fine adjustments. The projector provides adjustable feet to correct geometry when placed on a table or shelf, and it has a vertical lens shift control wheel that lets you adjust for up to 15% of picture height.