4 Ways to Hide Your TV in Plain Sight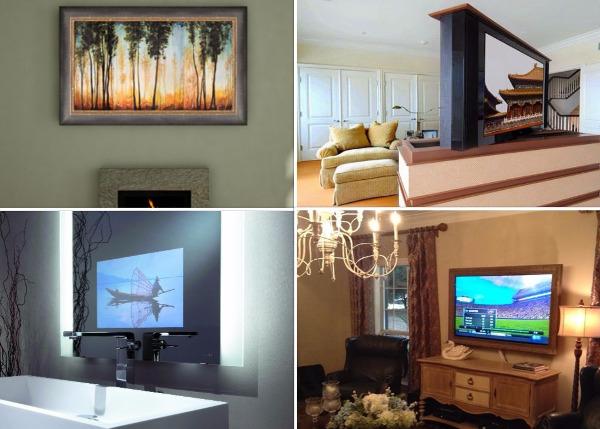 When I first opened our custom installation showroom back in 1995, I chose a location right next door to a custom home decorator. I assumed this would create a terrific synergy where clients could select their audio/video gear from us and then walk next door to incorporate it into the decorator's vision. Unfortunately, we quickly discovered that decorators hated the look of electronics and didn't want it to be any part of their aesthetic. And no two components attracted the decorators' ire like televisions and subwoofers.
In those days, we were dealing with massive tube and rear-projection TVs, and there was really little that could be done to conceal that enormous piece of electronics sitting in the middle of the room. Usually, customers opted for some giant entertainment center or built-in furniture with doors to hide the TV when not in use.
Fortunately, technology has steadily improved since the '90s, and today we have tons of affordable installation options and possibilities enabling your home to be technology-decorator—technorator?—friendly. With modern, ultra-thin flat-panel sets, even the largest TVs mount pretty discreetly and fit into the décor of virtually any room. However, if the idea of a giant screen on your wall offends your style sensibilities, there several ways to enjoy a large TV without having it dominate your room.
1. Frame It – As bezels around screens have shrunk, TVs look increasingly sleek and modern. While this may be perfect in a media room, it might be the wrong focus in a family room. Companies like Flatscreen Framing build custom frames that surround the TV to make it look like a piece of art on the wall. These come in a ton of styles and finishes and are relatively inexpensive. (There are even DIY posts to make your own!) The end result can make your TV look like something that belongs in a museum.
As an added touch, there are thousands of hi-res images available in the public domain you can download onto a USB drive and display on your new TV. (Try images.nga.gov.) Some of these images from the National Gallery of Art are in better-than-4K resolution and look stunning, letting you appreciate every brush stroke and canvas texture from the original masterpiece. Alternatively, you could use the TV as a digital picture frame to highlight your own digital photos. Since LED TVs aren't prone to burn-in and have life spans rated to 60,000 hours, you can use your new TV as virtual art around the clock for nearly seven years!
2. Conceal It – One of the items garnering the most attention in our showroom is our VisionArt display. This completely conceals the television by framed artwork when not in use. When it's time to watch TV, the art rolls up inside the frame—either via contact closure trigger, IR, or RF Remote—and the screen is revealed. There are tons of frame and artwork choices available (or you can supply your own). Frames and art can be custom-sized to perfectly match your set's screen/bezel size, and you could even order it large enough to conceal a TV and soundbar!
3. Mirror, Mirror on the Wall… – If art isn't your thing, then perhaps Séura's vanishing TV mirrors will rock your world. By incorporating an ultra-thin LED TV into a frame system with a specially designed mirror, the TV is undetectable when off, looking like an ordinary mirror. When powered on, the TV magically appears seemingly from nowhere.
While Séura does make larger (up to 65-inch) models that can be used in living rooms, I find the glare and color shift from the mirror to be less than ideal for daytime or critical viewing. However, where Séura shines is for smaller sets in a bathroom, where you want to occasionally watch something when getting ready but don't have the space for a traditional TV.
4. Lift It – If you want to keep your walls totally clutter-free but want a TV to appear on command, a lift system that raises the TV up out of a cabinet or from under the floor, or that drops down out of the ceiling is the perfect solution. For simple up/down lifts, Auton is terrific. However if you are looking for something truly "WTF?!" awesome, U.K.-based Future Automation crafts some of the gnarliest motorized mounts imaginable. These can be costly, but they deliver the ultimate in stealth TV viewing.
In an upcoming blog, I'll discuss ways to camouflage designers' other nightmare: the subwoofer.