3-Day Capital Audiofest 2023 Opens Today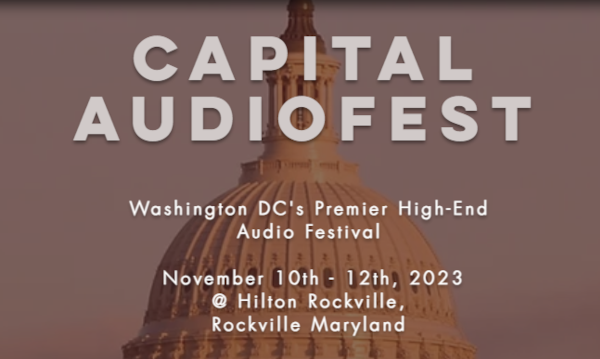 Capital Audiofest 2023 returns to the metro Washington, D.C. today and runs through Sunday, November 12, offering enthusiasts the chance to touch, see, and hear some of the latest audio gear.
Sound & Vision will be there, so watch these pages for our coverage.
Billed as the area's leading high-end audio festival, the show is being held at the Hilton Washington DC/Rockville in Rockville, MD, 25 miles from the United States Capital and less than 20 miles from The White House. Attendees will also have the opportunity to peruse multiple bins of vinyl records, CDs, and accessories in the Atrium Marketplace and enjoy live music performances in the evenings.
The show is open from 10 a.m. to 6 p.m. on Friday and Saturday and from 10 a.m. to 4 p.m. on Sunday. The price of admission is $20 for a Single Day Pass or $30 for a Multi-day Pass. Admission is free for students with ID and, on Friday only, admission for Military with ID is $10.
Upwards of 300 mostly smaller brands will be represented at the event with Cambridge Audio, Elac, Emotiva, GoldenEar, Klipsch, NAD, Paradigm, Q Acoustics, Qobuz, SVS, Technics, and Yamaha standing out as larger or better known brands. Click here for a list of the brands exhibiting.
Capital Audiofest started in 2010 as a small, casual show and over the years has evolved into a well-organized and well-attended event. For more information on the show and to get tickets, visit capitalaudiofest.com.