27 Dresses (Blu-ray)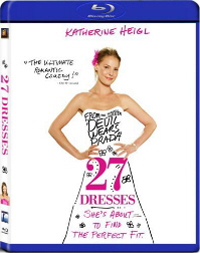 Always a bridesmaid and never the bride, Jane (Katherine Heigle) has filled this role 27 times and has a closetful of dresses to prove it. When her younger sister Tess (Malin Ackerman) comes to town and catches the eye of her boss George (Edward Burnes)—with whom Jane is secretly in love—she is inspired to put herself first for a change.
Parts of this movie work really well, such as the flirtatious interactions between Jane and reporter Kevin (James Marsden), who have genuine chemistry. But the romance between Tess and George is simply not believable. My favorite character is Jane's friend Casey (Judy Greer), who provides some pretty good one-liners and lots of laughs.
The AVC presentation mimics the plot line—hit and miss. Colors are vibrant and accurate, and compression isn't an issue, but the photography is very inconsistent. The detail changes between camera angles, with one looking razor sharp and the next looking soft. Also, the skin tones look airbrushed, with little to no texture from natural pores or blemishes. Black levels waver from near inky to different shades of gray. I expected more from a day-and-date title.
The DTS-HD Master Audio 5.1 soundtrack is a step up from the video, but it's nothing to write home about. Films of this genre are known for dialog-driven audio, and in this case, dialog is easily intelligible and the soundtrack is pleasant. The surround channels are used strictly for ambience and never call attention to themselves.
There is a variety of deleted scenes as well as four different production featurettes. The featurettes are in HD, but the deleted scenes are shown in standard definition. With a BD50 disc, space isn't an issue, and I would have preferred all the bonus materials to be in high definition.
My wife is a huge fan of romantic comedies, yet even she had some issues with this film. The story is a bit over-the-top, and our eyes were rolling on more than one occasion. If you are still interested, I would recommend you rent before you buy.
Release Date: April 29, 2008
Film: 5 out of 10
Picture: 6 out of 10
Sound: 7 out of 10

Review System
Source
Sony PlayStation 3
Display
JVC DLA-RS1 projector
Stewart FireHawk screen (76.5" wide, 16:9)
Electronics
Yamaha RX-Z11 AVR
Belkin PF60 power conditioner
Speakers
M&K S-150s (L, C, R)
M&K SS-150s (LS, RS, SBL, SBR)
SVS PC-Ultra subwoofer
Cables
Monoprice HDMI cables (source to pre/pro)
Best Deal analog-audio cables
PureLink HDC Fiber Optic HDMI Cable System (15 meters) from pre/pro to projector
LATEST VIDEO