$230 Adapter Connects WiSA Speakers to LG TVs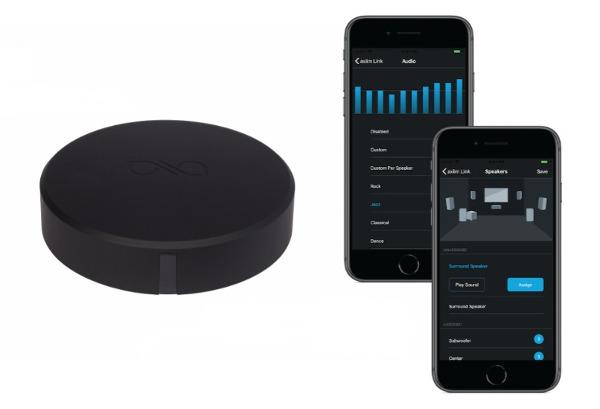 Axiim, a Kirkland, WA-based maker of WiSA-compliant wireless home theater speaker systems is now shipping a $230 app-based adapter that enables WiSA-certified speakers to connect wirelessly to certain LG TVs.
Compatible with LG's 2019 OLED and NanoCell TVs, the Axiim LINK connects to the TV via a micro-USB cable and enables uncompressed 24-bit/96-kHz audio signals to be transmitted wirelessly to WiSA-certified speakers available from Klipsch, Harman Kardon, Bang & Olufsen, SA (System Audio), Platin, and Enclave Audio.
A "simple and intuitive" speaker setup menu automatically appears on screen when the transmitter is connected to the TV. Setup takes a few minutes, according to Axiim, and when complete establishes an uncompressed, low-latency wireless audio connection between the TV and speakers.
A companion app, available for iOS and Android devices, enables sophisticated control of the speaker system, including the ability to adjust the level of each speaker, set LFE crossover points, and shape the sound using a 10-band equalizer. The app also provides audio mixing and bass management for systems with as few as two speakers or as many as seven plus a subwoofer (a 7.1 setup).
The Axiim LINK also supports Bluetooth streaming from mobile devices.
"Our WiSA Ready enabled OLED and NanoCell TVs allow consumers to enjoy the advantage of truly immersive wireless sound without an overly complicated setup," explained Tim Alessi, LG's senior director of product marketing. "The Axiim LINK transmitter…supports many of the advanced audio features found in today's highly complex home theater solutions."
For more information, visit axiim.com. Click here for information on WiSA.