2002 CES Day Two
Samsung is making a major push on several fronts, including DVD, hard disk, and flat screen technologies. One of the more intriguing prototypes on display at the LV Convention Center is the company's DVD player/hard-disk recorder combo, whose 50GB drive can accommodate up to 20 movies. The films can be saved in a compressed video format directly off DVD and watched as often as you like. There is no digital output on the machine (it does have analog component video out) so there is no easy way to make digital copies. Like TiVo's PVR, the Samsung recorder will require deleting some recordings when the disk is full. The fact that the recordings are not transportable helps Samsung skirt copyright issues, according to a representative.
He also told us that Samsung pumped more than half a billion dollars into a new plasma screen factory in the past year, but that the company's TFT (thin film transistor) LCD screens are expected to eclipse plasma sales "once some of the bugs are worked out." A prototype 40" LCD screen looked very promising, despite some pixelization and motion artifacts—and it was on display next to a $10K HPL4225, Samsung's best 42" plasma unit. Installation will be a breeze with the rugged LCD devices: a 40" screen weighs only 30 lbs. Retail prices should be less than half those of plasma screens. For those who love movies to go, Samsung also has a new line of portable DVD players with integrated TFT LCD screens. The 10" DVD-L100 (with 16:9 aspect ratio) is a winner of a CES 2002 Innovation Design and Engineering Award.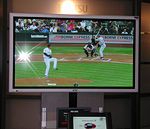 Fujitsu has debuted its "biggest and best" PlasmaVision slim screen monitor, the 61" PDS-6101, intended for both home theater and commercial applications. The big display uses "Advanced Video Movement" digital processing to eliminate motion artifacts and flicker. Fujitsu claims 1365 x 768 pixel resolution, and says the PDS-6101 can output images at 480p, 720p, and 1080i. The company has also upgraded the picture quality of its 42" plasma screen, and lowered the price. The new PDS-4233 will sell below the $6000 point, according to news released here.
Sharp Corporation, whose $10K DLP projector is still one of the most compelling home theater products a year after its debut, has also made major headway in the plasma arena. The company's 50" high-def model PZ-50HV2U is another recipient of a CES 2002 Innovation Design and Engineering Award. The monitor is capable of very high brightness and an amazing contrast ratio of 830:1. Its input section accepts component video and computer feeds; two NTSC tuners enable picture-in-picture. The 50HV2U will be available this month at approximately $15K retail.
Stewart Filmscreen Corporation has introduced a new flexible screen for use with front projectors. The "FireHawk," used by Sharp to demo its DLP projector, offers excellent gain, detail, and off-axis brightness. The FireHawk is ideal for use with DLP projectors, according to vice president Don Stewart, because it dampens room cross-light reflections and maximizes black levels.
Vidikron is showing its Vision One CRT projector in several hot colors. The Hillside, NJ–based company has chosen CES 2002 to launch its new Single Scan Scaler, a video processor that "combines optimal resolution matching with state-of-the-art motion processing . . . improving video performance at a reasonable price." Incorporating some of the same processing technology used in Vidikron's more expensive scalers, the custom-configured "S3" is said to offer the same deinterlacing and upconversion benefits of the DVS 5500 for only $5000. The S3 is said to be ideal for use with flat screen LCD or plasma monitors and single-lens projectors.
Zenith has become a huge player in the home theater market since its acquisition by LG Electronics. The company is demonstrating a wide array of products for the home theater enthusiast: high-def plasma screens, direct-view HD television sets, rear-projection HD monitors, and lightweight LCD projectors among them. The LWX-150 LCD home theater projector uses three 16:9 polysilicon panels to generate a widescreen image with brightness rated at 1000 ANSI Lumens and 1280 x 720p resolution. Sibling projector the LXG-135 boosts brightness to 1500 ANSI Lumens, and is claimed to be compatible with the 720p and 1080i formats.
Three direct-view HD sets were debuted by Zenith here in Las Vegas: the 32" C32V23, the widescreen 34" C34W23, and the 36" C34W23. All of them feature Zenith's 8-VSB chipset, said to offer improved reception of over-the-air DTV signals. Internal ATSC tuners eliminate the need for external receivers and converter boxes; NTSC tuners insure continued reception of analog programming. Prices will range from $1500 for the C32W23 to $2499 for the flagship model C34W23.