17 Again (Blu-ray)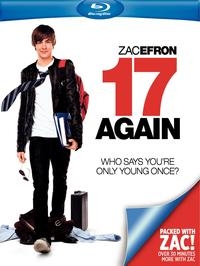 High-school basketball star Mike O'Donnell (Zac Efron) has a life-changing experience before the biggest game of his career. Just before tipoff, his girlfriend Scarlett (Allison Miller) tells him of her pregnancy, and he chooses marriage over college.
Fast forward nearly 18 years, and Mike's (Matthew Perry) life is in shambles. His wife has filed for divorce, his kids don't communicate with him, and he's passed over for a promotion at work. To add insult to injury, he has to live with his best friend (Thomas Lennon), whose obsession with fantasy and science fiction makes Mike very uncomfortable. When a mysterious man offers him the opportunity to go back and choose again, he gets much more than he bargained for when he's turned into a 17-year-old and attends the same school as his two kids.
Body-switch films have been done many times before in Hollywood with titles such as Big, Freaky Friday, and Peggy Sue Got Married. This one doesn't break any new ground, but it is very funny and has a heartwarming message. Teen heartthrob Zac Efron excels as a mid-thirties guy stuck in a 17-year-old body, especially when mentoring his kids and espousing his views on teen sex—a subject that changed his own life. But as much as I liked his character, it's the supporting roles that carry the film. Thomas Lennon is hilarious as his best friend, and his pursuit of a romantic relationship with the school's principle (Melora Harden) adds a lot to the story.
The 1080p/VC-1 encode is pleasing to the eye with richly saturated colors, deep blacks, and above-average detail. Close-ups are sharp as a tack, and longer shots retain most of their definition without any edge enhancement. Flesh tones are a little biased toward orange, but the location looked to be somewhere in southern California, where everyone seems to sport a year-round tan, so I assume they were meant to look that way.
A solid audio experience awaits in the Dolby TrueHD 5.1 soundtrack with rich, clearly intelligible dialog. Suitable ambience emanates from the surround channels, which are quite active on occasion, especially when Mike falls through the vortex that transforms him into a teenager. The musical score features some hip-hop that opens up the dynamic range, especially during the basketball pregame in the first act.
The bonus features include over 30 additional minutes with Zac Efron, so the target demographic (teenage girls) should be happy. At any rate, the set contains a digital copy, a DVD plus traditional supplements including a PIP trivia track, deleted scenes, outtakes, and a few featurettes—the best is a retrospective from the actors on their teenage years. Rounding things out is BD-Live access with additional content such as movie trailers from Warner, which includes the upcoming Blu-ray release of The Lord of the Rings trilogy.
I'm sure that everyone wonders how their life would be different if at a pivotal point they chose differently. Considering the quality of comedies I've had to endure lately, I found 17 Again very refreshing. The A/V quality won't blow you away, but it's definitely worth a look. Recommended.
Release Date: August 11, 2009
Studio: Warner
Movie: 7/10
Picture: 8/10
Sound: 8/10

Review System
Source
Oppo BDP-83 Blu-ray player

Display
JVC DLA-RS1 projector
Stewart FireHawk screen (76.5" wide, 16:9)
Electronics
Onkyo Pro PR-SC885 pre/pro
Anthem PVA-7 power amplifier
Belkin PF60 power conditioner
Speakers
M&K S-150s (L, C, R)
M&K SS-150s (LS, RS, SBL, SBR)
SVS PC-Ultra subwoofer
Cables
Monoprice HDMI cables (source to pre/pro)
Best Deal analog-audio cables
PureLink HDC Fiber Optic HDMI Cable System (15 meters) from pre/pro to projector

Acoustical treatments from GIK Acoustics
LATEST VIDEO