10 Things I Hate About You (Blu-ray)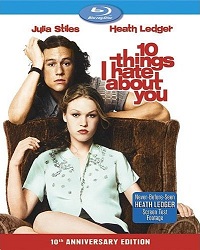 High school sophomore Bianca Stratford (Larisa Oleynik) has two invitations to the prom and one big problem: her father (Larry Miller) won't let her go unless her antisocial older sister Kat (Julia Stiles) attends as well. Things start to look up for Bianca when Kat catches the eye of Patrick Verona (Heath Ledger), who's been paid $300 by her sister's suitors (Joseph Gordon-Levitt and Andrew Keegan) to woo her.
It's been years since I'd seen the film and I'd forgotten how much fun it is. Today's teen comedies pale in comparison to this witty tale of high school angst, teenage love, and an overprotective father. The performances are outstanding, especially Julia Stiles and her one take reading of the memorable poem "10 Things I Hate About You" that made the cast and crew weep during filming (and the audience too).
Encoded in AVC, the 1080p transfer is a decent effort for low-budget teen flick from the 1990s. Colors are generally strong and well saturated, although Disney didn't apply any noise reduction and the result is a grainy image (especially in the first act). If given the choice between grain and waxy flesh tones, I'll take the grain (it is film after all). Resolution is adequate, although there are a couple of instances of some ringing, but thankfully they're kept to a minimum.
The DTS-HD MA 5.1 soundtrack won't test the prowess of your audio system, but it's serviceable for the genre and age. Dialog is clear and intelligible, and the killer soundtrack occasionally opens up the dynamics. The surround speakers provide some minor ambience, but don't expect too much action from the rear of the room.
Supplements are sparse but include an interesting look back at the production with "10 Things I Love About 10 Things I Hate About You 10 Years Later" that includes interviews with some of the cast, the director, and the writers. The only additional bonus feature is a commentary track with the writers (Karen McCullah Lutz and Kristen Smith) and four of the actors (Andrew Keegan, David Krumholtz, Larisa Oleynik, and Susan May Pratt).
Unlike most of today's teen comedies, 10 Things I Hate About You doesn't throw itself into the gutter in order to garner a laugh or two. Sure, the guidance counselor's unique advice to the kids is a tad crude, but it's mild by today's standards. Recommended.
Release Date: January 5, 2009
Studio: Disney
Movie: 8/10
Picture: 7/10
Sound: 7/10

Review System
Source
Oppo BDP-83 Blu-ray player

Display
JVC DLA-RS1 projector
Stewart FireHawk screen (76.5" wide, 16:9)
Electronics
Onkyo Pro PR-SC885 pre/pro
Anthem PVA-7 power amplifier
Belkin PF60 power conditioner
Speakers
M&K S-150s (L, C, R)
M&K SS-150s (LS, RS, SBL, SBR)
SVS PC-Ultra subwoofer
Cables
Monoprice HDMI cables (source to pre/pro)
Best Deal analog-audio cables
PureLink HDC Fiber Optic HDMI Cable System (15 meters) from pre/pro to projector

Acoustical treatments from GIK Acoustics