'Strike Back' Season 5 Arrives on Blu-ray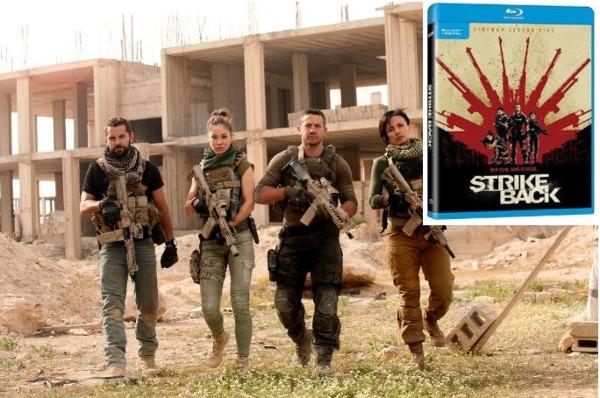 You can't keep a good series down. When Cinemax's top-tier action series
Strike Back
signed off seemingly for good in 2015 after five über-thrilling series installments, all signs pointed to the show putting its legacy to rest after triumphantly biking off into the sunset.
But that was then and this is now, as was quite handily proven by the ace new team recruited for enacting the sacred and secret Section 20 missions comprising Strike Back: The Complete Fifth Season, now available on Blu-ray and DVD via Cinemax/HBO.
Blu-ray.com had this to say about Season 5: Built with the same high-intensity as past seasons, "…Strike Back makes its triumphant return…" (TV Guide), with a new, fierce group of male and female soldiers, including Sergeant Thomas 'Mac' McAllister (Warren Brown, The Dark Knight Rises), Sergeant Samuel Wyatt (Daniel MacPherson, Infini), Lance Corporal Gracie Novan (Alin Sumarwatta, Burning Man), and Captain Natalie Reynolds (Roxanne McKee, Game of Thrones, Crossfire), to help track down a notorious terrorist after a brutal prison break.
When fanatical terrorist Omair Idrisi escapes from Syrian authorities with plans to launch an unprecedented attack that could change the face of modern warfare, the ensuing manhunt can only be entrusted to counterterrorism's best and brightest. Enter Section 20 — the elite, multinational, covert special ops team tasked with tracking down Idrisi and his British co-conspirator wife, Jane Lowry.
"Their action-packed manhunt will take the unit across North Africa, the Middle East and Europe, from glitterati soirees to underworld cage fights, as they uncover and attempt to dismantle a vast global web of interconnected criminal and terrorist activity."
To get the full-on Section 20 scoop, Mike Mettler spoke with SB S5 stalwarts Alin Sumarwata, Warren Brown, and Daniel MacPherson, all of whom gathered in the early morning hours from the secret overseas location where they were shooting Season 6 to discuss specific language and dialogue choices, their favorite action sequences, and what each of their character's respective theme songs might be.
For the complete interview and a chance to win a Blu-ray copy of Strike Back: The Complete Fifth Season, visit soundbard.com.