The Banshees of Inisherin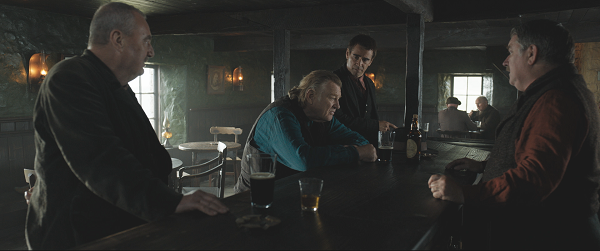 In October we started this blog to explore a different way of experiencing movies at home — one that doesn't involve spinning 4K Blu-ray discs or streaming movies from Netflix and other services. I'm talking about the server-based Kaleidescape movie system. You can read my impressions of the system in A Marriage Made in Movie Heaven) and my previous Kaleidescape-based movie reviews here.)
Set in 1923 at the tail end of the Irish Civil War, Pádraic (Colin Farrell) is a simple farmer who is set in his ways. At exactly two o'clock each day, he walks to his best friend's house to collect him on the way to the local pub. But something is different today. Colm (Brenden Gleeson) refuses to answer the door. He has decided their lifelong friendship is over, leaving Pádraic confused and obsessed with finding out what he did to deserve such harsh treatment.
In today's digital world, Colm's act would be seen as "ghosting" his friend. But in the simpler times of 1923, it's hard to avoid friends when you live on a small island off the coast of Ireland with little entertainment outside of the local pub. Despite his best efforts to avoid confrontation, Colm eventually gives his old friend an ultimatum to persuade him to stop trying to rekindle their friendship and, unbeknownst to Pádraic, he isn't bluffing.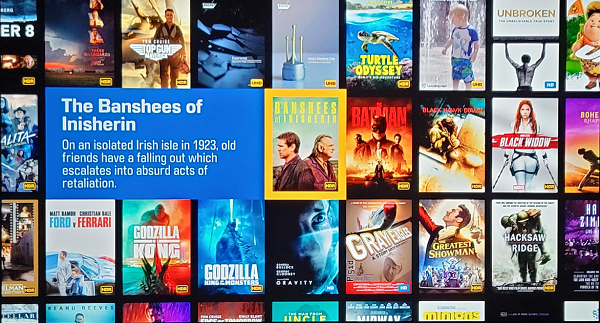 The film is written and directed by Martin McDonagh, who is best known for his Oscar-nominated 2017 film Three Billboards Outside of Ebbing, Missouri, which he also wrote and directed. While that film was a mystery, this film falls into the realm of a dark comedy with a touch of gore thrown in. It's a character study of how loneliness and isolation affects the human spirit and, as the story progresses, you can feel the torment both men are going through. At times, the film is painful to watch but like a car wreck on the side of the road, it's hard to look away.
My first viewing was via a Movies Anywhere 1080p stream, which whetted my appetite for how glorious this film could look in full bitrate 4K with high dynamic range (HDR). When I saw it pop-up in the Kaleidescape store as a 4K exclusive — the highest resolution you'll get on disc is 1080p — I knew it was headed to my collection. Needless to say, the video does not disappoint. The image was captured using Arri cameras and finished with a 4K Digital Intermediate that pulls you into the rolling Irish landscape with its lush green grasses. Depth is almost three-dimensional and the HDR treatment really shines in dark scenes, revealing details that were a muddy mess in the 1080p stream. The Banshees of Inisherin begs to be seen in 4K given its cinematic pedigree.
Though the DTS-HD Master Audio 5.1 sound is excellent, it's no match for the visual spectacle. Most of the film is dialogue-heavy with musical elements sprinkled in as Colm attempts to immortalize himself by composing his epic "reel" on his fiddle and in pub scenes where music spreads across the front soundstage while bleeding into the surround speakers. But it's the subtle sounds along the scenic Irish coast that really shine sonically — the gentle splashing of ocean waves and the cawing of seagulls overhead.
Supplements are sparse and confined to Creating The Banshees of Inisherin and five deleted scenes. The making-of featurette delves into the production and includes some insightful interviews with the cast and crew but it also has plenty of spoilers that will ruin the film's more shocking moments, so be sure to watch the film before heading to the extras.
Unlike most of the other films I've reviewed over the Kaleidescape system, the Banshee download does not include any Kaleidescape Scenes, which is not surprising given the dialogue-focused nature of the film. I did, however, bookmark a couple scenes that highlight the finer aspects of the film's superb video quality.
It's easy to see why The Banshees of Inisherin has garnered nine Oscar nominations and is already sporting three Golden Globe wins. It's an extraordinary film featuring outstanding cinematography, a fabulous script, subtle humor, and phenomenal acting from both Farrell and Gleeson. I had no idea how the story was going to end, yet despite its tepid pacing, remained on the edge of my seat for the duration. Banshees is my dark horse pick to win Best Picture this year, though Everything, Everywhere, All At Once will be tough to beat.
Studio: 20th Century Studios
Aspect Ratio: 2.40:1
Download Size: 58.5GB (4K UHD)
HDR Format: 4K HDR
Audio Format: DTS-HD MA 5.1
Length: 1 Hour 54 mins
Director: Martin McDonagh
Starring: Colin Farrell, Brendan Gleeson, Kerry Condon, Barry Keoghan, Gary Lydon, Pat Shortt