Apple Music: Spatial Audio Relations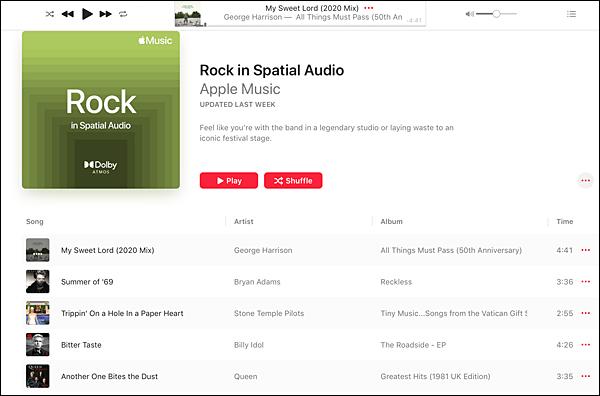 Back in May 2021, Apple significantly boosted the appeal of its Apple Music streaming service with the addition of two new features: Lossless Audio (including high-res versions for some albums and tracks) and Spatial Audio. While the term "Spatial Audio" might indicate that Apple has created a completely new surround sound music format, it's essentially Dolby Atmos—the same immersive, object- based mixing technology used for movie soundtracks. Atmos for music isn't a new idea; Dolby has conducted demos of its new technology applied to the musical realm since day one, and Atmos-mixed tracks have been available on the Tidal and Amazon Music services since late 2019. But Apple is clearly aiming to take Atmos music acceptance to the next level with its Spatial Audio offerings, which are far more numerous than what could previously be mined on those other services. At launch, thousands of tracks were available in the format on Apple Music, and more are being added on a weekly basis.
Apple is a company that likes to keep things in the family, so it comes as no surprise that Dolby Atmos tracks play automatically on all recent-model AirPods and Beats headphones that feature an H1 or W1 chip. But Spatial Audio can also be experienced on any non-Apple headphones by configuring the Apple Music Dolby Atmos Audio settings on your iPhone/ iPad (running iOS 14.6 or later) or Mac computer (running macOS 11.4 or later) as "Always On." (An Android phone can also be used for Spatial Audio playback—if it features Dolby Atmos support.) While Spatial Audio can sound impressive on headphones, you'll want to hear it on your home theater system to get the full sonic impact, and in that case the hardware options are limited to the Apple TV 4K streaming box. (Smart TVs and other streaming devices like Roku don't currently support Spatial Audio on the Apple Music app, and it can't be streamed wirelessly to external hardware via AirPlay.)
To evaluate Apple Music Spatial Audio, I requested both an Apple TV 4K and AirPods Max headphones from the company. After compiling a playlist of potential Spatial Audio test tracks—many of them culled from Apple's own Rock in Spatial Audio playlist, I shared my list with S&V music editor Mike Mettler, who helped pare it down to a more manageable 11 selections. To better get a handle on Apple Music's quality control when it comes to Spatial Audio, Mike checked out the equivalent version of each track on Blu-ray from his extensive surround sound music disc library. Some of these offered an Atmos mix, while others provided a high-res 5.1 Dolby TrueHD, DTS-HD Master Audio, or PCM version.
Loading those discs up into his trusty Amoeba Music bag, Mike headed over to my home theater for an epic listening session that took place over two full afternoons. While all tracks were experienced on the AirPods Max headphones, the bulk of our comparative test was done using the Apple TV 4K connected to a system comprised of a Marantz SR6014 9.2-Channel A/V Receiver and a Polk Audio Reserve surround speaker package, all of it connected using AudioQuest Cinnamon 48 HDMI and Robin Hood ZERO speaker cables.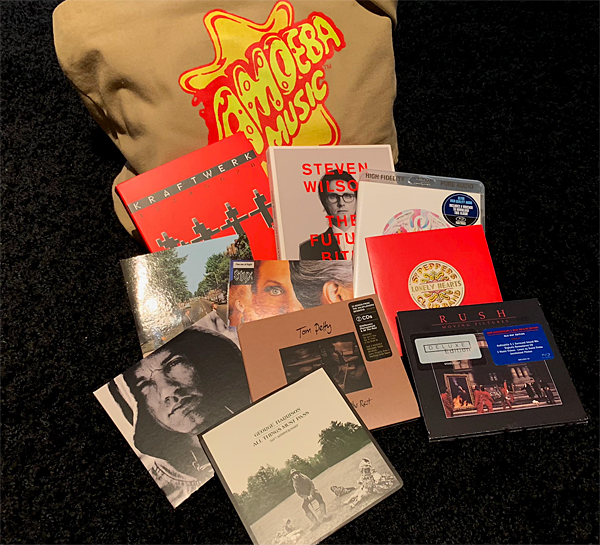 Moving methodically through our playlist, we first listened to the Apple Music Spatial Audio track, and then compared it with the Atmos or 5.1-surround equivalent on Blu-ray disc, finally wrapping up with a check of the stereo version—also on disc—to gauge what was lost when moving from the Spatial to the two-channel realm. The results were interesting to say the least: Some Apple Music Spatial Audio tracks nearly rivaled their surround-sound equivalent on physical media, while others appeared to be different mixes altogether— and not necessarily ones that did the original music justice. But in the end, we were both mostly impressed with what we heard via Spatial Audio.
In this era of quickly fading physical media, being able to access high-quality Dolby Atmos surround mixes of some of our favorite music via a $10/ month streaming service seems almost like a gift. Keep it up, Apple Music—AG
[You can access Sound & Vision's Atmos Music test playlist here.]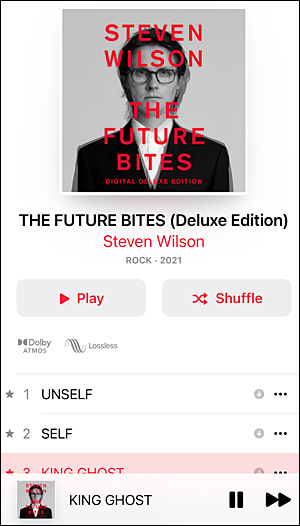 Steven Wilson: "King Ghost"
The once and future king of multichannel music amply proved how he had already mastered the next dimension of surround sound with the stellar Dolby Atmos mix of his January 2021 release, The Future Bites. The Spatial Audio version of one of TFB's most transcendent tracks, "King Ghost," illustrates how he was able to manifest spirits in the ethereal world in a most heavenly sent fashion. In Spatial Audio, Wilson's multiple falsetto vocal breaks all take to the skies, while the track's minimalist, "Sign o' the Times"-like percussion elements and burbling bass line nestle in the rear channels. As good as "King Ghost" sounds in Spatial Audio, the Dolby Atmos mix on the TFB Blu-ray just has more overall heft—as in, the synth track hits harder and the percussion and bass elements both display much more presence in the rear channels. In the 24-bit/96kHz Stereo LPCM mix on Blu-ray, Wilson's lead and falsetto vocals totally envelop the horizontal soundstage. The stereo version of "King Ghost" is an absolutely masterful construction all on its own, but it's less dramatic in two channels than it is Atmos, spatially speaking or otherwise. To modify one of the song's lyrics, when it comes to maximizing the promise of Spatial Audio, "King Ghost" is exactly what we're talking about.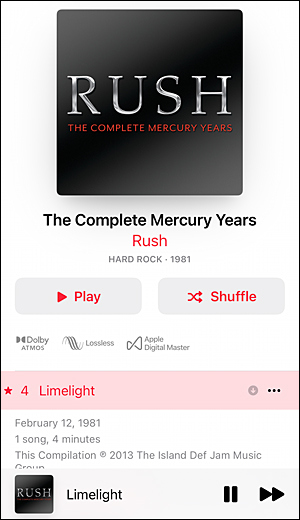 Rush: "Limelight"
Spoiler alert: Rush's April 1981 master- piece, Moving Pictures, is my personal No. 1 album of all-time, so my expectations were beyond sky-high for its Spatial Audio representation. Truth be told, we actually started this particular listening segment with the Spatial Audio version of "Tom Sawyer," and while we both recognized the sheer power of the all-out, in-your-faceness of that mix, we found "Limelight" to be the better, more sublime example of the form. In Spatial Audio, the slight echo on Geddy Lee's vocalizing of the phrase "gilded cage" gives the lyrical intent added significance, while Neil Peart's full-kit, right-to-left drum run immediately before the second chorus simply soars. The drama that unfolds during Alex Lifeson's guitar solo—his self-professed favorite solo—is even more nuanced on a higher soundstage plane as his sustained note readings give way to finger-furious riffage toward the denouement. As the track ends, the resonance of Peart's final cymbal hits sustain just as they should in the rears. The 2011 DTS-HD Master Audio 5.1 and PCM Surround 5.1 mix options of "Limelight" on Blu-ray (courtesy of Richard Chycki) each have their own merits, including the subtle cross-channel swirls of Lee's brief, recurrent synth stabs throughout the track. In PCM Stereo on that very same Blu-ray, however, Lee's lead vocals come across much thinner. If "Limelight" is any indication, then we should be in for even more sonic treats once other Moving Pictures tracks like "YYZ," "The Camera Eye," and "Vital Signs" all get their own respective Atmos due.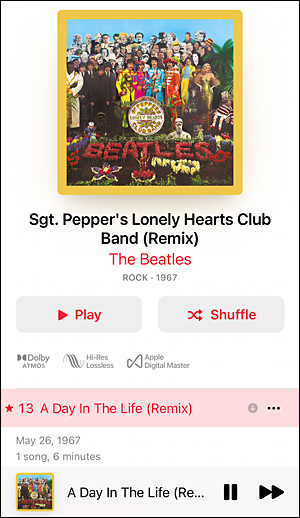 The Beatles: "A Day In The Life"
Gee, no pressure at all on the Spatial Audio gods to ensure this version of one of the most celebrated, most innovative stereo tracks of the rock era would meet our unwavering multichannel demands. The good news is, "A Day in the Life," the linchpin of The Beatles' seminal June 1967 album Sgt. Pepper's Lonely Hearts Club Band, has clearly made the grade in Spatial Audio. The more subtle details—Ringo Starr's shaker and light-touch cymbal work, Beatles roadie Mal Evans counting things off while the orchestra builds to its red-level-challenging, 360-degree crescendos, plural—carry even more weight here, with John Lennon's totally trippy "ahhh" sequence taking to the veritable clouds where they belong, and the final group-struck piano chord pushes distortion levels like a massive blow to the chest. Naturally, we cued up Giles Martin's 2017 Dolby TrueHD 5.1 mix on Blu-ray to make sure we were still, er, turned on, surroundwise—and we were. That said, while Lennon's "ahhhs" reside in the skies in Spatial Audio, we could discern the actual ceiling of just how high he could get in TrueHD. Finally, we revisited the PCM Stereo mix of "Life" on Blu-ray, and were again reminded how The Fabs remain the unchallenged pioneers of the two-channel artform. That said, in stereo, "Life" felt like it was being performed in front of us rather than all around us in the way both the Spatial Audio and TrueHD BD mixes made us feel—though, frankly, there's nothing wrong with that.