Best AV Gear to Buy Right Now in 2020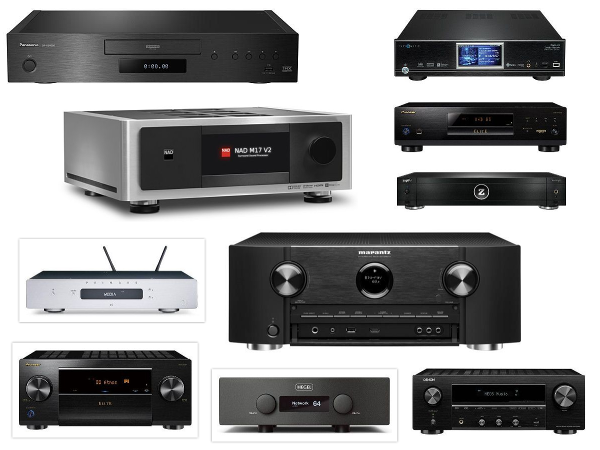 As the new decade gets underway and we get used to "living in the future," the editors of
Sound & Vision
have cherry-picked 10 products across three categories that merit a close look by anyone contemplating an electronics upgrade. All made our coveted 2019 Top Picks of the Year list, meaning they're all stellar performers.  
Source Components

Panasonic DP-UB9000 Ultra HD Blu-ray Player: $1,000

Performance
Features
Ergonomics
Value
Listen up disc aficionados: If you're in the market for a 4K Blu-ray player that can do everything you want, and plenty of things you didn't know you wanted, Panasonic's flagship model is a technical tour de force guaranteed to impress you, which is why it was
Sound & Vision
's 2019 Top Pick of the Year in the Blu-ray/source component category. Beyond supporting all of the high dynamic range (HDR) formats — including HDR10+ — the DP-UB9000 is THX-certified and provides a number of unique audio and video settings, including dynamic tone mapping — it even generates its own metadata to ensure optimal picture quality. Veteran reviewer Tom Norton called it "unequalled by any other video disc player on the market."
AT A GLANCE
Plus
Unique adjustability
Outstanding overall performance
Tank-like construction
Minus
Complex adjustments
Won't play SACDs
Pioneer UDP-LX500 Ultra HD Blu-ray Player: $1,099

Performance
Features
Ergonomics
Value
Pioneer has stepped up to fill the void left by Oppo, which
stopped making Blu-ray players in 2018
. Aimed squarely at die-hard enthusiasts, the UDP-LX500 boasts first-rate HDR (high dynamic range) tone mapping for projector setups, custom presets with sliders for HDR conversion, and the ability to play hi-res music files as well as SACDs and DVD-Audio discs. All in all, it's a versatile player built to deliver breathtaking 4K images.
AT A GLANCE
Plus
High-quality HDR to SDR conversion
SACD and DVD-Audio disc support
Detailed Info screen
Minus
No streaming apps or wireless connectivity
Somewhat tedious user interface
Occasional playback glitches
Zappiti 4K HDR Media System: $4,739 (as tested)

Performance
Features
Ergonomics
Value
From a company with an unusual name comes a unique product aimed at AV enthusiasts who crave a stress-free way to migrate treasured music and 4K movie discs to a rich digital environment with a user-friendly interface. The setup we reviewed can be had for a fraction of what you'd pay for a Kaleidescape system and comprises two HDR (high dynamic range)-enabled 4K media players and the NAS Rip 4K HDR, a flexible network-attached storage device with eight hard-drive bays and a disc drive that makes digitizing any disc a simple, plug-and-play affair. Once your library is set up, it's easy to browse and play music and movies anywhere in house, with artwork and detailed info at your fingertips. Reviewer Al Griffin summed things up this way: "I was really impressed with not only the video quality of the Zappiti players, but the system's overall ease of use, from ripping titles in my disc library to the NAS, to navigating and selecting a movie."
AT A GLANCE
Plus
Easy setup and installation
Sleek, attractive user interface
Scalable — can add other rooms as needed
Minus
Does not retain HDR metadata
No Dolby Vision or HDR10+ Support
Requires wired network for best results
WHERE TECHNOLOGY BECOMES ENTERTAINMENT