JVC DLA-NX9 D-ILA Projector Review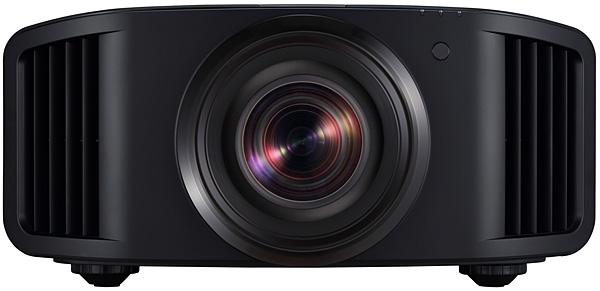 PRICE
$18,000
AT A GLANCE
Plus
Fantastic HDR performance
Reference-level optics
Industry leading contrast
Minus
Some dynamic contrast-related artifacts
Noticeable fan noise in High lamp mode
THE VERDICT
JVC's second-generation 4K beamer sets a new high bar for projector HDR performance. Add industry leading contrast, reference-quality optics, and exceptional usability and you have a projector that punches way above its price point.
It took a while, but JVC has finally updated its full consumer projector lineup to native 4K (4,096 x 2,160) resolution. Just over two years ago, Sound & Vision reviewed the company's first native 4K model, the $29,995 flagship DLA-RS4500. For this review I am going to cover the flagship model from the new range, the DLA-NX9 (also available as the DLA-RS3000 from JVC's professional division). At $18,000, the NX9 isn't exactly a casual purchase, though it does deliver some new features at a price point we haven't seen before from JVC.
The Projector's New Clothes
Nearly everything is new in JVC's new lineup. The projectors feature a completely new chassis, new D-ILA imaging panels, improved video processing, and even a new remote control. As the company's flagship, the NX9 stands a bit apart from the rest of the line with its slightly larger chassis (which is also quite a bit larger than previous JVC designs) and 100mm all-glass lens—the same one used by the DLA-RS4500. It's also the first projector from JVC to feature 8K e-shift.
While the NX9's e-shift optical actuator mechanism doesn't actually provide true 8K performance, it does increase onscreen resolution to near-8K quality. The big caveat here is that the NX9 doesn't accept an 8K input signal, so it won't be compatible with future 8K sources if and when they arrive. During my testing, I honestly didn't notice e-Shift doing much to improve image quality. Even when viewing the crispest content I could find, I didn't see any clear benefit to the increase in onscreen pixels, despite viewing on an 11-foot-wide screen. (I also didn't see anything that took away from the image quality either.) At this point, I feel that 4K resolution is more than enough for even the largest home theater screens and am inclined to chalk up 8K as marketing more than anything else.
For me, the NX9's biggest draw is JVC's inclusion of the same all-glass lens used by the RS4500. This was one of my favorite features of that projector when I tested it, and I'm thrilled to see it now offered at this price point. It's extremely rare to experience optics that deliver this level of performance: pixel focus was fantastic, with only the slightest hint of chroma fringing even with my nose right up to the screen. Focus uniformity was also very good, with only the slightest amount of softness appearing at the extreme edges of the image with the zoom at its shortest throw (therefore using a larger portion of the lens). The only other projectors near the JVC's price point with similar high- performance optics are BenQ's flagship designs.
The NX9's lens is flanked by two air vents that exhaust hot air from the chassis, while the back panel has a filter for intake. I was hoping the new, larger chassis would mean cooling refinements to reduce fan noise when the lamp is placed in High mode. (Typically, a larger chassis allows for larger fans that can run slower, resulting in less noise.) Fan noise is nearly undetectable in Low lamp mode, but this new design actually has a slightly higher noise level compared with previous JVC models when in High lamp mode. It's low enough that the noise remains nearly undetectable when watching movies, although it can be heard during quieter passages. I definitely noticed it more than I did with the last two high-end Sony models I tested when running full light output.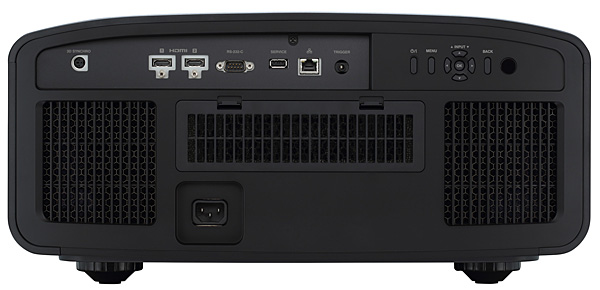 The NX9 features dual full- bandwidth HDMI 2.0b inputs. While the main selling point of any projector is image quality, usability is also important, and one of my biggest complaints with JVC models has been their long sync times. Changing an input signal to a different resolution or format would result in a nearly excruciating waiting game for an image to pop back onscreen. Thankfully, sync time on this projector is greatly improved and in line with the best I've seen from flat panels and other projector designs.
Other connections include a single trigger output and LAN, RS-232, and 3D sync ports. JVC has also added a USB port for service updates. This makes firmware updates substantially easier to apply compared with older projectors that required special adapters and cables.
All models in JVC's new 4K lineup include a third- generation native 4K D-ILA imager. Other new features include an updated processing board to handle native 4K signals, and anamorphic lens support modes. A plethora of installation and picture setup options have also been added to the projector menu system that allow for a greater level of customization.
The NX9's installation modes allow you to bounce through different lens positions, similar to projectors with motorized lens support. They also give you a pixel convergence adjustment plus image blanking, aspect, and other settings linked to each of the 10 individual memories. This opens up a world of customization for those using constant area screens, scope screens, multiple screens or different lens options including the latest Panamorph Paladin DCR lens, which is designed to take advantage of 4K projectors with a full 4,096 x 2,160-pixel imager.
I had previously commented on the performance of this lens in my review of Sony's VPL-VW995ES. I am always hesitant to add another piece of glass and scaling to an image, but I didn't see any draw- backs in overall picture quality when using the Panamorph with the NX9, and the bump in image brightness it provided may prove beneficial to viewers with larger screens. One caveat is that the JVC does not have a proper 16x9 anamorphic mode for use with the Paladin DCR lens. It supports this feature properly with a standard anamorphic lens, like the non-DCR Paladin, but not a 4,096-compatible lens.
Another important customization option that JVC added is HDR Picture Settings. Previous projectors would automatically default to a custom HDR picture profile when an HDR signal was detected. The new line takes things a step further by letting you select any picture mode you want from the custom picture presets and assigning it. You can assign a custom preset for Hybrid Log Gamma (HLG) signals as well. I'd love to see JVC take this a step further and add more auto- selectable presets, which would allow the viewer to store multiple calibrations for each viewing condition that could be called up without having to reach for the remote—a feature I see on several current flat-panel TVs.
JVC new remote control looks nicer, but I can't say I'm a fan. I appreciate the direct-access keys for some picture setup pages, but the buttons are nearly impossible to find in the dark as they are flush with the remote face and don't stand out from each other. A backlight button helps, but JVC's previous remotes were easy to use even without the backlight. The remote also lacks buttons for direct access to common picture modes.
Setup and Calibration
I found setting up the NX9 to be a breeze. Since I use a 2.35:1 "scope" screen in my theater room, I set up installation modes to accommodate several different aspect ratios using the projector's zoom function. Most of the JVC projectors I've reviewed have pretty solid color accuracy out of the box, with only a few adjustments required until you hit about 100-200 hours on the bulb. This one was no exception.