Denon AVR-X3400H A/V Receiver Review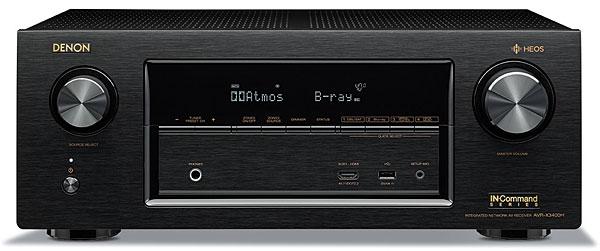 PRICE
$999
AT A GLANCE
Plus
Solid two-channel and multichannel power
3.1.2-channel Dolby Atmos/DTS:X virtual height effects
Excellent Audyssey MultEQ XT32 room correction
HEOS wireless multiroom
Minus
Wired multiroom limited to one zone
THE VERDICT
A fine seven-channel amp, attractive ergonomics, full 4K/HDR-readiness, and 5.2.2 Dolby Atmos and DTS:X make for a very competitive midrange option.
Denon's new AVR-X3400H A/V receiver scored points with me even before I got it out of its box: The four-piece packaging foam (top/bottom front and back) allows for easy removal of a heavy-ish item without battling box flaps, splintering full end-cap pieces, or leaving a trail of Styrofoam crumbs behind. (Yes, I'm packing-material obsessive.) But let me not prejudge.
Once out of the box, the AVR-X3400H appeared as a familiar example of the receiver genus: black chassis, lots of jacks, two knobs, and a few buttons. (Denon has—sensibly, in my view—abandoned most front-panel controls other than source select and volume. So don't lose that remote control!) At $999, this seven- channel receiver slots in just above the middle of Denon's 11-model lineup, which means it features most of the good stuff at a price that's about a quarter of Denon's new $3,999 flagship, the AVR-X8500H.
What good stuff? To wit: Dolby Atmos and DTS:X object-oriented surround (along with the addition last fall of DTS:X Virtual height effects), video scaling of SD/HD analog video to 4K with 4K/HDR passthrough, hi-res readiness up to 192/32 PCM and including (two-channel) DSD 2.8 and 5.6 megahertz, audio streaming that accommodates your DLNA media and TuneIn internet radio as well as all the usual services (Pandora, Tidal, Deezer, etc.) and a few less common (Amazon Music and Sound-Cloud, none built in, but all via the free HEOS app), and compatibility with Denon's well-regarded HEOS multiroom ecosystem, for wireless. Plus, of course, Bluetooth and Apple AirPlay.
And the AVR-X3400H accumulated more points when I hooked it up. Although its speaker outputs are only medium-duty and plastic-knobbed, they are all U.S. standard, half-inch-spaced pairs of multi-way binding posts. This means that the dual-banana connectors terminating my surrounds and a pair of front Atmos speakers plugged right in without requiring test-lead kludging. (Some designs use wider spacing, apparently to avoid confusion with the power plugs used in other countries. Yikes!) After I connected a few HDMI cables, the seven speaker cables, and the subwoofer line cable for a front-height Atmos setup, it was on to calibration.
Denon provides a colorful graphic setup guide that hand-holds the novice through the basics of layout and connection. (It's easily skipped.) Better still—more points!—Denon gifts the AVR-X3400H with Audyssey calibration and speaker/room correction, rather than a proprietary system (as do more and more competitors today). And not just plain-vanilla Audyssey but MultEQ XT32, which collects microphone data from eight listening locations and incorporates higher-performance filters than lower-ranked Audyssey versions. This ran as expected but provided no option to escape with fewer than the full eight mic placements. Nor did it offer visual or tabular data as to equalizations or corrections. (Audyssey's iOS/Android MultEQ app, however, adds both of these and much more. It's a $20 add with this model but still highly recommended.)
The receiver's Audyssey setup does offer the familiar Reference and Flat equalization options. There's also Audyssey Dynamic EQ, which interactively modifies the shaping and balancing for the lower-than-reference levels that nearly all of us employ nearly all of the time. (Many audiophiles probably defeat this in their setup options. My advice: Don't until you've tried it.) Then there's Dynamic Volume, one of the best "smart-loudness-contour" implementations out there.
The setup routine mostly proceeded smoothly. But in a couple of instances, the wait for the receiver's software to respond to a Next or Back command via onscreen buttons was extremely long: minutes (or very nearly), rather than seconds. I can't say whether this was a processing delay, a software glitch, or a frozen response to an unexpected input. (One instance occurred when my sub's level was too high, requiring attenuation at the sub, which the onscreen meter showed and which I performed. The onscreen display moved in real time, but neither the Next nor the Back button would respond for such a long interval that I thought the unit had locked up. It hadn't. So, a couple of points deducted.)
However, the setup results were entirely positive, as I generally expect for higher-version Audyssey. As usual, the most obvious impact of the Reference setting, which shapes all speakers to a target curve, was a relatively modest focusing of midrange textures, a similarly slight tightening of all but the last octave or so of bass, and an expanding of the surround bubble. This last was more pronounced than the result of some other Audyssey runs I've performed, probably because of the Atmos effect: The crowd sound on an NFL game was quite organic and believable. (Spoiler: The Patriots won.) As always, I did all the rest of my listening with Audyssey defeated, since it's unrealistic to expect the results with one speaker/room combination to translate to every other.
Listening, Viewing
The power amplifier sections of Denon's AVRs have acquired a solid reputation among subjectivists for good sound, and I will offer nothing here to contradict them. Beginning with plain, full-range (no subwoofer) stereo listening, I found the AVR- X3400H eminently capable of producing appropriate serious-listening levels from my antique-but-able Energy three-way monitors. These modest-sensitivity loudspeakers are probably 2 to 4 decibels less so than typical designs today, yet the receiver produced amply satisfying quantity and quality on a rotation of hi-res files streaming from my desktop iMac. For just one example, the Denon had oomph to spare to present a DSD of Beethoven's Piano Sonata No. 32, Op. 111, at piano-bench levels without strain or harshness—no mean feat—and with no sign of congestion from the first movement's powerful, closely voiced, even dissonant left-hand chords, nor any trace of noise across Ludwig's mad dynamics extremes.
In the rock realm, I cued up an SACD of the Rolling Stones classic Let It Bleed and cranked up "Monkey Man" to dorm-room-party levels (I was only following the instruction printed in the liner notes). This remastering has a certain heft and midrange smoothness, or at least less-rawness, that was lacking on the original CD release, along with a decided extra layer of cymbal sparkle up top—all of which the Denon fully displayed, even on the vomiting-Ampeg sound of Keith Richards' stabbing riffs. (I'm getting a little old for such SPL escapades; these are the sacrifices I make for science.)
The Denon did duty for a number of movies during its tenure, in both casual-viewing and reviewer modes, and at no point did it disappoint. First, I flipped across a cable stream of the modern-classic Western Open Range. (Has anybody ever done crusty cowboy better than Robert Duvall?) Through my system, the Copland-esque score soared with impressive openness and depth, while the fusillades of the climactic battle slammed with startling dynamic impact—despite the fact that the movie's FX handguns sound more like cannons than pistols.
For a taste of Atmos-pherics, I loaded up Dolby's demo Blu-ray and enjoyed its collection of clever, swooping trailers and soundmarks. I'm on record as strongly preferring at least a 5.1.4-channel Atmos con- figuration (with both front and rear elevation speakers), rather than just a single front pair of Atmos drivers (what I've dismissed in the past as Atmos-lite). The latter is all that the Denon, like most competing receivers, can offer, because of its seven-amp-channels and internal-processing limits. But I'm coming around to 5.1.2. Especially with dipole surrounds on the sides, which I (apparently, alone) still favor, the difference between these two applications seems surprisingly modest, at least without the illumination of direct comparison. In any case, the front-elevation speakers added a valuable sense of size and height to both ambience and wide-range music, while more vertical effects—such as rain, helicopters, and birds—gained substantially in realism, even when overflying from front to back.