Yamaha Aventage RX-A3060 A/V Receiver Review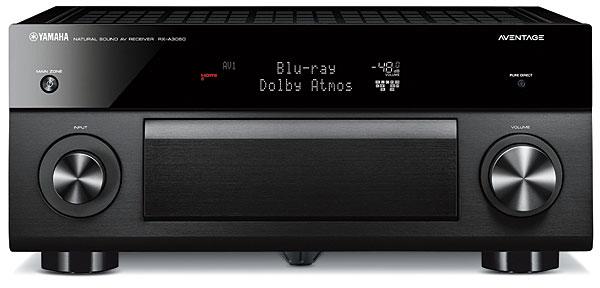 PRICE
$2,200
AT A GLANCE
Plus
Nine amp channels, 11.2 (7.2.4) pre-outs
Automated angle and height calibration
Minus
No Auro-3D
THE VERDICT
Yamaha's new flagship receiver packs nine amp channels into a well-built package.
Buying an A/V receiver has always been a challenge, even to the well informed. Incoming technologies add still more complexity. Sometimes, however, they also generate new priorities and narrow your choices. Sure, Dolby Atmos and DTS:X require you to add more speakers and make your system more elaborate. But if you want to run those formats in their most effectively enveloping configurations, your shopping expedition for a receiver has suddenly become a lot simpler.
Within Yamaha's Aventage line, the RX-A3060 reviewed here, with its nine onboard amps and 11.2-channel processing, is the only model that can run the new height-enhanced surround formats in 7.2.4 channels; only an outboard stereo amp is required to complete the setup. If your goal is a mere 5.2.4 channels, eliminating the back-surrounds but keeping the four height channels, you have this and one additional choice, the RX-A2060 ($1,700), also with nine amplifiers built in, but without the upgradeability to 7.2.4.
The Smarter Stepper-Upper
The RX-A3060 is the flagship model in Yamaha's higher-end Aventage line, rated at 150 watts into 8 ohms with two channels driven. In past reviews, I've discussed the vibration-controlling H-frame construction, separate power supplies for digital and analog circuits, and other build-quality features that account for some of the high-end price tag. This is the best receiver Yamaha knows how to build.
Ever in search of something new, I couldn't help noting that this is the first receiver I've reviewed that includes angle and height measurements of speaker positions, in addition to distance, in its room correction program. Yamaha's YPAO offers it as an option that can be used or ignored while you set up the receiver. As Yamaha explains: "By using a quad-point microphone platform for the room calibration, the YPAO system can precisely identify where each speaker in the room is located in relation to the listener, both horizontally and vertically. Without angle and height measurement, the system can pinpoint only distance from the listener, with no data on where the speaker is. By knowing the horizontal angle and vertical height of the loudspeakers, the receiver can more accurately map or place object-based sound elements into the 3D space of the room."
If you want the full setup, you'll first be directed to do the usual measurements for one or more seating positions, with the setup mic mounted (ideally) on a tripod at ear height. Then you remove the mic from the tripod, attach the quad-point platform (which looks like a three-legged starfish) to the tripod, and take additional measurements with the microphone attached to one leg then the next. For the final measurement, attach an included column to the center of the platform, which when you place the mic on top, raises it about 8 inches. The program ran uneventfully except for claiming (incorrectly) that my front left height speaker was wired out of phase. My best guess is that the acoustic irregularities of my six-sided room and asymmetrical speaker placement confused YPAO.
Another unusual feature is Yamaha's own MusicCast multiroom system. It allows any of the receiver's sources—including phono, FM, and Bluetooth-connected devices—to be streamed to other MusicCast devices, including standalone wireless speakers, AVRs, stereo amps, HTIBs, soundbars, and powered monitors.
Of course, this receiver is Wi-Fi, Bluetooth, and AirPlay capable and supports Spotify, Spotify Connect, Pandora, Rhapsody, and SiriusXM streaming services. And your flagship-receiver bucks will buy four zones of joy. On the video side, this model is Ultra HD capable, including HDCP 2.2 DRM for Ultra HD Blu-ray and incorporating HDR10 (but not Dolby Vision) support.