Eye on Atmos: 15 Minutes with Dolby's Brett Crockett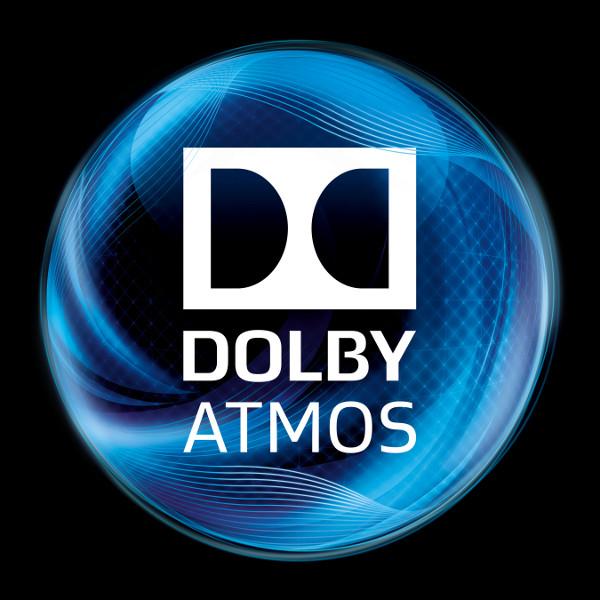 In preparation for the launch of the first wave of Dolby Atmos-enabled products, Dolby is conducting press demos in New York and Los Angeles this week. Stay tuned for our reports later in the week. In the meantime, we touched base with Brett Crockett, director of sound research at Dolby Labs, to learn more about Atmos and its promise of taking home theater to new heights.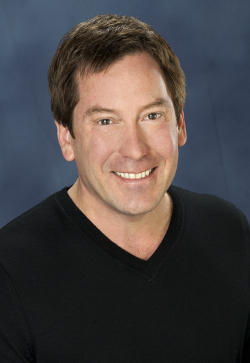 S&V: Why does the world need another surround format? What does Atmos bring to the home theater experience?
Brett Crockett: Dolby Atmos moves beyond the paradigm of channel-based audio, which has gone as far as it can in the home. Captivating sound surrounds you from all directions, including overhead, filling the room with astonishing clarity, richness, detail, and depth. The specific sounds of people, music, and things move all around you in multidimensional space, so you feel like you are inside the action.
S&V: How does the "object-based" Atmos system compare with the familiar channel-based system?
BC: Until now, cinema sound designers have had to mix independent sounds together into channels for soundtrack creation. A discrete sound, such as a helicopter, has been assigned to an individual channel rather than precisely to where it would occur naturally in the scene. While a sound can move across channels, there's no height dimension. For example, you might hear the helicopter from a side channel (and speaker array) but not above you. This approach limits your audio experience because it can't come close to matching the way you hear in real life, with sounds coming from every direction.
Dolby Atmos is the first home theater system that is based not on channels, but on audio objects. What is an "audio object"? Any sound heard in a movie scene—a child yelling, a helicopter taking off, a car horn blaring—is an audio object. Filmmakers using Dolby Atmos can decide exactly where those sounds should originate and precisely where they move as the scene develops.
Thinking about sound in this way eliminates many of the limitations of channel-based audio. In a channel-based system, filmmakers have to think about the speaker setup: Should this sound come from the left rear surrounds or the left side surrounds? With Dolby Atmos, filmmakers just have to think about the story: Where is that yelling child going to run? How will the helicopter move overhead after takeoff? The Dolby Atmos system, whether in the cinema or a home theater, has the intelligence to determine what speakers to use to precisely recreate the child's movement in the way the filmmakers intend. They can now precisely place and move sounds as independent objects in multidimensional space, including anywhere overhead, so you can hear them as you would naturally.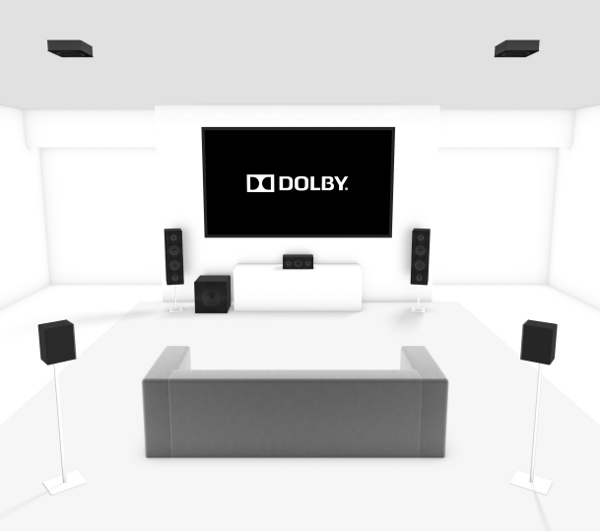 S&V: Talk about the ideal Atmos configuration versus practical setups that most consumers would likely follow and where "Atmos-enabled speakers" come into play.
BC: Because audio that originates from overhead is a key contributor to the Dolby Atmos experience, Dolby recommends using at least two speakers to generate overhead audio elements. This gives the minimal ability to move audio from left to right above the listener. The addition of four or more speakers to generate overhead audio elements provides the ability to move audio left to right and front to back above the listener. This adds greater precision to the Dolby Atmos experience.
For high-end home theaters, a 7.1.4 system (a traditional 7.1-channel-based layout with four overhead or Dolby Atmos-enabled speakers) will provide a great listening experience. That being said, Dolby Atmos can support home theater systems with up to 34 speakers, in a 24.1.10 configuration: 24 speakers on the floor, a subwoofer plus 10 overhead speakers.
However, Dolby Atmos content is not tied to any specific playback configuration. Whether you have a full 7.1.4 system or a 5.1.2 system, your receiver will get the same content and play it back in a way that takes full advantage of your specific setup.
S&V: And if you can't or don't want to install overhead speakers?
BC: Dolby Atmos-enabled speakers, which reflect sound off the ceiling, can produce an incredibly accurate Dolby Atmos experience in many kinds of rooms. You'll get the best sound if your ceiling is flat (not vaulted or angled) and made of an acoustically reflective material, such as drywall, plaster, concrete, or wood.
While we designed the technology for rooms with ceiling heights of 8 to 9 feet (2.4 to 2.7 meters), our testing indicates that you can still hear incredible Dolby Atmos sound in rooms with ceilings as high as 14 feet (4.3 meters), though the effect may become more diffuse in rooms with higher ceilings.
Recessed lighting fixtures, chandeliers, crown molding, and heating or air conditioning vents in your ceiling do not noticeably interfere with the Dolby Atmos experience.
S&V: What will be the primary source of Atmos-enabled content for the home? In a recent blog you wrote, "you likely won't need a new Blu-ray player…" Can you explain?
BC: We wanted to ensure that entertainment fans could get Dolby Atmos movies in the same ways they get movies now, on Blu-ray Disc or through streaming video services. We invented new scalable algorithms and extensions to Dolby TrueHD, our lossless Blu-ray audio format, and Dolby Digital Plus, which is used by leading streaming video providers. Both formats now support Dolby Atmos sound, meaning that you'll be able to play Dolby Atmos movies from your Blu-ray player or through your favorite streaming service.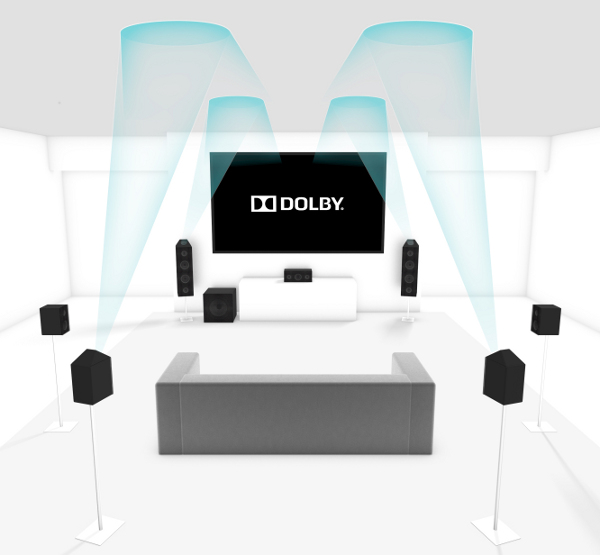 "You likely won't need a new Blu-ray player" means you can play Dolby Atmos content from a Blu-ray Disc through an existing Blu-ray Disc player but the Blu-ray player must be fully compliant with Blu-ray specifications. Meaning, you will not need to replace your Blu-ray player as long as it fully conforms to the Blu-ray specification. Current-generation players, and most older players, are compatible.
S&V: When do you expect to see the first Atmos-enabled content and will it be on disc or available via streaming?
BC: We're working with studios and production houses to help them create Dolby Atmos soundtracks for a broad range of movies and TV for home viewing. You'll start to see Dolby Atmos titles on Blu-ray and streaming video services this fall, with more to come at the start of 2015.
S&V: How many AV brands have committed to Atmos so far?
BC: As of August, AV receivers were announced from Onkyo, Integra, Denon, Marantz, Pioneer, Yamaha, and Steinway Lyngdorf. Definitive Technology announced a line of Dolby Atmos-enabled speaker modules and Pioneer announced Andrew Jones Dolby Atmos-enabled speakers. Onkyo also announced a Dolby Atmos-equipped HTIB (home theater in a box).
S&V: How many Atmos-enabled products do you expect to see in the market by the end of the year?
BC: At this stage it's hard to estimate precisely how many products will be available as partners are still in the process announcing their product offerings. However, the partners listed above have indicated their desire to have products in market by the end of 2014.