Review: BenQ W1070 3D DLP Projector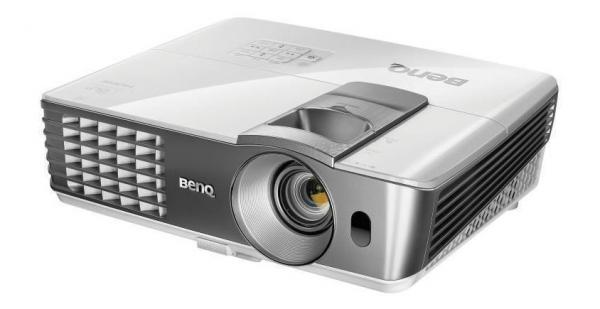 Let's go over some of the numbers here: 1080p, 3D, $1,000. Pretty solid specs and pricing for flat-panel TV, except ... this is no flat-panel. BenQ's W1070 is, as you have probably deduced, a projector. I've reviewed a few projectors in this price range as exclusives for soundandvisionmag.com, and all came up rather lacking. Concessions made for price caused poor brightness, poor contrast ratio, poor color, or a combination of all three. Now, I'm willing to make allowances for price, but performance still has to be at least somewhat good. Don't get me wrong, I love a big projected image, but a bad projected image is barely better than no projected image.
Can BenQ do it? Can it build that magical beast of low price and acceptable (or great?) performance that makes it the go-to buy in its price range? I'm as curious as you are.
Setup
Those concessions I mentioned? Well, out of the box, the W1070 has a few. Its throw distance is pretty short. To fill a 100-inch screen, I had to position it roughly 10 feet away. This is couch territory, which matters less than you might think: Because of the upward throw, you pretty much have to ceiling-mount it. Table-mounting is technically possible, but since the BenQ's zoom range isn't great, that can be problematic. (Under the couch, maybe?) To be honest, I've reviewed DLP projectors that cost 5 times more than the BenQ with these exact same problems, so it's not specifically a price issue. For that matter, the W1070 has a tiny bit of vertical lens shift, which I haven't seen on a DLP projector in ages. It's not a lot, though. In other words, to be sure you can fit it, map out where the projector needs to go before you buy.
Picture adjustments are surprisingly numerous given the price. (Sorry to keep coming back to that, but it continues to be worth mentioning.) There's a full color management system, full RGB gain and bias color temperature adjustments, gamma adjustments, and even ISF Day and Night modes. That last item seems a bit optimistic, as I imagine the percentage of people willing to pay for calibration of a $1,000 projector is rather small. You know what, though? I'm glad for it and impressed that it's there. With most projectors in this price range, you're lucky to get color temperature presets, let alone the rest of it.
The remote is a tiny thing, which is great. The most interesting buttons are labeled "+" and "–" with this weird word in between them: "Volume." I believe it's pronounced "Vole-u-may." Apparently, there's a "10-watt" device inside the W1070 that makes sounds to go along with the pictures. I did not test this.