Denon AVR-2313CI A/V Receiver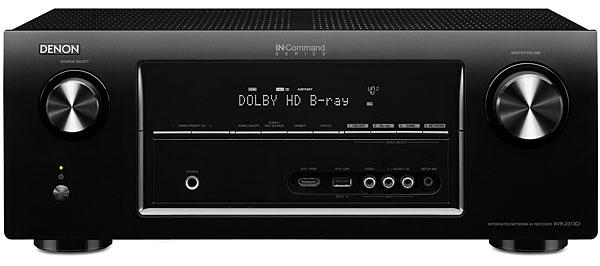 Price
: $900
At A Glance
: Fabulous video processing • Audyssey MultEQ XT enabled • Apple AirPlay enabled
With over 100 years of history behind it, Denon Electronics has high standards for any product it releases. And in my experience, it generally delivers the goods. Its AVRs (audio/video receivers) are often among the best on the market and run the gamut from the budget category all the way up to high-end models that will set you back a few months' worth of mortgage payments.
If I've had a complaint against Denon—and other AVR manufacturers—it's that the company has too many models each year. Denon offers nine different models, seven of which run under $900. Whatever happened to good, better, best? Has our world turned into mostly good, somewhat better, better, mostly better, etc.?
While each jump in price does offer more goodies for the consumer, I would love to see AVR lineups simplified. To the average consumer (not the average Home Theater reader), buying an A/V receiver is daunting, and giving the customer too many choices may make him throw up his hands and opt for a crappy box system instead.
And it's no wonder that brick-and-mortar A/V retailers (both specialty shops and Best Buy) are struggling after loading up their warehouses with too many SKUs, killing their cash flow.
Despite my complaints, here we are with the AVR-2313CI, which I would classify as the most elite "budget" model in Denon's offering. At $900, it's one step up from the entry-level CI model (AVR-2113CI, $650), while the next jump takes you to the AVR3313CI ($1,200), which crosses that $1,000 psychological barrier that many consumers will never cross. So what do you get for your 900 smackers?
Features
The AVR-2313CI comes with pretty much everything most consumers would want in an AVR. It has plenty of power, with seven discrete assignable amplifiers rated at 105 watts per channel, six 3D-capable HDMI inputs, two HDMI outputs with ARC (Audio Return Channel), and first-class video processing that can upscale signals to 4K (3840 x 2160 pixels) for when you upgrade to an UltraHD display. It includes a plethora of digital network audio/photo streaming capabilities, including Apple's AirPlay, FLAC HD audio, and Windows 7 certification. Furthermore, with the seven channels of amplification, you can assign two channels to run back-surround speakers, front width or height speakers, or a second audio zone in the backyard or spare room.
Since this is a networked receiver, access to the latest and greatest streaming applications is just a click away. In addition to the previously mentioned AirPlay and Windows 7, the Denon features Internet radio, SiriusXM Internet Radio, Pandora, Spotify, photo streaming from your home network or Flickr, and it's DLNA 1.5 certified. If you don't have a home network installed, you can also connect a USB device to the conveniently placed USB port on the front of the unit to play virtually every flavor of compressed and uncompressed music file on the market.

Apple's AirPlay is one of the coolest new technologies to hit AVRs in years. When you fire up your iDevice (iPhone, iTouch, iPad), you'll be given the option to push your music from your device to the receiver. Once a signal is received over the network, the Denon automatically powers up and goes to the AirPlay input. How cool is that? One warning, though: If you have teenagers in the house, beware that they may want to use this feature as a practical joke to scare an unsuspecting sibling into thinking the house is haunted.
Virtually every AVR on the market offers some type of auto-setup and room correction software solution to get the most out of your new purchase. In the case of the AVR-2313CI, it features Audyssey MultEQ XT, which automates speaker setup and automatically compensates for troublesome room acoustics. Also, since this is a CI (Custom Integration) model, you can hire an Audyssey-certified installer to come in to get the most out of the AVR by measuring up to 32 calibration points (versus six in the built-in standard calibration). And they'll use a professionally calibrated microphone that helps the installer improve crossover optimization to provide better blending between the subwoofer(s) and satellite speakers.
Setup and User Interface
Denon doesn't include a universal-style remote with the AVR-2313CI that can control other components in your system—the included remote only works with the AVR. Denon also has a middling iDevice app dubbed the Denon Remote App that's available in the iTunes store, but it's not the most user-friendly remote app I've used. There may be better third-party options out there. Another control option is via a Web browser, which is very intuitive and a great way to interact with your new toy. Like all of Denon's CI models, the AVR-2313CI is Control4 certified, meaning it functions within that home-automation standard, and it allows for IP interaction with third-party controllers such as Crestron, URC, and others.
I have to hand it to Denon on its easy-to-read and -use user interface. The first time you fire up the AVR, you'll be greeted by a Setup Assistant for beginners that's kind of a Dummy's Guide to AVR Setup in electronic form. Whoever developed this for Denon has probably reduced calls into their help line dramatically. Its step-by-step instructions guide even the most novice layman through connecting every speaker, installing (and naming) each component, and within about 30 minutes it'll have the AVR set up to its environment. Bravo, Denon!