Vizio E601i-A3 LCD HDTV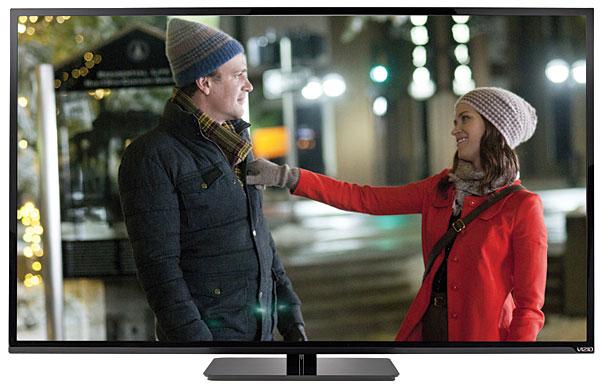 Price
: $1,000
At A Glance
: Impressive overall performance • Outstanding value • 2D only
It's long been true that if you wait long enough, the price of technology will drop down to meet your budget. Flat-screen HDTVs are prime examples. We've recently seen manufacturers respond to the current global financial malaise by squeezing their beans hard enough to produce decent sets for around $1,000. While it's difficult to say if this trend is due to economic conditions or pressure from price-aggressive new manufacturers, Vizio has been in the vanguard of the young guns making life difficult for traditional HDTV companies. And the company's not standing still. Exhibit A: Vizio's new $1,000 E601i-A3. Like its big brother, the 70-inch, $2000 E701i-A3, it's a true budget buster, but for a change, the budget they're busting isn't yours.
East Side, West Side
The E601i-A3 is remarkably thin for the price, though a bulge in the back panel makes it closer to 2 inches overall rather than the specified 1 inch. The provided stand does not rotate, and the screen is reflective—though less so than some of its pricey competitors. All of its back-panel connections face either down or to the side where they won't interfere significantly with a wall-mount installation.
Among the available picture controls, we get Vizio's typically wide range of picture modes, including those odd, sports selections (Golf, Basketball, Baseball, etc.). Among the color temperature options, Normal was the closest to correct out of the box, but for calibration, I used the Movie mode together with the set's red, green, and blue offset and gain white balance controls. There's no CMS (color management system—for adjusting the color gamut), no gamma options, and no PIP (picture in picture).
The set is LED edge lit, but there's no local or zone dimming. An adaptive luma control is said to produce a similar effect electronically at the pixel level, but I ultimately preferred to leave it off. The Backlight control (small c) is the usual overall backlight adjustment. A separate Backlight Control (capital C—a confusing choice of names!) has three settings: Off, DCR (Dynamic Contrast Control—dynamically adjusts the backlight), and OPC (Optimum Power Consumption—a more aggressive DCR). I found DCR useful on some material, but for the most part I also left this control off.
The E601i-A3 can perform motion smoothing via two controls: Smooth Motion Effect and Real Cinema Mode. They must be used together if you want motion compensation. With Real Cinema Mode off, all motion compensation is disabled. If you like motion smoothing via frame interpolation, the Vizio's is as effective as most. It does what it was designed to do on most source material. But apart from checking this feature, I didn't use it; the slick smoothness of motion interpolation looks bizarre and distracting to me on film-based sources. A good plasma set, which doesn't need interpolation, can do better than the Vizio (even with motion interpolation) on horizontal movement, though with its Smooth Motion Effect on high, the Vizio excelled on vertical and diagonal motion.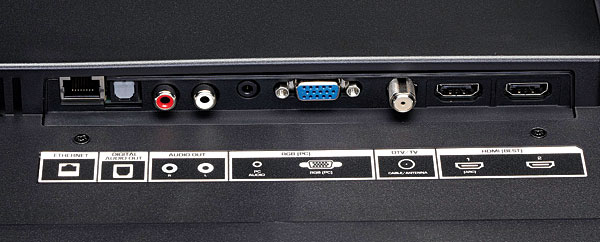 The Vizio's refresh rate is 120 hertz. With a 24-fps source, it does 5:5 pulldown; that is, it flashes each real source frame five times. According to Vizio, the set's motion smoothing interpolation operates only on 30-fps or 60-fps sources, but this was not my experience. I clearly saw the effect of motion interpolation (and I can spot it in seconds) with Smooth Motion Effect on high, even with 24-fps program material.
The Vizio offers the usual wide range of Web-based goodies, accessible either through the wired Ethernet port or wirelessly from your home network via the set's built-in Wi-Fi receiver. You can also view and/or listen to your own photographs, videos, and music through the E601i-A3. The directly available Internet sites include Hulu Plus, Amazon Instant Video, Vudu, Facebook, Pandora, news, weather, and sports sites, and more. The pictures on several HD Hulu Plus trailers were respectable, though such HD streaming, as we've noted before, was still not up to full Blu-ray quality.
The small, two-sided remote is the only real downside to the set's ergonomics. The major control functions are on one side, with a texting keyboard on the other. It's not backlit, and the child-sized buttons were often easy to miss in the dark—though after a few hours of use, I was able to locate at least the most important ones by feel.

Performance
Up to now, a 60-inch flat-screen HDTV for less than a grand was a fantasy. But with the E601i-A3, that's no longer true—at least in size and price. But can it stack up against the big boys? In most important respects, definitely. Its video processing was outstanding, equal to or better than that of some significantly more expensive sets. It passed all of our standard processing tests, and even some nonstandard ones, without a misstep.
Before calibration, the Vizio's Normal color temperature setting was just a bit too warm (meaning whites leaned slightly toward pink), but its color was more than acceptable for those who can't or won't stretch their budget to include a $300-to-$400 calibration. All of the following observations, however, were made post calibration (to ensure we were evaluating the set at its best; we want to see how good a set can be, not just how good our sample is).
The Vizio's color was so good, I was grasping to find something, anything, to complain about. The measured red point in the color gamut (see the CIE chart in HT Labs Measures) offered a fat target. But past experience has indicated that such displacements, within reason, have little visible effect (especially if they fall slightly outside of the triangle, as they usually do). Gray scale—the tracking of the white point across the full brightness range—is more critical, and post calibration the Vizio's only deviation there was a slight bluish shift at the very dark end of the brightness range—a shift visible only in comparison to other sets. The Vizio also excelled in its knife-sharp but natural detail. I had no issues with the set's superb resolution, and you won't either.
The Vizio's off-axis performance could be an issue with some viewers, but no more so than with most LCD sets. The color saturation starts to lighten a bit as you move about 20 degrees off center, and while it remains viewable well beyond that, it deteriorates progressively at wider angles. In screen uniformity, there was a slight unevenness in the set's reproduction of a full black screen image, but it was barely visible. With a full white field, I sensed a trace of magenta discoloration here and there, but it was almost subliminal and never an issue in real-world viewing.