Zero1.tv VooMote Zapper Universal Remote Control

Price
: $70
At a Glance
: Universal remote control system for iPhone/iPad/iPod touch • Controls all IR devices in multiple rooms • Extensive customization
The VooMote Zapper from zero1.tv is another universal remote control app/hardware solution for the iPhone. It's unique among a batch of such apps as it doesn't require an external device that you have to place near your A/V gear. Instead, there's a small dongle that plugs into the iPhone's 30-pin port. The dongle costs $70, a full $30 less than most other iPhone universal control systems, and it interfaces with a free app that you can download from the iTunes App Store.
The VooMote only works with iOS5, so you need an iPhone that has been or can be upgraded to the current OS. It's advertised as iPad compatible, but it's not an iPad-optimized app, so you won't get additional features or use of the iPad's larger screen.
The database is quite extensive and probably already has your product's access codes. However, it's easy to teach the VooMote any IR commands not already in the database just like you would any other universal remote control product. Since the VooMote Zapper has a built-in IR transmitter and attaches directly to the iPhone, it can communicate with any IR device in any room once you have line of sight. You can add any device that is controlled via IR, including lighting, projector mounts, and drapes, along with all your A/V gear.
Programming
The power of the VooMote is its programming capabilities, which let anyone create a fully customizable wholehouse control system. While you don't need to know any code and all the customization options make wonderful use of the iPhone's touchscreen tech- nology, it will still take a fair amount of time to program the VooMote, especially for multiple rooms.
Here's just a sample of what you can do. You can give each room a name and a recognizable icon. Touch that icon, and you'll see icons of all the devices in that room. Touch a specific device's icon, and you'll see the remote layout. From the remote layout, you can go into edit mode and create custom button layouts of each remote controller in your system. Choose your color, text, and icon name. Drag and drop buttons into position. Each layout can have multiple pages, and you decide which functions are located on each page. Make a mistake or want to make changes? Delete, copy, or paste as much as you like to get the layout you desire. If you get lost—and you probably will, given the VooMote's programming power—the help function provides some nice tips along the way.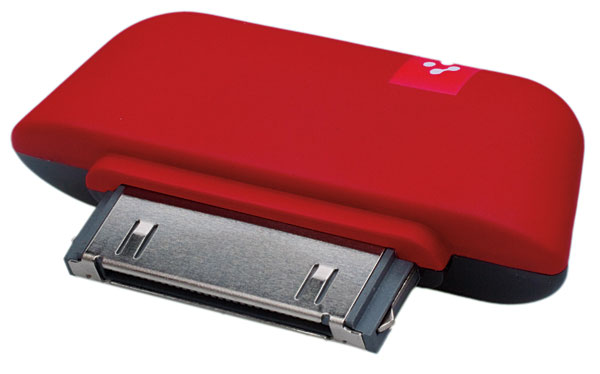 The OneView feature lets you combine multiple remotes in a single layout, such as a Blu-ray player and TV, allowing control of both devices on one screen. You can also create macros, which are chains of commands that activate at the touch of one button. For instance, if you want to watch a Blu-ray Disc, you can create an activity labeled Blu-ray and then set it up to turn on the video monitor, Blu-ray player, and A/V receiver. You can also include selection of the appropriate input on the AVR. Insert the disc, then hit play on the Blu-ray layout or OneView page you've created.
Additional Functionality
Don't want to push any buttons in the dark? Use the built-in gesture control to change channels, turn up the volume, or pause the Blu-ray player. Many iPhone apps include gesture control, and I've never found them to be convenient because it always requires you to move to a new screen, which is an extra step just to get to gesture control. With the VooMote, gesture control is built in.
To make it even more family friendly, the VooMote now works seamlessly with iCloud. This means you can program your layouts once and then all other members of the family can import those layouts to their iOS devices through the app. Of course, each device will need its own Zapper dongle.
While the amount of user flexibility is impressive, it takes patience to create a fully customized remote setup for just one room. For instance, when you go into edit mode, you have to teach each button the command you're assigning it. To do this, you need your original remote. Not only do you have to teach each button individually, it isn't always accurate, so you should test often throughout the process. However, if you use the generic remote it provides prior to any customization, it's generally accurate and you could just stop there.
The dongle approach has many advantages: Mainly, your remote is always with you and you don't have an external device that sucks up more AC. While the VooMote draws on your iPhone's battery, it didn't appear to be any more or less than other apps. Since you have to point the Zapper toward your gear, you have to hold the iPhone upside down with the Home button at the top instead of the bottom. Fortunately, due to the iPhone's accelerometer, even if you switch apps, they will still appear right side up.
If you purchase the dongle from Apple.com, it only comes in black or white to match your phone's color. If you want to be more creative and colorful, you can buy iPhone cases in a variety of vibrant colors, such as blue, green, and pink directly from voomote.tv, then purchase a dongle that matches. Future plans include the addition of a TV guide plus Facebook and Twitter feeds sometime this year.
Conclusion
The VooMote is a fun device, although I want to add a caveat that it's very much a device for techies who are just not impressed by the limitations of other app/hardware solutions. If you enjoy or think you would enjoy this level of programming, the VooMote will completely suck you into its seemingly endless pages of customization goodies. Even if you know you don't want to do this kind of programming, find a friend who does, pay him a few dollars, and you'll still be far ahead of the cost for a wholehome control system. That alone makes the value of the VooMote priceless.