Samsung 2012 TV Briefing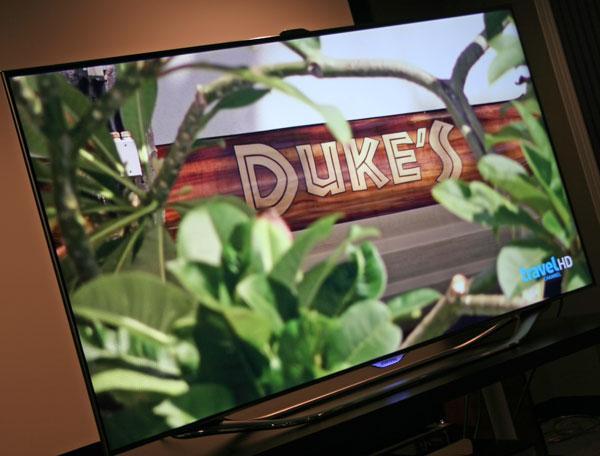 Today, Samsung revealed more details about its 2012 TV lineup at a press conference in New York. Seeing as how Tom Norton and I are based in Los Angeles, the company was kind enough to bring us up to speed at its QA Lab before the NY event, placing the info under embargo until now.
Actually, most of the info is not new—it was first presented at CES in January. But there was one bit of real news not available at CES—pricing and availability.
Among the new super-slim "ES" LED-LCD TVs, most of which will be available in March or May, the flagship ES8000 comes in four sizes—46, 55, 60, and 65 inches—ranging in price from $3000 to $5100. The next step down is the ES7500 at 46, 50, 55, and 60 inches for $2600 to $4000. Below that is the ES7100 and ES6600 (46, 55, and 60 inches), ES6500 (32, 40, 46, 50, 55, 60, and 65 inches), and ES6100 (40, 46, 50, 55, and 60 inches), with a combined price range from $1000 for the UN32ES6500 to $3800 for the UN60ES7100.
Interestingly, Samsung is completely abandoning CCFL (fluorescent) backlights in favor of LEDs in all of its new 2012 models, though there will be a few 2011 models with CCFL carried over to this year. And in the lower-end models, the LEDs are behind the LCD panel, not at the edges of the screen, though they do not implement local dimming. This design encompasses all the "EH" lines (EH4000, EH5000, EH5300, and EH6000), which range in size from 26 to 65 inches and in price from $330 for the UN26EH4000 to $2650 for the UN65EH6000.
Turning to plasma TVs, most of which will be available this month, the flagship E8000 line includes three sizes—51, 60, and 64 inches—at prices from $2200 to $3950. The same sizes are available in the step-down E7000 and E550 lines ($1200 to $3400), while the E6500 and E530 lines are available at 51 and 60 inches for $1000 to $2200. For the truly budget conscious, there's the PN51E490 ($800), PN51E450 ($720), and PN43E450 ($550), all three of which are 720p and available now.
The higher-end models of LED-LCD and plasma TVs are based on three pillars—Smart Interaction, Smart Content, and Smart Evolution.
As we reported from CES, Smart Interaction lets you control the TV by voice commands and gestures. At first, it will recognize only a few voice commands, such as channel and volume up and down, change inputs, and call up some apps. Also part of Smart Interaction is an integrated camera that recognizes your face and logs into your Smart Hub account, which includes your Facebook page among other customizations. A new Bluetooth QWERTY keyboard provides dedicated TV-control buttons and touchpad, and a new remote also offers touchpad navigation. All of this is intended to streamline your interaction with the TV—for example, whereas it took seven steps to access the TV's web browser last year, it takes only one or two this year.
Speaking of the web browser, it has been upgraded with Flash, HTML5, pop-up blocking, form auto-fill, and a history manager to be more like a full-fledged computer browser. It's part of Smart Content, which is organized in a new Smart Hub interface, seen here.
Smart Evolution not only lets you upgrade the firmware, but also the hardware. The TVs with this capability include a slot on the back that can accommodate a module with new features in the future.
Aside from these pillars, several technical improvements were discussed. For example, a new dual-core processor is said to improve picture quality and streaming, quicken web-page loading, and allow switching between multiple apps. Also improved in the LED-LCD TVs is Micro Dimming, a form of electronic local dimming that enhances perceived contrast without involving the LEDs. The new plasmas are also said to have improved processing and lower black levels thanks to several factors, such as an improved Real Black Pro filter on the screen, which is now available on a wider range of models than last year.
After the formal briefing, we actually got to play with the flagship UN55ES8000 LED-LCD TV (seen in the photo at the top of this report). There was no Samsung Bluetooth keyboard on hand, but I did try a Microsoft BT keyboard. The TV's response to typing was very slow, taking a full second or two to register each keystroke.
Also, the gesture control was kind of clunky. You wave in a certain way to get its attention, which calls up a menu of gestures along the bottom of the screen. If I didn't do something in a fairly short time, the TV would drop out of gesture-control mode, requiring me to wave at it again. Overall, I found the TV's response to be somewhat sluggish, and my arm got tired from holding it in the camera's field of view. Admittedly, both of these features were in prototype form, and Samsung assures me they will work much better when the product ships.
The picture quality was another story—it was bright and razor sharp with rich, natural colors. Tom noticed immediately that frame interpolation was turned on, making film-based content look like it was shot on video. As I've said many times, I much prefer a sharper image and don't mind the "soap-opera effect" caused by frame interpolation, which is the exact opposite of Tom's position on the subject.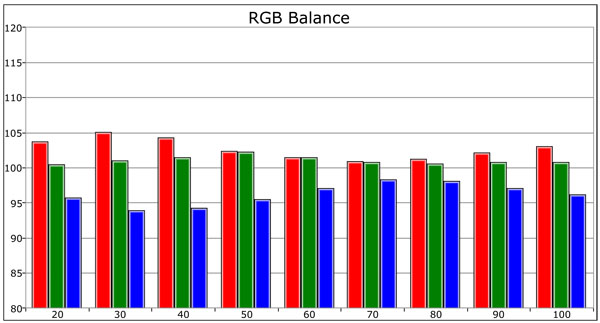 We even got to measure the grayscale and colorimetry using a Photo Research PR-650 and SpectraCal's CalMan software. Here you see the grayscale results from 20 to 100 percent of peak white—delta E (a measure of the error in RGB balance) was 3 or less across the brightness range except at 0 and 100, where it was closer to 5. A value of 3 or less is generally considered to be indistinguishable to the naked eye. These results are pretty good, but I'm sure I could get them closer with the TV's 10-point grayscale adjustments.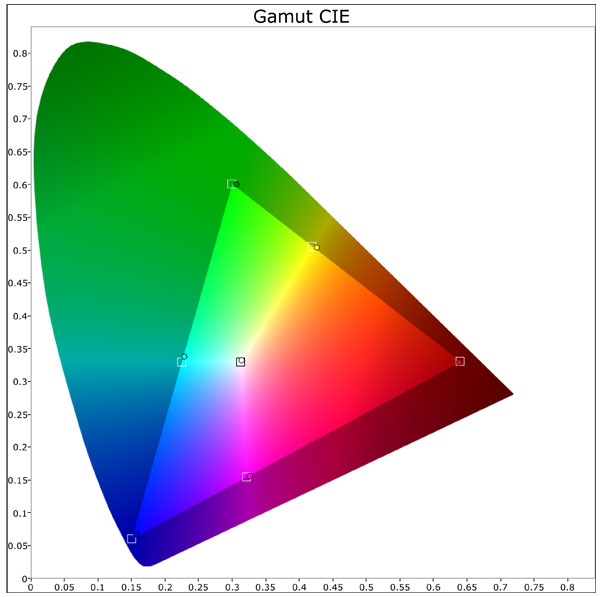 The colorimetry was also very good, as seen in the CIE chart above. In addition, we measured the peak-white and black levels—28.8 and 0.009 foot-lamberts, respectively (Smart LED dimming off), resulting in a full-on/full-off contrast ratio of 3200:1. The black level measured on last year's UN55D8000 with Smart LED off was 0.007fL. With Smart LED on, the measured black level would be much lower—0.000 with a full black field, and probably something like 0.001 with an almost completely black screen.
Finally, we spent a little time with the PN60E8000, the 60-inch version of the 2012 flagship plasma. We measured the peak-white and black levels (36.5 and 0.006fL for a contrast ratio of 6083:1), but not the grayscale or colorimetry. The black level here was 30 percent lower than we got on last year's PN59D8000 flagship plasma (0.009fL), confirming Samsung's claim that it has lowered the black level on this year's plasmas. Real-world content looked gorgeous, with rich colors, exceptional detail, and no motion blur or soap-opera effect.
Of course, we'll do much more comprehensive calibration, measurements, and viewing when we get these TVs in for review, which should be in the next few months. Stay tuned!
LATEST VIDEO