Up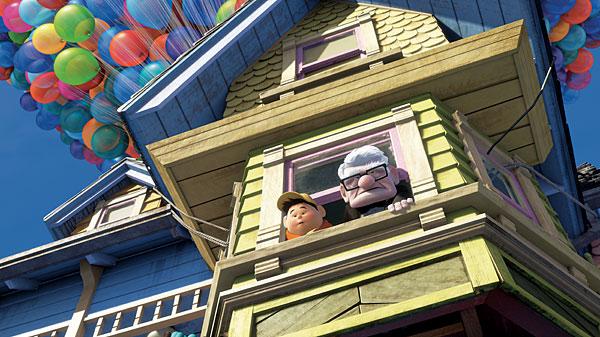 Featuring an old codger as an unlikely leading man, Up is a delight from its bittersweet beginning to its action-packed conclusion. The movie clearly received inspiration from at least one classic Looney Tunes cartoon. If Dug's vocal inflections sound strangely familiar, they should. They're reminiscent of the character Benny from 1952's Hoppy-Go-Lucky.
The video quality, both as rendered and as presented on these discs, is virtually pixel-perfect, but anything less would be a shock from Pixar. The colors are subdued where they need to be and vivid when appropriate. Check out, for example, how Kevin's intensely saturated hues pop out against wildly varied backgrounds. Fine details are crisp as well, with consistently impeccable textures.
Up was released in 2009 as a four-disc Blu-ray set, but it's available here in 3D for the first time since its theatrical run. The 3D is superb, and if your 3DTV has reasonable brightness, you're in for a treat. There aren't many pop-out effects, but a believable sense of depth significantly enhances an already fun-packed film experience.
The audio quality is also hard to criticize. The dialogue is clear, Michael Giacchino's terrific music score wide and enveloping, and the aural effects solid. Apart from a brief thunderstorm and a few other brief low-frequency effects, the soundtrack offers limited bass thrills. But the sound mix, overall, fits the material perfectly.
The five-disc set is packed with extra features, partly SD and partly HD, including the short Partly Cloudy that accompanied the movie's theatrical presentation, numerous making-of features, alternate scenes, trailers, an excellent com- mentary track including pop-up visuals with additional information, a genuinely educational, interactive Global Guardian Badge Game for the kids, and a link to Disney's BD-Live.
Blu-Ray 3D
Studio: Disney, 2009
Aspect Ratio: 1.78:1
Audio Format: DTS-HD Master Audio 5.1
Length: 96 mins.
MPAA Rating: PG
Director: Pete Docter
Starring: Ed Asner, Christopher Plummer, Jordan Nagai
Threatened with eviction from his lifelong home, Carl Fredrickson cuts loose in an unexpected way and sets off on a journey to the South American wilderness he and his late wife had long yearned to visit. Along the way, he picks up a few unwelcome (at first) fellow travelers: Russell, an 8-year-old Wilderness Explorer; Kevin, a rare bird and a key plot McGuffin; and Dug, a talking dog. Carl also runs into his boyhood idol, explorer Charles Muntz, who turns out to be less of a hero than he had long imagined.