The Game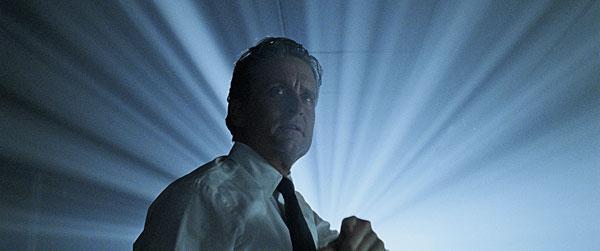 The Game
is director David Fincher's emphatic answer. Nobody plays a cold, callous one-percenter better than Michael Douglas. His Nicholas Van Orton here is clearly intended as a through-the-looking-glass play off of his iconic, late-'80s portrayal of Gordon Gekko in
Wall Street
. Douglas again plays a captain of finance in control of all things, but this time he's disassembled before our very eyes (a device that plays at least as well in today's socioeconomic climate as it did in 1997).
On his 48th birthday, Nicholas is a man apart, living alone in the huge mansion where his father killed himself at that very same age. Nicholas' black-sheep brother Conrad (Sean Penn) gives him a present, a gift certificate of sorts to the shadowy Consumer Recreation Services, which is described as "an experiential book-of-the-month club." The grip of paranoia is palpable as CRS burrows its way into every corner of Nicholas' ordered life and unravels it completely. At the end, it's a twist movie to be sure, but it's so expertly done that repeated viewings are actually enhanced by knowing the secret and looking for the clues. Fincher remains at his peak, but this is one of his very best, a somewhat overlooked gem that's worth discovering or revisiting.
The Game has a checkered past on home video, including a disastrous HD-DVD release a few years back. Criterion has righted most of the wrongs, even if it's still not perfect. The image here is clinical and clean as intended, detail is mostly strong, and the contrast and shadow detail in the dark imagery are excellent. Some shots and scenes oddly flatten out and lose convincing dimensionality, but even at its worst, it's a very solid release and far superior in every way to previous releases. Sound designer Ren Klyce's work on Fincher films is legend. Totally immersive at all times, and yet his effects are so convincingly natural, they almost go unnoticed. Beautifully rendered here in DTS-HD Master Audio lossless, as is Howard Shore's tension-inducing score. (I preferred the theatrical mix's extended dynamics over the near-field mix.)
The extras are vintage 1997 and surprisingly thin overall with the standout being the commentary with Fincher, Douglas, and others.
Blu-Ray
Studio: Criterion, 1997
Aspect Ratio: 2.40:1
Audio Format: DTS-HD Master Audio 5.1
Length: 128 mins.
MPAA Rating: R
Director: David Fincher
Starring: Michael Douglas, Sean Penn, Deborah Kara Unger
When your breakout movie, Seven, ends with Gwyneth Paltrow's severed head in a box, what do you do for an encore? 1997's psycho thriller