LG 42LH40 LCD HDTV
This review is part of a five-way Face Off. Read the introduction and conclusions of the Face Off here.
Price: $1,400 At A Glance: Superb adjustability • Outstanding color • Mediocre contrast and black level
Korean-based manufacturer LG began as a Lucky Goldstar and evolved into a Life's Good maker of a wide range of consumer electronics goods. It's now one of the biggest makers of flat-panel televisions on the planet, if not the biggest.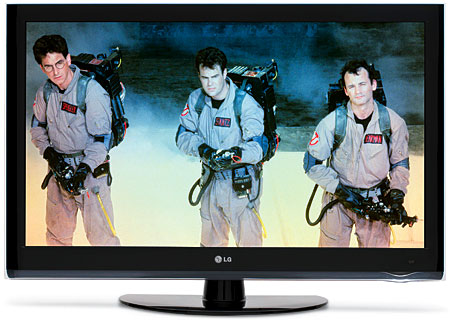 The set under review here is so loaded with features, you wonder how LG can afford to offer them all. But based on my reading of the owner's manual, these features appear to be generic across a wide range of LG's LCD sets, from the modestly priced to the most expensive. Thanks to the gods of firmware.
Behind the Curtain
The LG 42LH40 comes with a skimpy 23-page owner's manual. As with the Sony's enclosed pamphlet, this is sufficient to get you started, but it offers little more. Still, long before I discovered the LG's biblical, 136-page single-language manual online, I had already discovered, by trial and error, just how flexible the set's controls are.
Of course, it has the usual complement of inputs and outputs, including a USB port for playing back your MP3 music files and JPEG photos. It also has the expected video adjustments, which offer an unusual split of the Sharpness into two separate controls, V Sharpness (vertical) and H Sharpness (horizontal).
Accompanying these basic controls is a genuinely innovative feature: the Picture Wizard. It provides built-in patterns to help you adjust Brightness, Contrast, Color, Tint, and both of the Sharpness controls. Color me skeptical at first, because too often, such tools are mere toys. But with the exception of Brightness, the Picture Wizard got me within a couple of steps of the settings I derived from my manual setup.
The set includes the desirable high and low (two-point) color adjustments for red, green, and blue, along with an option to adjust the color at 10 points across the brightness range. You can make the LG's adjustments with either internal or external test patterns. It also has a color management system (CMS) with Color and Tint controls for the primary (red, green, and blue) and secondary (yellow, magenta, and cyan) colors. The LG lacks brightness controls for each color. But the available adjustments put me so close to a superb result that I didn't miss them.
There's a wide range of Picture modes, but the two you'll want to use are Expert1 and Expert2. They offer ISFccc capabilities (including lockable setup controls once a calibration is complete), and they are the only two modes that offer the full color calibration and color management adjustments I mentioned above.
The set's Color Filter menu has controls that let you turn on each color separately. This is the best way to set up the Color and Tint controls. Few sets offer this feature, although two in this group do—the other one is the Toshiba.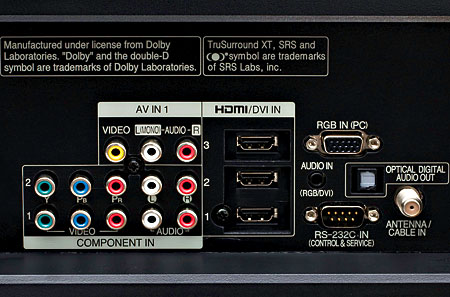 The LG also has a Dynamic Contrast control. As I noted in the report's introduction, we left such features off for most of our tests, including the panel sessions. But in the days following those group tests, I determined that the Medium setting of this control somewhat enhanced the LG's pop and shadow detail in dark scenes. But in my judgment, it wouldn't have been enough to change the LG's final standing, much less make it a challenger for the top two finishers.
There are also a number of other controls, but apart from performing a full calibration around the Warm Color Temperature setting, I left most of them in their off or default positions.
As with all the LCD sets here, the LG operates at a refresh rate of 120 Hz. With a 1080p/24 input, if you turn off TruMotion 120Hz (LG's motion-smoothing, frame interpolation feature), the set performs 5:5 pulldown on the 24-Hz input, adding four repeated frames to reach the display's refresh rate of 120 Hz. With TruMotion 120Hz turned on, the LG interpolates the added frames.
With a 1080p/60 input (or a lower-resolution input upconverted by the set to 1080p/60) and TruMotion 120Hz off, the set adds a single repeated frame to each real frame to get to 120 Hz. With TruMotion 120Hz on and an input with 3:2 pulldown, it recognizes the 3:2 cadence, converts the signal to 1080p/24, and then interpolates four new frames for each real one. However, if a source has 2:2 pulldown, it pulls it down to 30p and then interpolates three new frames to reach 120 Hz.