Toshiba HD-A35 HD DVD Player
The $499 HD-A35 is the top of the line in Toshiba's third generation of HD DVD players, although the
HD-XA2
remains available. Apart from Onkyo, which sells a player made by Toshiba, and Vantage, an as yet little known Chinese manufacturer, no other company markets HD DVD players.

The original Toshiba players were bulky, brute force designs,. The new players are smaller, their software, processing chips, and circuitry more efficient. If their insides look skimpier (see Fig.1 and Fig.2 for shots of the insides of the original HD-A1 and HD-A35, respectively), their features and performance most definitely are not.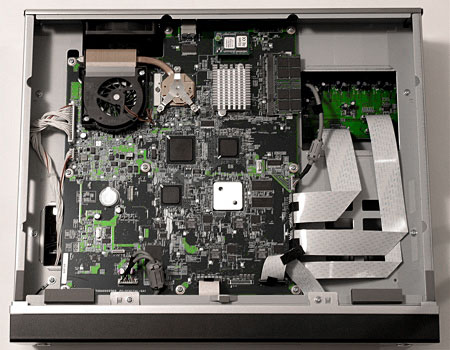 Fig.1 Toshiba HD-A1 First Generation Player. Note the large fan at the upper left. There's a second, smaller fan mounted vertically just behind it on the back panel. In addition to the large circuit board in the photo, there are additional boards underneath, one of which is just visible through the cutout at the upper right.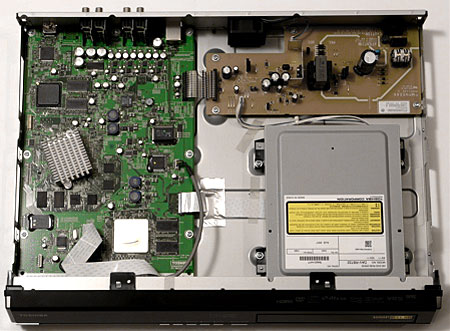 Fig.2 Toshiba HD-A35. The new player needs only a single small fan, mounted vertically on the center of the back panel. The only circuit boards are the ones visible here, though the large one at the left appears to be two-sided.
Round About
The player's clean front panel includes a USB port under a small, drop down panel that Toshiba describes in the manual as simply "For future functions."
The ventilation fan is much quieter than Toshiba's first generation machines, and the all-important Ethernet (LAN) port for downloading both firmware updates and Web-enabled disc features.
There are HDMI 1.3 and component outputs, a TosLink digital audio output, and two-channel and 5.1-channel analog outputs. The latter, along with bitstream output capability for next-gen audio codecs from Dolby and DTS, are the primary distinctions between this player and the less expensive, but also 1080p-capable Toshiba HD-A30.
Toshiba also specifies that the HDMI 1.3 output can support 7.1-channel sound and also supports features such as xvYCC and Deep Color. We expect to see a few 7.1-channel soundtracks relatively soon, but we expect the color enhancements to remain vaporware for a very long time.
The remote control is not backlit, but at least the button labels are now readable in dim lighting. The only complaint I have is that the forward chapter skip button is directly below the stop button. It was all too easy to hit the Stop button by accident. And due to the way HD DVDs are authored, when you stop an HD DVD, you cannot resume play from that point; the disc must be started again from the beginning, which is a major nuisance. (The resume feature works with standard DVDs, however.)
The player is configured through the on-screen Setup menus, which may be accessed and changed only when the player is stopped. You cannot, for example, change the output resolution on the fly (a useful featured offered by Pioneer Blu-ray players).
The HD-A35 may be set up to output 1080p/24 on HD DVDs, which eliminates 3/2 pulldown on film-based source material and the slight motion judder that 3/2 produces—assuming your television or projector can accept a 24fps input and display it as a multiple of 24fps.
But if the disc is based on a video source, or mastered at 1080i/30 frames per second (concert discs for example) the motion may stutter badly. This can be corrected by changing to a different output resolution, like 1080p/60 or even 1080i. But as noted this does require stopping the disc and going into the setup menu; it would be very helpful to be able to make this change on the fly from the remote.
As mentioned, this player does output native bitstreams for Dolby Digital Plus, Dolby TrueHD, DTS-HD and DTS-HD Master Audio. While the ability trancsode DD+ and TrueHD to PCM is common in HD DVD players, no current HD player in either format can decode lossless DTS-HD Master Audio transmit it as PCM over HDMI.
I used a direct HDMI connection to a receiver for both the audio and video for most of this review. HDMI-equipped AVRs and pre/pros typically offer their most flexible setup options from an HDMI input.
But for those who need them, the HD-A35's multichannel analog outputs provide are more extensive bass management settings than most players. There's a selection of crossover points for the subwoofer (80Hz, 100Hz, 120Hz), distance settings to provide the correct channel delays, and a test tone for setting the levels correctly.
Firing It Up
The picture quality the HD-A35 actually improves on the earlier designs I've seen. The images this new player draws from a good HD DVD transfer on a good 1080p display are consistently superb, with crisp detail, an illusion of depth that is often uncanny for a two-dimensional medium, and rich but natural color.
The Chronicles of Riddick looked completely amazing through the HD-A35, with its jaw-dropping cinematography and production design. It's a rather monochromatic film, but the few bright colors are all the more startling for that. The many dark scenes are never murky on a good display, and there aren't more than a handful of shots here that aren't in tight, crisp focus, including long shots with a startling depth of field. I've never seen this pristine HD DVD transfer look better.
I was also impressed by one of the quieter sequences early in the filmKing Kong. In the close-ups of Ann Darrow's (Naomi Watts) eyes as she talks in a New York restaurant looked amazing. I've watched this scene on other HD DVD players and displays, and this was the closest I've been to duplicating the emotional reaction I had in that original theatrical experience. The rest of the disc looked great as well on the HD-A35, but this particular scene grabbed me immediately.
Comparing the HD-A35 directly to the second generation HD-A20, the HD-A35 was the better performer. There was no difference in apparent resolution, but the newer player produced richer colors and, more importantly, more consistently correct color saturation from scene to scene, and a greater sense of depth. Increasing the projector's Color control with the HD-A20 could not duplicate the HD-A35's performance. It merely made flesh tones, for example, look sunburned.
Because of this superior HD performance, it came as something of a surprise to find the HD-A35 turning in a poor score when upconverting a 1080i HD DVD source to 1080p. It did not deinterlace properly, nor did it recognize 3/2 pulldown on our film mode tests. One of the features from the previous HD-XA2 that Toshiba dropped in the HD-A35 is Silicon Optix' HQV processing.