You Should Check Out the Delightful HarmonQuest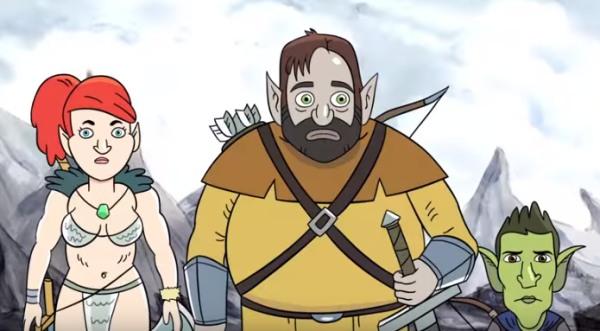 Dan Harmon, the beautifully deranged mind behind
Community
and
Rick and Morty
(the best written show on TV, by
far
), has unleashed his mad genius on… live role playing games?
No, seriously, this show is a joy.
I'd like to assume you all know what role playing games (RPGs) are. I feel like Dungeons and Dragons is enough in the zeitgeist that most people are at least familiar with the concept, but here it is: role playing games are basically a shared storytelling experience. A group of friends come together and "act" out a common story, each with a different character that has their own strengths and weaknesses. If this sounds too "nerdy" to you, please explain to me the point of professional sports.
As for how this works in a TV show, it's easier just to show you. Here's the trailer:
Whether or not you have any interest in playing an RPG yourself (I didn't play my first game until last year), HarmonQuest is still a wonderful show. It's part RPG, part improv show, part animated comedy.
It's that last part that makes the show great. To start the show, Harmon and several of his ultra-talented friends sit behind a table in front of a studio audience. They explain what the show is about (much as I have), and then the story begins. As they get into it, the show cuts to an animated version. So what they say and do, gets animated. It's unlike anything I've ever seen on TV, and it works.
The real reason this works, of course, is that Harmon and his questmates are all exceptionally talented. Each week they have a guest star who adds their own hilarity.
Here's the best part: It's basically free. Look here's the whole first episode!
If you want to watch the rest, you have to sign up for SeeSo, a comedy app/channel by NBC. It's $4 a month, but the first month is free and all the HarmonQuest episodes are there already.
It's a simple idea done well, and great fun.
And when you're done, check out Rick and Morty. You'll thank me.