The kit I carried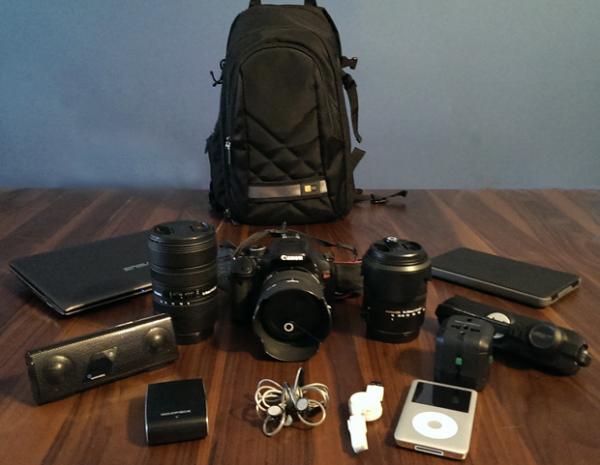 I've been travelling a bunch this year, with two big trips to Europe and China. Like my 10 Tips to the Travelling Techy last year, I brought along a bunch of gear, some good, some bad, some invaluable. I guess you could call this 10 Tips to the Travelling Techy 2, except it's eight.
So if you're planning any trips this summer, check out this list of some tech gear to bring.
1) A Decent Backpack
My camera is the most important part of my overall gear kit, and with three lenses, I'm just shy of having a full-blown glass addiction. It took me a month to find the perfect backpack, and though it turns out not to be "perfect," it's really close. The CaseLogic CPL-108 is nearly fantastic. I wanted something small, and this clever pack holds my camera with lens, two additional lenses, a bunch of random stuff (headphones, iPod, etc), and most importantly, my tiny laptop. If you're taking 2,000+ photos, you want a place to back them all up. It's shocking to me how many camera backpacks don't have space for a laptop or tablet. I don't know any professional photographer that goes into the field without one or the other.
The CPL-108 isn't perfect, however. Though it carries the gear I need, there is basically no space left for anything else (it really is quite small). A mesh net on the side for a water bottle would be amazing.
So it's not perfect, but for what it is, it's fantastic.
One last note, my first CPL-108 ripped at the zipper seam the first time I used it. I contacted CaseLogic (even getting a real person on the phone), and after sending them a form and a photo, they sent me a brand new one. Now that is customer service.
2) Travel Cables and Chargers
I talked about retractable USB cables last year, and I stand by those. I ended up buying the Monoprice 8856 charger you see above, and it's great. It's got 4 USB outlets (2 are 2.1 amps), and the plug snaps flush with the case. It's less than $8.
If you're travelling with someone, and you both have non-USB gear to recharge, a little travel power strip can save a lot of fights. Monster makes one for $10 that's actually fantastic.
Here's something you might not know. Most chargers now work on 50 and 60 Hz, and will convert 120 and 240 volts. In other words, they should work just fine just about anywhere in the world without a specific travel adapter. So instead, you can get one of these:
3) Universal Plug Adapter (or not)
As cool as this thing is, it's not very practical. It's rather bulky for what it is, and unless you're hitting a LOT of different and varied countries during one trip, do you really need this many different plugs at once? For $10 it's not bad, but in a lot of cases you can just get a traditional travel converter, and then just use the plug adapters to plug the travel charger (#2 above) directly into the wall. And that's presuming you can't find an outlet that accepts the standard North American (two vertical pin) plugs. The Wiki page has WAY more info than anyone needs, but it seems thorough.
Please don't take my word for any of this. Check your gear for multi-voltage compatability.
4) Lenses
Last year I took a tele, the kit lens, and my beloved Sigma 30mm f/1.4. This year, I swapped out the tele and the kit lens for a ultrawide and a superzoom. The f1.4 is still the best lens in my kit.
Sigma 8-16mm F4.5-5.6
This isn't a fisheye, but it is an extremely wide angle lens. It's very situational. It can take some incredible photos, but it can also make things look way too far away and distorted. It's also not very fast (at best, f/4.5). But for interiors or certain scenic vistas, it's awesome.
After juggling between it and my f/1.4 constantly through Europe (often lazily accepting the wide over the prime at the expense of a decent photo), I decided I needed a "vacation" lens. Hence:
Sigma 18-250mm F3.5-6.3
This is called a "superzoom" for obvious reasons. It's an amazingly versatile lens, but is the epitome of "jack of all trades, master of none." There is so much glass in this lens (though it's impressively compact, it's the lens to the right of the camera in the top photo), that it just can't take as good a picture as the f/1.4, or even the ultrawide.
So it's not as good as any other single lens, but it can do so much, that it's definitely the most handy to have around. I probably used this lens for 70-80% of my photos in China, and was satisfied with the results. My favorite photos were still with the f/1.4, but the sheer range possible with this lens made it the safest bet to have on the camera as "stock."
Cont...