Yamaha MusicCast WXA-50 Amplifier and WX-010 Speaker Review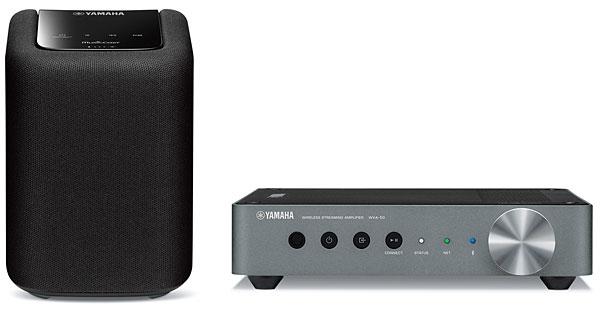 PRICE
$500 (amp); $200 (speaker)
AT A GLANCE
Plus
Streams to MusicCast devices
Wi-Fi, AirPlay, Bluetooth
55 watts per channel, Class D
Minus
No headphone jack on amp
No analog input on speaker
Loaded PC may freeze app
THE VERDICT
The Yamaha WXA-50 has a clean and lively sound, a space-saving form factor, and the ability to stream to devices using the company's MusicCast system—including the reasonable-sounding WX-010 wireless speaker.
If you are the intended audience for the Yamaha MusicCast WXA-50 amplifier, you find A/V receivers too big, black, and boxy. You are happy with two-channel sound but turned off by doghouse-sized stereo amps sitting on the floor. Soundbars may give you Bluetooth, but that isn't enough. You're willing to accept the architecture of a conventional home audio system—amp, speakers, sources—but on a more modest scale. And because you live in more than one room, you want a system with multiroom smarts. That's the WXA-50 stereo integrated amp and MusicCast multiroom system in a nutshell. To make things interesting for this review, we threw in a couple of Yamaha's latest WX-010 wireless speakers in additional zones.
The MusicCast Family
In addition to the WXA-50, the Yamaha MusicCast family includes surround and stereo receivers, soundbars, the NX-N500 powered monitor, and standalone wireless speakers like the WX-010 and the larger WX-030 (previously reviewed by me along with the Yamaha Aventage RX-A2050 receiver and by Al Griffin in last year's multiroom speaker roundup; both reviews are available at soundandvision.com). The company offers 11 stereo integrated amplifiers and nine stereo receivers, from the high-end A-S2100 amp ($4,000) down to the budget-friendly R-N402 receiver ($400). Some of them are MusicCast compatible. But the WXA-50 and its desk-friendly, slimline form factor stand apart from other Yamaha streaming amps.
The WXA-50 features a metal chassis with an aluminum cover. Up close and personal, it looks and feels well made. From the front, this streaming amp ($500) looks like an identical twin of the WXC-50 streaming preamp ($350), a similar sister product that lacks the WXA-50's stereo amp section. Controls on both are minimal: volume knob, play/pause, folder navigation, power, a remote sensor that looks like a button, and a few pinpoint LEDs.

Compare the back panels, however, and you'll notice that in lieu of the amp's substantial metal binding-post speaker terminals, the preamp offers coaxial digital, optical digital, and analog preamp outputs. Otherwise, both offer analog in and out, optical in, and subwoofer out. They talk to the network via Wi-Fi or Ethernet, and there's a USB jack for your music-stuffed hard drive. For control integration, there are 12-volt trigger and IR remote jacks. The small card-style remote includes buttons for volume, input, song/station presets, and transport controls.
A notable omission from both the amp and preamp versions is a headphone jack. Bluetooth headphones are supported, but not when listening to DSD or AirPlay sources. The WX-010 wireless speaker is Yamaha's more compact follow-up to its first standalone MusicCast speaker, the WX-030, priced before discounting at $250. It stands 6.25 inches tall and is wrapped in fabric around three sides. On the top are touch-sensitive controls for power, volume up/down, and play/pause, as well as pinpoint LEDs that flash to indicate various states. On the back are Ethernet and service-only USB jacks and a threaded insert for mounting. The plastic enclosure is acceptably though not exceptionally solid; a knuckle rap revealed modest plastic resonance. There is no analog input to patch in museumpiece iPods or other non-wireless devices—but you can use Bluetooth for a direct device-to-speaker or device-to-network interface and MusicCast streams any device connected to the amp over the network to the wireless speaker.
Unless fed through its analog, optical, AirPlay or Bluetooth inputs, the amp relies on content streaming in through the MusicCast app for its source material. During my evaluation, the app supported Napster, Pandora, SiriusXM Internet Radio, Spotify Connect, and generic internet radio. Tidal and Deezer were subsequently announced and should be available this summer. The app also allows for selection of music from mobile devices, computers, and NAS drives plus any source connected to the amp's digital or analog inputs. Bluetooth, when selected as an input on the amp, can be streamed via Wi-Fi to multiple MusicCast devices. Those devices can also feed another manufacturer's Bluetooth speaker or headphones.
The easiest way to connect the amp and wireless speaker to your home network is to share the Wi-Fi settings of an iOS device or use the pushbutton routine on a WPS router. If those options aren't available, the app will step you through a guided setup process that requires input of your network password. As a method of last resort, there's also a more byzantine manual procedure.