Primary tabs
Will You See Brave in a Dolby Atmos Theater?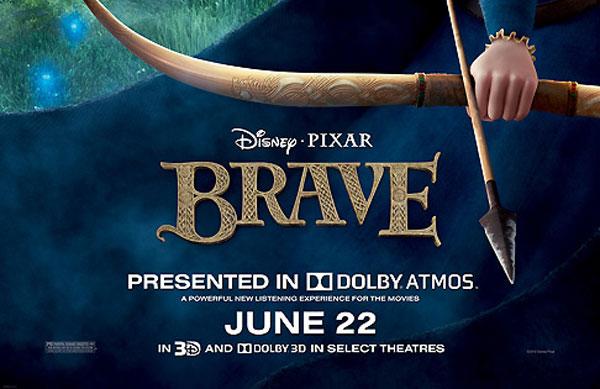 Brave
is the new animated feature from Disney and Pixar that opens today across the country. Of course, any new Pixar movie is cause for excitement, but this one is doubly so as the first movie with a soundtrack mixed for the Dolby Atmos cinema sound system, which places speakers all around the audience as well as overhead, creating a truly 3-dimensional soundfield. (For more on Dolby Atmos,
click here
; for my coverage of the world premier of
Brave
,
click here
.)
With any new technology, the only way to gauge its importance is to experience it for yourself. On the other hand, new technologies are often not widely available at first—Atmos has been installed in only 14 theaters around the country—making it difficult for most moviegoers to hear it firsthand. But for those who live near one of these theaters, this is an opportunity to hear what could be the next generation in movie sound.
Do you live near an Atmos theater? (Click here for a list of theaters and locations.) If so, will you make an effort to see Brave there? How far are you willing to go? HT reader Jarod and his wife are driving four hours! Or do you plan to skip the movie altogether? If you do see it in an Atmos theater, let us know your impressions of the system in the comments.
Vote to see the results and leave a comment about your choice.