Why Guardians of the Galaxy Means Star Wars is Going to be Awesome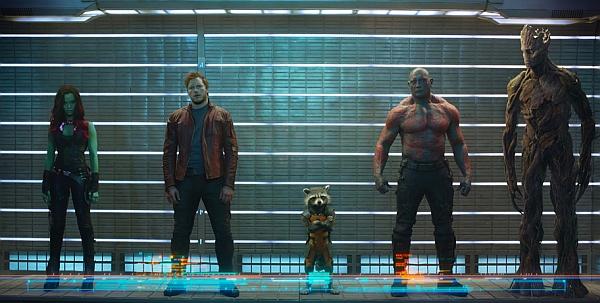 (Don't worry, no spoilers)
I hate The Prequels. It's a deep seated loathing, burning hot at my core like my heart was pumping white phosphorus. It's not that they were a disappointment (they are), or that they tarnish the original movies (to an extent, they do), it's that they are, simply, indefensibly, crappy movies. Poorly written, directed, acted, shot, they're an affront not just the legacy of Star Wars, but movie making as a whole.
I was excited when Lucas sold SW to Disney, and despite some questionable news since, Guardians of the Galaxy is a perfect example why I'm not worried, and in fact, enthusiastic, about the upcoming films.
No, really, this makes sense, I swear.
Guardians of the Galaxy is Marvel comic, the movie based on it was released today. It follows a motley crew of weirdos as they blow stuff up, save the universe, that kind of thing.
It's fantastic. Truly excellent filmmaking. Well written, well directed, brilliantly acted, it's a wonderfully fun summer movie that doesn't treat its audience like they're stupid. Like many Marvel movies, the depth of available content means believable characters in an otherwise unbelievable universe. There a the perfect balance of tone, all wrapped in a slick and gorgeous presentation. If you don't like this movie, I'm not sure why you go to the movies in the summer.
Here's the trailer, the movie is even better.
How does this tie into Star Wars? Disney. There were fears espoused on the Interwebs that Disney would, for lack of a more accurate word, Disneyfy SW. I don't get this. Since Disney has been in charge of Marvel, look at the movies they've put out:
The Avengers
Iron Man 3
Thor: The Dark World
Captain America: The Winter Soldier
Guardians of the Galaxy

Thor is probably the weak link there (also the only one I haven't seen), but the others range from good (Iron Man 3), to very good (Cap), to flat out brilliant (Avengers, and GotG). It's clear they know how to find people that can craft a good movie. No other studio has had such a consistent record with Marvel properties.
There were a few disconcerting developments. Disney announced that despite Episode VII taking places 30 years after Jedi, the Expanded Universe was not going to be considered canon. Ouch. That's a lot of material, books, comics, games, all cast aside. I can see why they did it, though. In the first place, there's little internal consistency with the EU. One book killed Chewy, ffs.
Second, and this is the bigger issue, following the EU would actually be way too constraining. Odd, yes, given the amount of content, but for the next three movies to work (not to mention all the interstitial character films), they need a clean slate. So as much as I'd love to see some of the books as movies, this was clearly the right call.
The next is JJ Abrams. As much as I (and many other people) enjoyed the new Star Trek films, I don't think any fan would tell you they're actually Star Trek. They're action movies with familiarly-named characters. However, and this is the part most fanboys miss, this was the only way we were going to see new Star Trek. Braga and Berman ran the franchise into the ground, and there's no way a reboot that's truly sci-fi would have ever gotten off the ground. Abrams showed he could make a compelling movie (despite an incomprehensibly awful script by screenwriting hacks Orci and Kurtzman), that was slick, marketable, and widely enjoyable. Is he the right director for the job? Probably, and since he's writing the script, along with Lawrence Kasdan, I'm optimistic.
May the force be with the mouse
When it comes down to it, Disney invested, literally, billions of dollars in SW. And from the track record so far, there's clearly a lot of smart people there watching over all this. More importantly, sadly, is that there's way too much money to be lost if it's not done right. Even more so with SW than with Marvel.
The suits at Disney seem to have an impressive (laudable, really) ability to hire creative people, and give them the tools to let them do their thing. So I can't wait to see Star Wars VII, which is not something I would have said so enthusiastically if Lucas was making them.
And if all of this doesn't convince you,
don't forget about that other little company Disney bought
P.S. If you're unsure why The Prequels are so terrible, check out the video below. If you're offended by, well, anything, don't watch. It's brilliantly insightful commentary wrapped in some wonderfully bizarre humor.