White Heat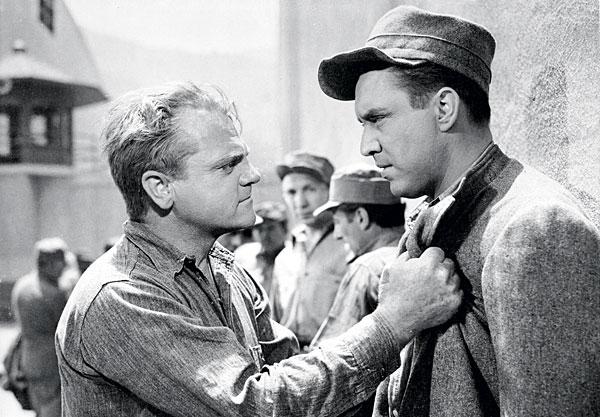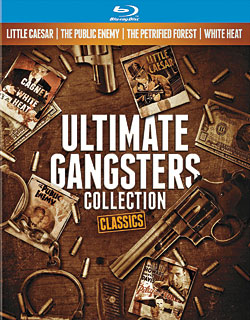 Warner Home Video's 1080p transfer isn't as luminous as some of its black-and-white classics on Blu-ray (e.g., Casablanca, The Maltese Falcon, The Treasure of the Sierra Madre). There's occasional edge-enhancement in facial profiles, and some shots are fuzzy. But black levels are deep, shadows have fine detail, fabrics have thick textures, cars and trucks have a convincingly metallic shine, the smoke from train engines is palpable, and (except for the occasional fuzziness and edge enhancement), there's a nice, natural film grain throughout. All told, it's a marked improvement over the standard-definition DVD, which wasn't at all bad. The sound, though no stunner, is clearer and crisper, too. A featurette and audio commentary, featuring mainly film scholars, is mildly interesting but no more.
White Heat is available separately or as part of a five-disc box set, "Ultimate Gangsters Collection: Classics," which also includes Little Caesar, The Public Enemy, The Petrified Forest, and a documentary, "Public Enemies: The Golden Age of the Gangster Film." White Heat is the newest, most modern, and by far the best of the bunch.
Blu-Ray
Studio: Warner Bros., 1949
Aspect Ratio:1.37:1
Audio Format: DTS-HD Master Audio 1.0
Length: 113 mins.
MPAA Rating: None
Director: Raoul Walsh
Starring: James Cagney, Virginia Mayo, Edmund O'Brien
White Heat is one of the greatest gangster movies ever made. It's a true film noir, a Freudian character study, and a pioneering police procedural, with slick suspense, a dry wit, and a deep-cutting (but not bloody) cruelty that's still jarring today. The script is by Ivan Goff and Ben Roberts, who later wrote a few seasons of the Charlie's Angels TV show, which at its best pulled off a warmed-over, softly satirical simulacrum of those traits. But two things set White Heat apart, after decades of imitations and parodies. The first is James Cagney, who turns in a startling performance, the best of his career, at once over the top and subtly modulated, just like his character, the psychopathic, calculating mama's boy of a killer, Cody Jarrett. The other is Raoul Walsh, who directed 139 films over a 52-year career, many of them crime mellers, none more rollicking than this. The scenes where Cody has a fit in the prison mess hall, where he calmly talks of "having a talk with Ma" out in the field on a windy night (by this time, Ma is dead), and of course the climax on the gas tower ("Top of the world, Ma!") are genuinely spooky. The whole film, from the first shots of the California hills, on the outskirts of civilization, has a feel of darkness and gritty despair.