This Week New Movies for February 5th 2013: Fight or Flight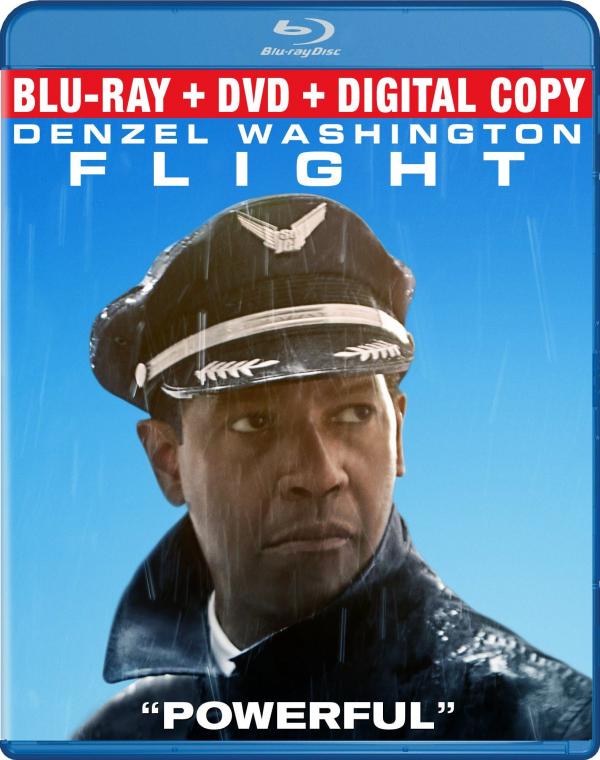 Flight
Flight, as directed by Robert Zemeckis (Cast Away, Forrest Gump, Back to the Future trilogy), states loudly and firmly the message that the ordinary working man - and woman - doesn't stand a chance against the system and the pressures of modern life. The only choices they have to help them cope are booze and drugs or religion.
The story deals with the politics of an airline crash with the heroic and incredibly capable yet drunk and coked-up pilot, Whip Whitaker (Denzell Washington). He finds himself trapped, even after saving almost all the passengers, as a pawn in the machinations of the industry machine - airline, airplane manufacturers, and union. Each is trying to pass the buck for the cause of the crash - because it comes down to cash and who'll be making the payouts - and all are looking for a scapegoat.
While in hospital, Whip meets overdose-recovering junkie Nicole (Kelly Reilly) in a marvelous scene in a stairwell where a terminal cancer patient (James Badge Dale) smokes cigarettes with them and jokes about death, God (who features a lot in discussions throughout Flight), and the meaning or meaningless of life. Whip and Nicole begin a romantic affair but the relationship is threatened by their respective demons and the stress of the crash investigation in which the union representative (Bruce Greenwood), a lawyer (Don Cheadle), and elements of every other party involved are trying to twist it to suit their own ends. Somehow Whip must find a way to deal with the realization that his life is not his own and has always been a lie.
Contrast is fine throughout this visually dark and moody film with a wide range of subdued but rich and distinct colors, deep blacks in Washington's jacket and pilot shades, and dazzling bright white to his shirts, hospital sheets, and bandages. The various skin tones are accurate, too. Although the overall look of Flight is softly lit and understated, there's a well-defined crispness to scenes with plentiful detail in bandages and pore-revealing textures in close-ups. Background posters and writing at the AA meeting are easily readable as are labels on the bottles of booze. In the brighter-lit scenes there's good volume to figures. It all creates a very clean, film-like picture despite being shot on digital cameras.
The soundtrack is equally subtle but powerful. Music - though a rather unimaginative mix of usual-suspects rock standards like The Rolling Stones' "Sympathy for the Devil" and "Gimme Shelter" - sounds terrific in the 5.1-channel mix with well-separated instruments, each clear and defined. They, and actors' voices - especially the deep ones of Greenwood and Washington - are full, vibrant, and clear. The atmospherics are spread all around, not bombastically intrusive but incredibly convincing. The very charged scenes during the turbulent takeoff put you in the aircraft cockpit as the juddering whumps of the rattling plane in the rough chop are made tenser by the thunderously rumbling of God's voice in the storm. You're immersed in it and the rain all around, involving but not distracting, and the sequence leading up to the crash, where there's catastrophic failure of control systems, gets the pulse pounding and palms sweating. Bits of plane snapping off and going flying off back behind you and, when an engine catches alight, a spray of flames roaring past your head each make you flinch. And, on cutting to a view from the ground, the plane comes falling, boomingly down on you.
Flight co-stars Melissa Leo, Brian Geraghty, and a memorable John Goodman who consistently scene-steals as Whip's bigger-than-life, colorful drug dealing friend. Washington has been nominated for Best Actor Oscar and John Gatins for Best Original Screenplay.
Video: 2.40:1. Audio: DTS-HD Master Audio 5.1. Extras: "Origins of Flight,""The Making of Flight," and "Anatomy of a Plane Crash" featurettes, 15 minutes of Q&A highlights hosted by The Los Angeles Times' John Horn with cast and crew; DVD and UltraViolet digital copy for streaming/downloading. Studio: Paramount.
Cabaret
"What good is sitting alone in your room?" Well you get to watch and listen to Cabaret on Blu-ray. And you can always invite Elsie or another friend in to enjoy the thought-provoking story and filmmaking, fabulous songs and production numbers, all in high def with lossless sound on your big screen.
Cabaret (1972) is based on the 1966 hit Broadway musical by the songwriting team Kander & Ebb (John Kander music and Fred Ebb lyrics, who amongst other things wrote the theme son "New York, New York") in turn based on Christopher Isherwood's bookThe Berlin Stories and the play I Am a Camera, which was derived from the same book. Director-choreographer Bob Fosse (Sweet Charity, Lenny, All That Jazz) and screenwriter Jay Presson Allen decided, though, to drop five songs from the stage show because they were just spontaneously sung to the world rather than performed on the stage of the Kit Kat Klub. Having all songs be cabaret numbers made the film both more realistic and yet simultaneously more theatrical. In there stead one number was added from the repertory of Kander & Ebb and two more were newly written. In the film the songs comment on what's going on in the lives of its protagonists and the nation, often brilliantly intercutting between a number and the action.
The story, similarly shaped and transformed by Fosse and screenwriter Jay Presson Allen, takes place, in part, in the "divinely decadent" (read seedy) Berlin club in 1931 during the Weimar Republic era where flamboyant American Sally Bowles (Liza Minnelli) sings, dances, and supplements her meager earnings through a little bumsen with the clients for money (which makes the world go around). Outside it is windy and Nazism is on the rise, but, as the macabre Master of Ceremonies (Joel Grey) informs us "inside it is so hot, every night we have ze battle to keep the girls from taking off all their clothing. So don't go away, who knows? Tonight we may lose the battle!"
Enter repressed bisexual Englishman Brian Roberts (Michael York), newly arrived in Berlin to continue his studies, who takes a room in the house where Bowles is staying and soon he is drawn into her world and to her larger-than-life live-for-the-moment personality ("When I go, I'm goin' like Elsie!") as well her unconvincing attempts at sexiness and sophistication both carried over from her stage persona that cover up her pathetic vulnerability and feelings of inadequacy. Soon, they become lovers. As the Nazis gain influence and their propagandizing newspapers and radio broadcasts convince ordinary folk, the couple, absorbed in each other and their day-to-day lives, become a threesome with aristocrat Baron Maximilian (Helmut Griem) who is certain that the upper classes and industrialists will be able to control the Nazis once the Nazis had taken care of the communists.
Oh Fatherland!
The film's perfection in all areas of the production shows Fosse's perfectionism and the great talents involved throughout. Although The Godfather beat it out for Best Picture, Cabaret won eight others for Best Director (Bob Fosse beating Francis Ford Coppola), Best Actress in a Leading Role (Liza Minnelli), Best Music, Scoring Original Song Score and/or Adaptation (Ralph Burns), Best Cinematography Geoffrey Unsworth, Best Editor (David Bretherton for the brilliantly inventive rapid-fire cutting), Best Supporting Actor (Joel Grey beat out Al Pacino and Robert Duvall in The Godfather), Best Art Direction-Set Decoration Rolf Zehetbauer, Hans Jürgen Kiebach, Herbert Strabel, Best Sound Robert Knudson, David Hildyard.So "Put down the knitting, the book and the broom. Time for a holiday. Life is Cabaret, old chum, come to the Cabaret."
Video: 1.78:1. Audio: DTS-HD Master Audio 5.1. Extras: commentary by Stephen Tropiano author of Cabaret: Music on Film, "Cabaret: The Musical That Changed Musicals" new high-def featurette, "Cabaret: A Legend in the Making" 1997 featurette, "The Recreation of an Era" vintage featurettes, "Kit Kat Klub Memory Galleries" interview snippets with Minnelli, Grey, York, Fred Ebb, Jay Presson Allen, John Kander, Emanuel L. Wolf, Cy Feuer, Martin Baum, housed in a 40-page digibook. Studio: Warner.
Alex Cross
The character of Dr. Alex Cross - African-American detective-psychologist with the Detroit Police Department and an intelligent, serious, and decent family man - was first featured in the novels of James Patterson and then portrayed and popularized in the films Kiss the Girls and Along Came a Spider by actor Morgan Freeman. The mantle of Cross is now taken on by, of all actors, Tyler Perry, best known for the long series of films he directed and starred in playing the big-old-black-woman character, Madea, most recently in Madea's Witness Protection (2012).
In Alex Cross, which is loosely based on the Patterson book Cross, the titular hero must go up against a serial killer called Picasso (acted by Matthew Fox who, in order to create a memorable villain, physically transformed himself for the role, shaving his head and losing weight to the point of becoming near-skeletal, giving him a fearfully ghastly appearance). Picasso seduces businesswoman Fan Yau (Stephanie Jacobsen) but when she takes him home, he drugs Yau before hideously torturing and murdering her. Cross and his partner Tommy Kane (Edward Burns) are called out to the crime scene, and so begins in a game of cat and mouse and chicken. A sketch left behind by Picasso, who is named for the Cubist portraits he makes of his intended victims, reveals that his next target is a German businessman, Erich Nunemarcher (Werner Daehn). On going to Nunemarcher's office, they clash with the killer, Picasso escaping after being shot by Kane.
And then the mission gets personal through the attack on Kane's girlfriend and the killing of Cross's pregnant wife. The police partners discover things are not what they seem, learning that Picasso's real target is billionaire CEO Giles Mercier (Jean Reno) and realizing there's a much bigger corporate conspiracy involving multiple assassinations. The intrepid detectives will now have to put everything on the line, go past the point of no return, take things to the limit, to the very edge of moral degradation in their search for vengeance and justice.
Alex Cross is directed by Rob Cohen (xXx, The Fast and the Furious, Stealth) from a screenplay adaptation by Marc Moss and Kerry Williamson. It comes with a 7.1-channel soundtrack in order to help show off its big-assed action scenes and flashy style in the non-too-subtle set pieces.
Video: 2.40:1. Audio: DTS-HD Master Audio 7.1. Extras: director's commentary, "The Psychologist and the Butcher: Adapting and Filming Alex Cross" featurettes, deleted scenes; DVD and digital copies. Studio: Lionsgate.
Laura
"I shall never forget the weekend Laura died. A silver sun burned through the sky like a huge magnifying glass. It was the hottest Sunday in my recollection. I felt as if I were the only human being left in New York. For with Laura's horrible death, I was alone. I, Waldo Lydecker, was the only one who really knew her, and I had just begun to write Laura's story when another of those detectives came to see me. I had him wait. I could watch him through the half-open door. "
After glamorous Manhattan socialite Laura Hunt (Gene Tierney) is murdered in her elegant Park Avenue apartment, strong and silent, hardboiled police detective Mark McPherson (Dana Andrews) arrives playing with a puzzle and begins questioning the men who were circling her beauty. First there's arch, acerbically witty newspaper columnist, critic, and dandy Waldo Lydecker (Clifton Webb) - one of the greatest creations in cinema. "I don't use a pen. I write with a goose quill dipped in venom." "In my case, self-absorption is completely justified. I have never discovered any other subject quite so worthy of my attention." "It's lavish, but I call it home." Then there's playboy-gigolo Shelby Carpenter (Vincent Price) who claims to be Laura's fiancé. "I can afford a blemish on my character, but not on my clothes. " "I don't know a lot about anything, but I know a little about practically everything.
"Through them McPherson begins to build a picture of the dead woman, augmented by a painted portrait of her that he takes an awfully strong liking to. Heaped in witty sophistication, suspense, and mystery - directed by Otto Preminger with the magnificent theme song "Laura," composed by David Raksin, and Oscar-winning cinematography by Joseph LaShelle - Laura (1944) is one of the greatest film noir murder mystery classics and fabulous entertainment.
Substantial extras include two commentaries and separate documentaries on Tierney and Price.
Video: 1.37:1. Audio: DTS-HD Master Audio. Extras: commentary by David Raksin and Jeanine Basinger, commentary by Rudy Behlmer, "A&E Biography: Gene Tierney – A Shattered Portrait" 44-minute documentary, "A&E Biography: Vincent Price – The Versatile Villain" 44-minute documentary, "The Obsession" featurette, extended version (with the deleted scene), deleted scene with optional commentary by Behlmer. Studio: 20th Century Fox.
Little White Lies
French box-office sensation Little White Lies (Les Petits Mouchoirs), written and directed by French heartthrob star Guillaume Canet (Tell No One, Whatever You Say), is an ensemble dramatic comedy about friendship. Eight 30-to-40-something tight pals have their holiday plans upset when one of them, Ludo (Jean Dujardin), has a near-fatal accident that leaves him hospitalized. The rest decide to accept the annual invitation of successful restaurant owner Max (François Cluzet) and his wife Véro (Valérie Bonneton) to stay in their beautiful beach house anyway to celebrate the birthday of one of them, Antoine (Laurent Lafitte). This leads to a French-style The Big Chill-type generational emotional showdown of revealed secrets and sorrows.
The cast includes Marion Cotillard, Benoît Magimel, and Gilles Lellouche, and the soundtrack of classic hit songs from Nina Simone, Creedence Clearwater Revival, The Isley Brothers, Gladys Knight & The Pips, The Band, and David Bowie, and Janis Joplin adds to the nostalgic atmosphere of frivolous youth turning to more serious middle-aged relationships.
Video: 2.40:1. Audio: French DTS-HD Master Audio 5.1. Extras: behind-the-scenes featurette. Studio: MPI.
Peter Pan
Once upon a time, long, long before the advent of computer-generated imagery, Nine Old Men - the legendary team of Walt Disney animators - using traditional, hand-drawn animation (that's now considered outmoded and, for the most part, abandoned) crafted with pencils and brushes, ink and paint, the magically expressive characters against gorgeous hand-painted backgrounds. Their flying, sword-fighting, swashbuckling, singing, and dancing made up Walt Disney's fourteenth animated feature.
The classic tale, which can teach us all to believe, takes us along with the Darling children - Wendy (voiced by Kathryn Beaumont), John (Paul Collins), and Michael (Tommy Luske) - soaring away with Peter Pan (Bobby Driscoll), the boy who refuses to grow up, past the second star to the right and straight on 'till morning on to the enchanted world of Never-Never Land. There, where childhood lasts forever, we can meet hot-tempered fairy friend Tinker Bell (Margaret Kerry). But there's also villainous Captain Hook (Hans Conried), his lackey Mr. Smee (Bill Thompson), and the pirates of the Jolly Roger who are intent on capturing Pan. Only the Lost Boys, Tiger Lily (Corinne Orr) and her Native American tribe can help Wendy, John and Michael to do battle to save Peter - that and a few sprinkles of fairy dust.
Based upon J.M. Barrie's 1904 play and 1911 children's novel - with the usual Disney creative license taken - Peter Pan (1953), despite being considered offensive for racial stereotyping of African Americans, is beloved by many others as much as the other classic early feature-length Disney animations Snow White and the Seven Dwarfs (1937), Pinocchio (1940), Fantasia (1940), Dumbo (1941), Bambi (1942), Cinderella (1950), Alice in Wonderland (1951), Lady and the Tramp (1955), and Sleeping Beauty (1959).
Now celebrating its 60th anniversary, this Diamond Edition of the adventure epic comes with a DTS-HD Master Audio 7.1 soundtrack and a huge haul of extras including decent documentaries, deleted songs, music videos, and a sing-along.
Video: 1.33:1. Audio: DTS-HD Master Audio 7.1, original Dolby Digital Mono. Extras: Introduction by Diane Disney-Miller, commentary by Roy Disney hosting interview excerpts of animators, voice actors, and filmmakers, "Growing Up with Nine Old Men" 41-minute high-def featurette, 15 minutes of deleted songs and scenes unearthed from the Disney Vault, "Backstage Disney" 65-minute documentary consisting of "You Can Fly: The Making of Peter Pan," "In Walt's Words: Why I Made Peter Pan," "Tinker Bell: A Fairy's Tale," "The Peter Pan that Almost Was," and "The Peter Pan Story" behind-the-scenes featurettes, "Disney Song Selection" in high def with DTS-HD MA 7.1 audio, deleted song "The Pirate Song," lost song "Never Land," "Never Land" Paige O'Hara music video, "The Second Star to the Right" T-Squad music video, "Disney Intermission" allowing younger viewers to receive pirate training via a series of tips, mini-activities, and video clips while the film is paused, Peter Pan optional sing-along track, "DisneyView Side Bars" allowing kids to fill the black bars to either side of the image with artwork from background painter Cristy Maltese; DVD and digital copies. Studio: Disney.
LATEST VIDEO