This Week in Music, October 22, 2013: Woody Guthrie, "American Radical Patriot"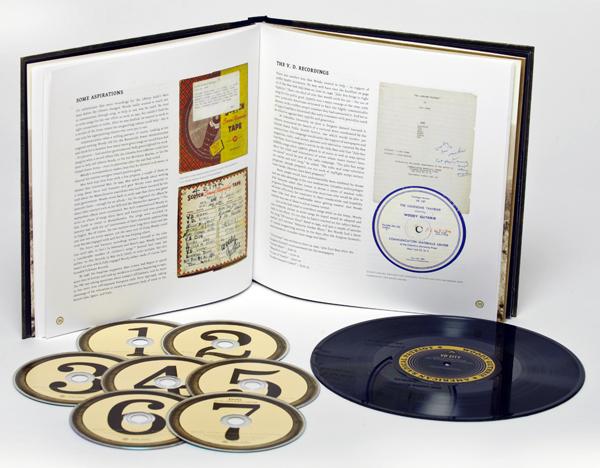 Woody Guthrie: American Radical Patriot
Archival release (Rounder, limited edition of 5,000 copies)
Photo below courtesy of the Woody Guthrie Archives, © Woody Guthrie Publications, Inc.
It's the End of Days for physical media. We all know that. Record companies, having ignored it for years, know it all too well now, and they're rushing to sell everything one more time. Two favorite methods: (1) The expanded reissue of an individual album. (2) The compilation of an artist's entire catalog. Neither method guarantees high quality. Depending on the company, these productions can be authoritative, comprehensive, and expertly done…or just product. Then comes something like American Radical Patriot—which honors Woody Guthrie by means of a third method, the historical release—and it leaves most other boxes in the bin.
To be more precise, it's less a box than a 60-page hardcover book, which houses six CDs, one DVD, and a 10-inch, 78-rpm vinyl record.
What does all of it chronicle? As the foreword explains, "This collection presents for the first time the full range of material Woody Guthrie recorded for the United States government, both in song and in spoken word," bringing together "two significant bodies of work: the songs and stories he recorded for the Library of Congress, and the material he created when hired to write songs for the Bonneville Power Administration."
Some of the Library of Congress material has appeared in the past, but here it's complete and unedited on four of the CDs, gathering all of the performances and interviews that Alan Lomax began taping in 1940. Most of the fifth CD has the BPA songs, written the following year.
In addition, this release has recordings that Guthrie made for other "governmental or quasi-governmental efforts," including various songs and two 15-minute radio dramas for the Office of War Information (during World War II) as well as "another drama offered to public health agencies to fight the spread of venereal disease."
Not your idea of Woody Guthrie?
Remember the three words of the title: American. Radical. Patriot. "Woody Guthrie loved his country," begins the book's essay, written by Rounder Records co-founder Bill Nowlin (who also produced the set). "He didn't agree with all of the policies of the government, or the ways in which some people took advantage of others." However, "There are numerous ways in which he thought government could help the populace."
Which explains the existence of a song like "VD City," represented here not only in a Guthrie demo but also, on one side of the vinyl disc, in a 1961 Minnesota hotel recording by Bob Dylan. (The flipside of the disc has Guthrie singing "The Greatest Thing That Man Has Ever Done" in a 1951 home recording.)
Other songs here include entries that are likely closer to your idea of Guthrie: "So Long, It's Been Good to Know Yuh," "Talking Dust Bowl," "Do Re Mi," "Hard Times," "Pretty Boy Floyd," "I Ain't Got No Home," "Hard, Ain't It Hard," "Pastures of Plenty," "Grand Coulee Dam," "Roll On Columbia." In other words: a wealth of American musical history.
Roll On Columbia is also the title of the DVD, a 1999 documentary on Guthrie's month at the BPA. It's yet another element that gives American Radical Patriot its depth and authenticity.
But let's go back to Nowlin. His essay is a marvel, with some tantalizing topic questions. Among them: "How did Woody's RCA recordings differ from the Library of Congress sessions?" "What was it that Woody Guthrie truly believed?" "How had Woody wanted to be seen?" A further marvel: This 60-page book is actually an edited version of a 256-page volume, available as a PDF file (on the first CD), an e-book, or (for a small charge) a hard copy.
Still, this "small" book itself is plenty enough to go with the music, and it includes many rare photographs (some of them unpublished), such as:
This is Guthrie in 1945, in his U.S. Army uniform. He was drafted despite having already served in the Merchant Marine. Those stories are in the essay, too, along with Guthrie's own drawings of his Army induction.
It's a joy to simply hold this book and read its pages. To see how the vinyl record and the CDs are embedded inside (harking back to the original concept of an "album"). To feel the physicality in your hands. For archivists who care, American Radical Patriot is required collecting.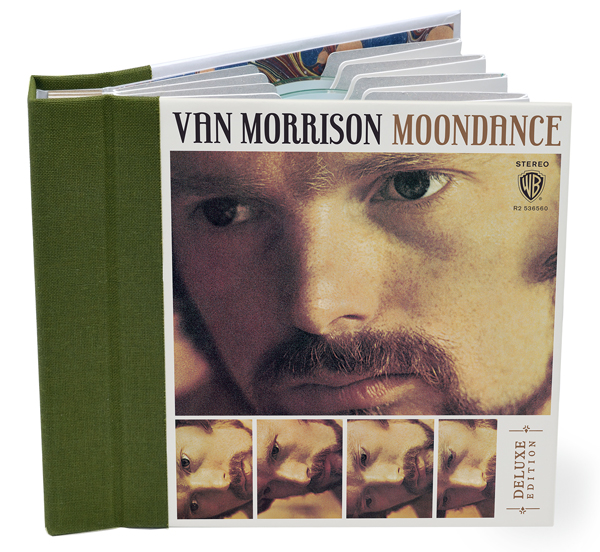 Van Morrison: Moondance
Reissue (Warner Bros.; tour dates)
This Deluxe Edition of Van Morrison's February 1970 release has much to recommend it: the remastered album on the first CD, alternate takes of seven of the album's tracks (including 11 of "Caravan") spread across the other three CDs, multiple takes and a final mix of the lost track "I Shall Sing" (unreleased by Morrison but covered by Art Garfunkel on Angel Clare), the outtake "Nobody Knows You When You're Down and Out," mono mixes, the original LP liner notes (by Morrison's wife at the time), a new essay (by Alan Light), and a high-resolution version of the stereo album on so-called Blu-ray Audio.
Yet the main draw for certain audiophiles will be the other high-rez entry on the Blu-ray: a 5.1 version by Elliot Scheiner, who mixed the original album (and who contributes some liner notes here). Scheiner had a surround mix in the can more than 12 years ago, but it stayed there, owing to the general failure of the Warner-backed DVD-Audio format. At last, here it is. May other longtime 5.1 captives be freed soon. (Here's hoping for you, Graceland.)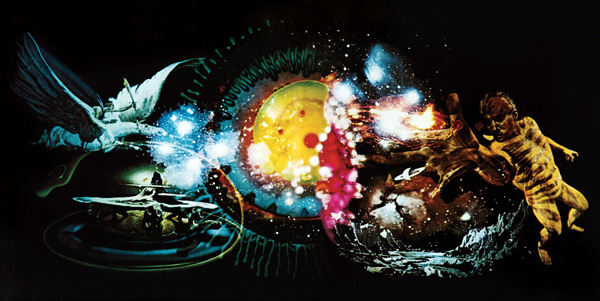 Other reissues of classic albums
Santana: Santana (Mobile Fidelity Sound Lab; original artwork shown above)
Remastered for 180-gram vinyl LP, this is Santana's 1971 set—the group's third album and, as I've written several times before, its absolute pinnacle. Here's what I last wrote, for the complete critical discography in our November 2010 issue: "Although it's a cliché that a band often does its best work under the greatest pressure, here you have it: a band on the verge of splintering yet in the realm of brilliance. The word 'masterpiece' is overused, but make no mistake: This album qualifies. Fire, soul, complexity, passion—not to mention singer Gregg Rolie's (and the band's) single most heartbreaking performance ("Taboo") and the addition of 17-year-old axboy Neal Schon, who trades licks with Carlos Santana to usher us into a true guitar heaven."
Laura Nyro: Smile (Iconoclassic)
Tears for Fears: The Hurting (Mercury/UMe), box of 3 CDs, 1 DVD
Ten Years After: Recorded Live (Chrysalis), 2 CDs, 7 bonus tracks
The Waterboys: Fisherman's Box (Parlophone U.K.), Fisherman's Blues via 7 CDs, 1 LP
Various Artists: Eraserhead—Original Soundtrack Plus (Sacred Bones)
Other archival releases
Backstreet Boys: The Essential Backstreet Boys (RCA/Legacy)
Crow: The Best of Crow (Sundazed), CD or 180-gram vinyl LP
Pearl Jam: The Essential Pearl Jam (Epic/Legacy), repackaging of rearviewmirror (1991–2003)
Sparks: New Music for Amnesiacs—The Ultimate Collection (Lil Beethoven), 4-CD box
The Strawberry Alarm Clock: The Best of the Strawberry Alarm Clock (Sundazed), 180g LP
Robin Trower: State to State, Live Across America, 1974–1980 (Chrysalis), 2 CDs, prev. unrel.
UFO: Hot 'N' Live, 1974–1983 (Chrysalis), prev. rel. Schenker CD, mostly unrel. Chapman CD
Various Artists: Love to Love You Donna (Verve), Donna Summer remix album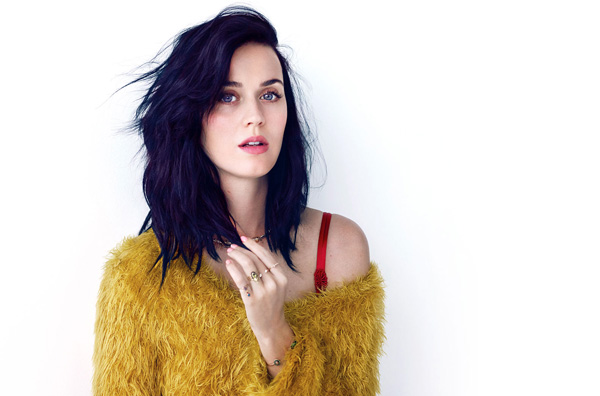 Katy Perry: Prism
New release (Capitol)
Photo by Cass Bird
"I love Madonna to death," says Katy Perry, "but she's never going to give me that damn baton. I'll probably turn into more of a Joni Mitchell."
There's zero likelihood of the latter, considering the evidence on Prism. Nor does Perry deserve that damn baton, when she and her team of producers and co-writers (primarily Dr. Luke, Max Martin, and Cirkut) merely serve up 13 tracks that are mostly a yawn.
The voice could be anyone's. The beats could be everyone's. Overwhelmingly, this is dance-oriented pop at its most automatic, formulaic, generic, mechanical, perfunctory, routine—how many synonyms do you need?
One of the bonus tracks on the Deluxe Edition—the measured, entrancing "Spiritual," with compositional input from boyfriend John Mayer—is better than anything on the album proper. Well, OK, except for first single "Roar," which, despite its club-footed percussion, is simply irresistible. But if you thought Prism would follow the lead of "Roar," the sad truth is…snore.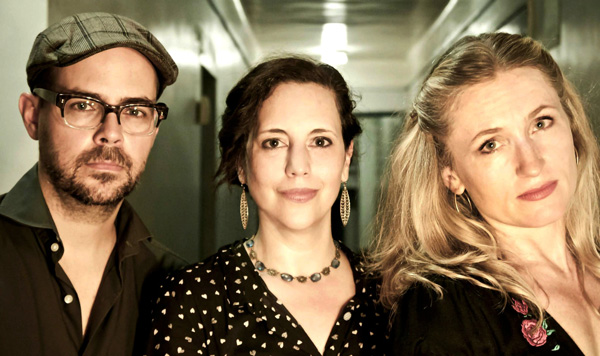 The Big Bright: I Slept Thru the '80s
New release (thebigbright.com)
Photo by Leone/Tormes
Prefer tribute albums that re-imagine material instead of just replicating it? Then snap up this set by The Big Bright, an ensemble that combines Ollabelle's Glenn Patscha and Fiona McBain (at left and right in the photo above) with solo artist Liz Tormes. The subject of this tribute is indeed the 1980s, and the idea is to turn some of that decade's confections into "New Wave nocturnes." How? With spare, unplugged instrumentation that's superbly arranged. And with vocals that incorporate both affecting leads and intuitive harmonies.
In this manner, the trio draws out the melodies of the songs, so that we may appreciate them anew, especially on tracks like INXS's "Don't Change," Duran Duran's "The Chaffeur," and Robert Palmer's "Johnny and Mary." You always suspected there was something sweet about the Alan Parsons Project's "Eye in the Sky." Now you know why.
Still, you wouldn't think this approach could work for something as poppy/peppy as the Bangles' "Walk Like an Egyptian." But it does—with a piano, and a male voice. "Oh-way-oh"? What was once an almost gimmicky hook has become a supremely solemn incantation.
There's much more here, adapting the likes of the Cure, Depeche Mode, and Tears for Fears (with a couple of original interludes by the trio), until the album closes with a cover of a cover of a cover: "I Go to Sleep," whose journey from Ray Davies to Marion (Maerz) to the Pretenders to The Big Bright results in a lovely song of delicate chamber folk. When Patscha adds a postscript called "My Baby," you may go away with the impression that Slept is an album for children. But don't leave it in the kid's room; we adults need lullabies, too.
Other new releases
Matilda the Musical (Broadway/Yellow Sound)
Original Broadway cast recording of the production based on Roald Dahl's novel.
Lang Lang, Simon Rattle, and the Berlin Philharmonic:
Prokofiev's Piano Concerto No. 3, Bartók's Piano Concerto No. 2 (Sony Classical)
AFI: Burials (Republic), produced by Gil Norton
Best Coast: Fade Away (Jewel City), seven-song EP
The Black Hollies: Somewhere Between Here and Nowhere (Ernest Jenning Record Co.)
Brett Dennen: Smoke and Mirrors (F-Stop/Atlantic)
Hugh Laurie: Live on the Queen Mary (Eagle Vision), DVD or Blu-ray
Motörhead: Aftershock (UDR/ADA)
Polly Scattergood: Arrows (Mute)
Anoushka Shankar: Traces of You (Deutsche Grammophon)