This Week in Movies & TV, October 29, 2013: Dead of Night
Deadwood: The Complete Series
The three 12-episode seasons from 2004-2006 of the historical and historic TV series,
Deadwood
, from creator, co-producer, and writer David Milch (writer of
Hill Street Blues
, co-creator with Steven Bochco of
NYPD Blue
, creator of
John from Cincinnati
and
Luck
) come in a 13-disc box set housed within the pages of a 16-page hardcover book.
Deadwood is set during the height of the Black Hills Gold Rush of the 1870s, the richest gold strike in American history, in a small but booming mining settlement less than a year old and not officially even recognized as part of the United States — Deadwood in South Dakota. Over the course of the series it gradually grows from a lawless camp into a disorderly town, drawing a strange range of settlers, every kind of misfit, drifter, and outlaw, all seeking their fortune by any means necessary. This immoral, self-indulgent, and dangerous community is governed by greed, corruption, fear, and intimidation. Amongst its inhabitants, some fictional, some based on real historical characters, are sheriff and co-owner of Star & Bullock Hardware, Seth Bullock (Timothy Olyphant), gunslinger Wild Bill Hickok (Keith Carradine), owner of The Gem Saloon Al Swearengen (Ian McShane), scout Calamity Jane (Robin Weigert), widowed wife of a claim seeker Alma Garret (Molly Parker), owner of The Bella Union saloon and theater Cy Tolliver (Powers Boothe), Gem Saloon worker Dan Dority (W. Earl Brown), co-owner of Star & Bullock Hardware Sol Star (John Hawkes), and physician Doc Cochran (Brad Dourif).
But undisciplined fun and games can only go on so long and when word reaches the deadly powers that be of the imminent annexation of Deadwood to become part of the Dakota Territory, it becomes apparent to these leading citizens and local business owners that they will need to form a local government in order to maintain control in the face of the inevitable outside incursions that will be pushing the camp in the direction of becoming a (somewhat) civilized town.
The formal language littered with obscenity, profanity, and blasphemy — all made possible due to the series airing on a paid for premium cable station — was mixed and matched by Milch's brilliant, eloquent, anachronistic, and poetic dialog.
Deadwood received near universal praise from critics over the course of its three-year run and won eight Golden Globes and an Emmy Award but nevertheless was suddenly cancelled after Season 3. After he declined to do a 6-episode wrap-up in place of a fourth season, Milch—and HBO—agreed to make two two-hour television films but the productions have yet to come into being.
Each one of the three seasons (and the multiple commentaries that accompany it) comes spread over three discs with a fourth disc of high-def extras about that season and, in addition to these 12 discs, there's a 13th disc of end-of-the-series supplements.
Studio: HBO
Video: 1.78:1
Audio: DTS-HD Master Audio 5.1
Season 1 Extras: commentary by Milch on "Deadwood," actors Parker and Carradine on "Here Was a Man," Dourif and Weigert on "The Trial of Jack McCall," and McShane and Olyphant (highly entertaining) on season finale "Sold Under Sin," "Making Deadwood: The Show Behind the Show" (14-minute making-of), "The Real Deadwood" (26 minutes on the real West), "The new Language of the Old West" (30 minutes on the dialogue and scripts), and "An Imaginative Reality" (HD, 28 minutes on the blending of facts and fiction) featurettes.
Season Two Extras: commentary by Olyphant and McShane (again funny) on season opener "A Lie Agreed Upon, Part I," Parker and Anna Gunn on "A Lie Agreed Upon, Part I," executive producer and director Gregg Fienberg on "Complications," Kim Dickens, William Sanderson, and Dayton Callie on "E.B. Was Left Out," Boothe and Garret Dillahunt on "E.B. Was Left Out," John Hawkes and Paula Malcomson on "Advances, None Miraculous," Olyphant and Gunn on "The Whores Can Come," McShane and Paula Malcomson on "The Whores Can Come," "The Real Deadwood: 1877" (21 minutes on a historical overview on the times) and "Making of Episode Twelve" (71-minute making-of) featurettes, "Deadwood Daguerreotypes" gallery of photos from the real Deadwood and promo stills.
Season Three Extras: commentary by executive producers Feinberg and Mark Tinker on "Tell Your God to Ready for Blood," Jim Beaver, Sean Bridges, and Brown on "A Two-Headed Beast," Weigert on "Amateur Night," Milch on for the last episode of the entire series "Tell Him Something Pretty," "Deadwood Matures" (20 minutes on the town's evolution) and "The Education of Swearengen and Bullock" (20 minutes on the pair) featurettes, "Deadwood Daguerreotypes" gallery of more photos from the real Deadwood and promo stills.
End-of-the-Show Bonus Disc Extras: "The Meaning of Endings" (23 minutes of Milch talking about the conclusion) and "The Real Deadwood: Out of the Ashes" (29 minutes more on the towns development), Q&A with cast and creative team (64 minutes of a 2005 talk session moderated by Variety reviewer Brian Lowry in standard def), "Deadwood 360° Tour" (8-minute tour of the sets), "Al Swearengen Audition Reel" (10 minutes of comedy by Titus Welliver, who plays Silas Adams, impersonating Milch, Al Pacino, Christopher Walken, Robert Duvall, and Robert De Niro).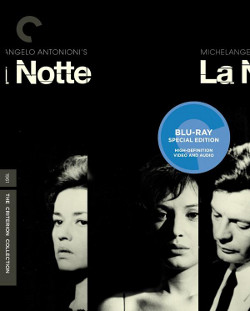 La Notte
La Notte (The Night, 1961), the central part of director Michelangelo Antonioni's visually striking, psychologically complex, modernist masterpiece trilogy that began with L'Avventura (The Adventure) and ended with L'Eclisse (Eclipse), covers a day and a night of a married couple—Giovanni Pontano (Marcello Mastroianni), a renowned, successful novelist and his beautiful frustrated wife Lidia (Jeanne Moreau)—in crisis.
The film follows the couple through one day and a night. After a difficult day of unspoken wondering and contemplation of their lives and possible futures, the couple attends a swank party where the two handsome and masterful actors are joined by the Antonioni's gorgeous muse, Monica Vitti. She plays an industrialist's daughter who appeals to Giovanni romantically as a young and enticing alternative to his challenging wife who only wishes him to return to his old self before fame, accolades, and his bourgeois friends changed his values. Meanwhile her father tempts him financially by offering him a fortune to become the company intellectual and spokesperson.
The day and night are a turning point for them both presented with Antonioni's unique existential questioning of meaning and examination of alienation and the possibility of maintain one's self and human relationships in the face of the morally deteriorating, emotionally empty post-war society.
The uncompressed mono soundtrack, though empty for long stretches of dialog or music, is an essential part of La Notte, helping to express the state of mind of its characters with both the disconcerting silence at times or the nails-on-chalkboard interruptions and intrusions of the city constantly rebuilding itself in motion. The opening credits scene, a tracking shot from an elevator on the exterior of a building looking out on Milan, has a complex mix of traffic sounds, construction noise, and atonal electronic music giving a feeling of the discomfort, emptiness, and disconnect of living in this urban landscape seen from on high. It is all very clear, open, and natural sounding.
The picture is very sharp with excellent contrast producing deep blacks in cars and steering wheel, Giovanni's suits, and passersby's sunglasses. His shirts, like the hospital sheets and gowns when he visits a dying friend, waiters' and traffic cops' uniforms, and shiny reflections in those automobiles are all extremely bright whites as is the credits type. These are offset by a wide range of greys in between.
Plentiful detail adds to the resolution of everything and helps give some figures and faces a solidity and dimensionality, while compositions in depth, like the crowded bookstore event, have volume. The tumbledown buildings Lidia encounters on an extraordinary, exceedingly long aimless wandering around the less glamorous backstreets of Milan, that's filled with little encounters and adventures while her husband is spreading his fame signing books, have great texture as do dirt roads, pavements, and pebbled walls. Intricate elements of paintings and sculptures in backgrounds in the couple's apartment are also visible and Campari and Gelati signs easily readable.
The all-important modernist architecture has very sharp clean lines cutting up and across abstracting the picture and the characters in it, absorbing them into the vastness and patterns of their environment just as they are lost in their own modern lives.
La Note appears in a new 4K digital restoration. There is just enough grain remaining to maintain a film-like look (as does one short shot with a hair in the gate) without any interference in clarity. All dirt and debris has been removed and damage fixed from the surface of the film so that you can experience all the tactile surfaces in the film.
Studio: The Criterion Collection
Video: 1.85:1
Audio: Italian, Linear PCM Mono with English subtitles
Extras: new interview with film critic Adriano Aprà and film historian Carlo Di Carlo, new interview with professor Giuliana Bruno on the role of architecture in La Notte, booklet featuring an essay by critic Richard Brody and a 1961 article by Antonioni.
Agatha Christie's Poirot, Series 9
This highly popular Brit TV murder mystery series returns on Blu-ray with four feature-length mysteries from 2003-2004 (newly remastered on two discs), adaptations of some of Agatha Christie's best-known novels—Five Little Pigs, Sad Cypress, Death on the Nile, The Hollow—featuring her beloved Belgian detective, Hercule Poirot (David Suchet).
ITV Studios' Poirot has aired in the U.K. since 1989 and on PBS and A&E in the U.S. In partnership with producer Brian Eastman, Clive Exton adapted the original pilot and wrote and produced Series 1–8, an assortment of complex and despicable murders amongst 1930s austere Art Deco of his home, swank hotels, and the wealthy apartments. Exton and Eastman then left Poirot in 2003, when they began work on Rosemary & Thyme.
For Season 9, because the novels being adapted were more based on psychology and had darker themes, the new team of Michele Buck (Jericho, Endeavour, Bouquet of Barbed Wire) and Damien Timmer (executive producer on Inspector Lewis, Touching Evil, Parade's End) revamped the series, the episodes being noticeably less humorously tinged in tone. The fictional team that had previously helped and inspired Poirot in solving the crimes committed — his fearless-but-slightly-dim sidekick Captain Hastings (Hugh Fraser), intrepid Scotland Yard investigator Chief Inspector Japp (Philip Jackson), and canny private secretary Miss Lemon (Pauline Moran)— were no longer available to lend assistance. Instead they were replaced by eccentric crime novelist Ariadne Oliver (Zoë Wanamaker) and valet for Poirot, George (David Yelland).
The severe, Art Deco homes and decorations were replaced by more luxurious, sumptuous, and elaborate, settings. The program was renamed Agatha Christie's Poirot, to match the ITV series Agatha Christie's Marple, the opening titles replaced, and the music's rearrangement doomed-down to reflect the moodier plot lines.
The stories include Five Little Pigs, in which, 13 years after Caroline Crale (Rachel Stirling) was executed for hanged for poisoning her cheating husband, a bohemian painter, her daughter, Lucy Crale (Aimee Mullins), enlists Poirot to investigate the case and prove her mother's innocence.
In Sad Cypress a beautiful, young socialite, Elinor Carlisle (Elisabeth Dermot Walsh) seems the obvious killer of her ailing aunt, Mrs. Laura Welman (Diana Quick), and also a romantic rival, Mary Gerrard (Kelly Reilly), who stole Elinor's fiancé's love. Elinor stands convicted of the murders, but Poirot believes in her innocence and so must race to find the true culprit before the sentence is carried out.
Death on the Nile finds Poirot once again in Egypt where, fearing a future death, he intervenes when a newlywed couple on their honeymoon, wealthy heiress Linnet Ridgeway (Emily Blunt) and her impoverished husband, Simon Doyle (JJ Feild), are being harassed by Jacqueline "Jackie" de Bellefort (Emma Griffiths Malin), the equally penniless daughter of a French Count, whose fiancé was taken from her by best friend Jackie.
The Hollow has Poirot invited for one of those weekends in a country estate by eccentric Lucy Angkatell (Sarah Miles) to stay with her and her clan. Also invited are the philandering Dr. John Christow (Jonathan Cake), a successful physician and leading researcher, and his extended family. Dr. Christow is already having an affair with Henrietta Savernake (Megan Dodds), a talented sculptor, when he has a visit from an earlier love, Veronica Cray (Lysette Anthony), who is living in a nearby cottage, and suddenly appears on Saturday night supposedly looking to borrow a box of matches. When Dr. Christow is murdered, it's up to Poirot to untangle the web wives and lovers who might be the possible killer.
Other guest stars for Series 9 include Edward Fox, Barbara Flynn, Judy Parfitt, Toby Stephens, Aidan Gillen, Phyllis Logan, Marc Warren, Paul McGann, and Gemma Jones.
Video: 1.78:1, 1.33:1
Audio: DTS-HD Master Audio 2.0
Extras: none
Studio: Acorn Media
Monster Cars
These two 3D computer animations in stereoscopic 3D come from the Pixar division at Disney. One, Monsters University was created in 3D this year, while the other, Cars was originally made in 2006 and then recently converted to stereoscopic 3D and worked on — adjusting shots to amplify the 3D effects and re-rendering them—in preparation for a re re-release in theaters and now on Blu-ray as Cars 3D.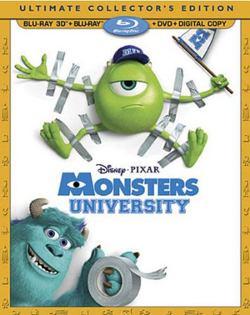 Monsters University 3D
In this the 14th feature-length computer-animated comedy film produced by Pixar, a prequel to Monsters, Inc. , young Mike Wazowski (voiced by Billy Crystal), the little green walking eyeball sets off for Monsters University (MU) in the hope of becoming a Scarer.
A Scarer, as Mike learnt while visiting Monsters Inc.—Monstropolis's best-known scaring company—on a school field trip as a kid, is a monster who enters the human world at night to scare children so that their screams can be harvested for energy. Ever since then he's harbored the dream of joining their ranks. On arrival, though, in addition to meeting his new roommate, Randall "Randy" Boggs (Steve Buscemi), he comes up against James P. Sullivan, "Sulley" (John Goodman), a massive, turquoise, hairy monster who, unlike small, unimposing Mike, is naturally scary. But that doesn't stop Mike developing a rivalry with Sulley, to the point where, at the final exam for Scaring 101, their competitiveness leads to an argument that makes Dean Abigail Hardscrabble (Helen Mirren) fail them both and drop them from the program. Mike decides to prove himself by working together with Sulley to enter the Scare Games in the hope that the competition will get them back into the scare program.
Monsters University was screenwritten and directed by Dan Scanlon and the voice cast includes Nathan Fillion, Alfred Molina, Frank Oz, Charlie Day, Sean P. Hayes, Dave Foley, Aubrey Plaza, John Ratzenberger, and Joel Murray. The music for the film is composed by Randy Newman, his seventh score for a Pixar film.
Pixar's 14th consecutive film to debut at number one at the box office, it earned $743 million against its budget of $200 million.
The Monsters University 3D set includes a 2D Blu-ray, DVD, and digital copy. A Monsters University 2D set is also available that includes a DVD and digital copy.
Cars 3D
This, the 7th feature-length computer-animated comedy film produced by Pixar, was co-directed and co-written by John Lasseter, director of Toy Story, A Bug's Life, Toy Story 2, Cars, and Cars 2. (Lasseter's first job was as an animator at the Walt Disney Company. He was fired for promoting computer animation.) Cars creates a world populated only by talking automobiles with unique personalities. Lightning McQueen (voiced by Owen Wilson), is a rookie celebrity earning fame from the racing circuit and, living it up with all the arrogance and self-centeredness that comes with the turf (or track).
In the final race of the Piston Cup championship, he three-way ties the race with retiring veteran Strip "The King" Weathers (Richard Petty), a 1970 Plymouth Superbird, and Chick Hicks (Michael Keaton), a 1980s stock car. Winning the competition would have allowed him to take The King's place as the lucratively sponsored car of the Dinoco team, so when a tiebreaker race is scheduled to be run a week later at the Los Angeles International Speedway in California, he heads on down there as fast as his big rig, Mack (John Ratzenberger), a 1985 Mack Super-Liner, can carry him. But on the way there, he literally hits a detour in his life.
Pushing Mack to travel all night long while McQueen is sleeping, the exhausted big rig drifts off the road causing McQueen to fall out the back of the truck. When Mack, ends up in the Radiator Springs, a near-ghost town on the old Route 66 that was bypassed when Interstate 40 was constructed, he accidently damages its main drag's pavement and is impounded by Mater (Larry the Cable Guy), a rusty 1951 International Harvester L-170 tow truck. On advisement of local lawyer, Sally Carrera (Bonnie Hunt), a 2002 996-series Porsche 911 Carrera with sleek, sexy lines, McQueen is ordered by the town's judge and doctor, Doc Hudson (Paul Newman in his final non-documentary feature), a 1951 Hudson Hornet, to do community service by repaving the road.
During his stay in Radiator Springs, he meets Luigi (Tony Shalhoub), a 1959 Fiat 500, Fillmore (George Carlin), a 1960 hippy VW Bus, Ramone (Cheech Marin), a 1959 Chevy Impala Lowrider, and a variety of other oddball characters. During his stay he discovers that there's more to life than just competing for fame, endorsements, and glory.
The soundtrack, in addition to 11 score cues by Randy Newman, features Sheryl Crow, James Taylor, John Mayer, Chuck Berry, Rascal Flatts, Brad Paisley, and others.
Cars voice cast includes Michael Wallis, Paul Dooley, Jenifer Lewis, Guido Quaroni, and Katherine Helmond, as well as voice cameos by celebrities Mario Andretti, Michael Schumacher, Jeremy Piven, Jay Leno, Jeremy Clarkson, Dale Earnhardt, Jr., Bob Costas, Darrell Waltrip, and Tom and Ray Magliozzi from NPR's Car Talk. Cars earned $462 million worldwide box office. Pixar's feature films (which have won 27 Oscars) have earned over $8.3 billion worldwide. Related merchandise for Cars — models of the vehicles, etc. — has brought in $10 billion.
The Cars 3D set includes a 2D Blu-ray, DVD, and digital copy. A Cars 2D set is also available that includes a DVD and digital copy.
Studio: Disney
Monsters University 3D, Video: 1.78:1
Monsters University 3D, Audio: Dolby TrueHD 7.1
Monsters University 3D, Extras: commentary, The Blue Umbrella animated short film from Pixar Animation Studios directed by Saschka Unseld in which two umbrellas fall in love, "Campus Life" (what it's like being on a production crew at Pixar), "Story School" (on the challenges of creating a prequel and the themes that run through the story), "Scare Games" on extracurricular games played at Pixar, "Welcome to MU" (on the sets), "Music Appreciation" on Newman's score, "Scare Tactics" (on the animation team), "Color and Light" (on the creation of the colorscripts), "Paths to Pixar: MU Edition" (crew telling their challenges on the path to Pixar), "Furry Monsters: A Technical Retrospective" (on the differing technical challenges that arose when making Monsters, Inc. , and Monsters University) featurettes, deleted scenes (with director's introduction), promo picks, College Campaign, theatrical campaign, set flythroughs, art gallery; DVD and UltraViolet digital copy for streaming/downloading.
Cars 3D, Video: 2.39:1
Cars 3D, Audio: Dolby TrueHD 5.1
Cars 3D, Extras: Mater and the Ghostlight Pixar short film, One Man Band Pixar short film, "Inspiration for Cars" featurette, deleted scenes (storyboard animatics of 4 scenes never fully animated).