This Week in Movies & TV, March 19, 2013: Hobbit Go Home!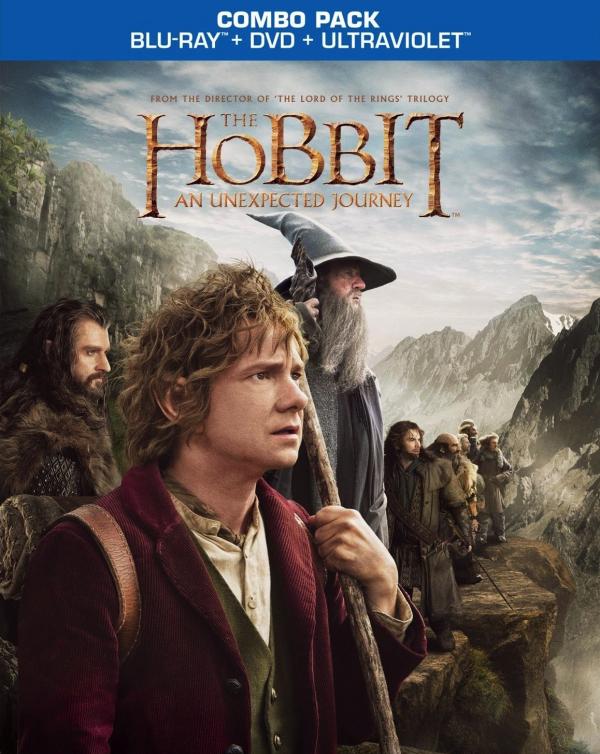 The Hobbit: An Unexpected Journey
Back, way back in Middle-Earth, 60 years before The Lord of the Rings saga began, there was another story. . . .
In An Unexpected Journey, the first of a three-part film adaptation by director Peter Jackson of J.R.R. Tolkien's 1937 epic fantasy adventure novel, The Hobbit, Bilbo Baggins (Martin Freeman) is convinced by the Gandalf the wizard (Ian McKellen) to join 13 dwarves led by Thorin Oakenshield (Richard Armitage) - son of Thráin, son of Thrór, King Under the Mountain - on a quest to steal back gold and precious jewels from Smaug the dragon who had captured the treasure 150 years before. Ultimately, though, their dream is of reclaiming Erebor, the Lonely Mountain, once home to the race of dwarves.
Although lacking the dread and menace of the LOTR quest with its characters struggling for survival and an all-engrossing threat to their world, The Hobbit's challenges are still involving and endearing and the filmmaking is mightily impressive and rarely matched in home-theater thrills.
Contrast is near perfect, the autumnal tones of the hobbit vests rich and subtle. Apart from the scenes of finally setting-off a-questing - where green landscapes are rather like blocks of color - the visuals have the highly differentiated look of all the Middle-Earth films with their huge range of tones and crisp textures. Skin tones - Elven, Dwarf, and Hobbit - are all completely natural.
The wonder of Erebor and the dragon's attack on it are created through incredibly deep-focus in-depth compositions, everything sharp with masses of detail throughout from front to back. Lush landscapes are limitless, textured, and well defined. In close-ups, Gandalf's staff shows all the twisted strands of wood to its head, clothes reveal patterns even in dark and shadow, and individual hairs on Orc faces are visible. A constantly floating camera vertiginously plunges down into the empire of the Goblins taking you right there amongst all the action where spaces have volume and faces are solid and sculpturally rounded.
Howard Shore's score surrounds you from all 7.1 channels going into the familiar Shires theme that'll immediately bring shivers to fans' spines. The very open soundtrack delivers music that is crisp, clean, and full, the well-separated sections of the orchestra spaced all around. Once the fight with the Trolls starts, the strings and strident brass surge up all around, kettledrums pounding deeply, with nothing breaking up at all. Voices are resonant and clear, dialogue understandable despite the thick Scottish, Irish, and Northern English accents of the dwarves.
The tinkling of gold coins showering all around, circling wolf-like Wargs, and a highly immersive rainstorm are all convincing. Sounds, such as roaring fires or horses snorting, are well placed and there are plentiful accurate pans of singing birds in flight, screeching bats flying straight at you, and Orcs on Wargs pounding by. Other impressive LFEs include the rumbling-crumbling Stone Giants, Elvish longhorns, and The Ring thunderously bouncing to the ground, ominously speaking of things to come.
The Hobbit:An Unexpected Journey has grossed over $1 billion at the box office, surpassing both The Fellowship of the Ring and The Two Towers. It was Oscar-nominated for Best Makeup and Hairstyling, Best Production Design, and Best Visual Effects.
The set comes with an individual access code for a sneak peek of The Desolation of Smaug - opening in U.S. theaters on December 13th - hosted live by Peter Jackson on March 24th at 3pm EST/12pm PST. (There and Back Again is due for theatrical release in 2014.)
A 3D version is also available and the set also comes with the 2D Blu-ray, DVD, digital copy, and UltraViolet digital copy for streaming/downloading.
Video: 2.40:1. Audio: DTS-HD Master Audio 7.1. Extras: "New Zealand: Home of Middle Earth" 7-minute featurette, 127 minutes of video blogs, game trailers, access code for a sneak peek of The Desolation of Smaug hosted live by Peter Jackson; DVD, digital copy, and UltraViolet digital copy for streaming/downloading. Studio: New Line.

Les Misérables
Les Misérables is an adaptation of the grossly successful stage musical - seen by 60 million people in 42 countries around the globe (which still simply Mis-tifies me) - lyrics and book by Alain Boublil and music by Claude-Michel Schönberg, which in turn was based on the 1862 French classic novel by Victor Hugo set in 19th-century France.
Director Tom Hooper (The King's Speech) decided to have his cast sing the semi-operatic songs (there are only a few spoken dialogue moments) live on set in order to give the performances a reality and immediacy. Hooper believes that when actors do dialogue live they have freedom in time and in pacing whereas, if they're just lip-sync to the pre-recorded cast album playback on set, they aren't emotionally in the moment, merely concentrating on reproducing the performance. The film's vocals were recorded live on set using tiny, clip-on lavalier microphones to live piano accompaniments played through an earpieces, with the sound of the 70-piece orchestral accompaniment recorded later synching to the piano in post-production.
Similarly, for the building of the barricade to be as real and intense as possible, it was created in real time by the actors literally hurling furniture out of windows to construct an actual barricade.
Anyway, in 1815, Jean Valjean (Hugh Jackman), after serving nearly 20 years in Toulon prison for stealing a loaf of bread to help feed his family (plus numerous attempts to escape), is finally getting out on parole but is warned by merciless prison guard Javert (Russell Crowe) that according to the law he must always have on his person certain papers identifying him as a dangerous ex-convict and report regularly to a parole officer.
Because of the papers, Valjean is driven out of every town, embittering him completely against the human race and bread, so that when a truly Christian bishop (Colm Wilkinson) offers to shelter him in his house, Valjean steals away during the night with some of the Bishop's silverware. Inevitably, he's caught and dragged back to the house, but the kindly Bishop proclaims that the silver was a gift to Valjean thereby freeing the guilty man. Valjean decides to break parole, change his name and appearance, and tear up the cursed papers so that he can start his life afresh and make something worthwhile of it. Javert vows to hunt him down.
So begins the vendetta between Valjean and Javert that will continues to consume both their lives and, for 158 minutes, ours. Eight years pass and Valjean, having created a new identity, becomes a much-respected businessman and Mayor of a French town. Enter Fantine (Anne Hathaway), one of Javert's factory workers with a secret who ends up a prostitute, allowing Hathaway to give her Oscar-nailing rendition of "I Dreamed a Dream."
Valjean rescues Fantine from the justice of Javert who's recently arrived - of all the towns in all the gin joints in all the world, he walks into mine - and in a moment of conscience at the trial of the innocent man coincidentally believed to be him, declares his true identity - Valjean! - and fleas.
Nine more years pass . . . Javert's still chasing Valjean but the ranked outsider's still staying a neck ahead as they approach the jump with just an act to go. Meanwhile, echoing the pair's obsessive drama, the oppressed underclass, finding the hideous conditions they live in and the government's injustices no longer tolerable, and the students, unable to pay back their loans after tuition hikes, are talking revolution. . . .
This sprawling epic co-stars Helena Bonham Carter, Sasha Baron Cohen, Isabelle Allen, Amanda Seyfreid, Amanda Seyfried, Eddie Redmayne, Aaron Tveit, and Colm Wilkinson. Fans of the stage show should be happy with the fact that the film contains every song from the original stage musical except "I Saw Him Once" and "Dog Eats Dog" (a new song, "Suddenly," being added), although many songs have been shortened and the lyrics of some changed.
The movie grossed more than $340 million worldwide. Les Misérables was nominated for eight Oscars (including Best Picture) winning for Makeup and Hairstyling, Sound Mixing, and Actress in a Supporting Role.
The Blu-ray comes with a DTS-HD Master Audio 7.1 soundtrack
Video: 1.85:1. Audio: DTS-HD Master Audio 7.1, DTS 5.1. Extras: director's commentary, 75 minutes of featurettes including "Les Misérables Singing Live," "Battle at the Barricade," "The West End Connection," "Les Misérables on Location," "The Stars of Les Misérables," Creating the Perfect Paris," and "The Original Masterwork: Victor Hugo's Les Misérables;" DVD, and UltraViolet digital copy for streaming/downloading, iTunes digital copy. Studio: Universal.
Zero Dark Thirty
Built around "first-hand accounts of actual events," Zero Dark Thirty chronicles the decade-long hunt for al-Qaeda terrorist leader Osama bin Laden following the 9/11 terrorist attacks. In the process the political thriller reveals the cloak-and-dagger-and-dunking techniques the U.S. used to bring about his death at the hands of the Navy SEAL Team 6 on May, 2011.
Director Katherine Bigelow's follow-up to her Oscar-winning The Hurt Locker, Maya (Jessica Chastain) follows a CIA operative recruited out of high school, who's participating in her first interrogation alongside her colleague Dan (Jason Clarke), a hardened operative expert well-studied in the ways of information extraction. The prisoner, Ammar (Reda Kateb), is put under constant pressure by being subjected to near-starvation and extreme thirst, crushed-up in naked confinement in a tiny wooden box, water boarding, and - worst of all - being forced to listen to incredibly loud Heavy Metal music without any Quaaludes.
Over the course of the process he inadvertently mentions the name Abu Ahmed al-Kuwaiti, a man once suspected of having served as a courier between high value persons of interest and bin Laden himself. Though an interesting tidbit, the name doesn't seem all that relevant since the courier is probably dead. But Maya - instinctive, stubborn, and driven - refuses to completely give up on the lead, despite the dismissive reactions of the Islamabad CIA Station Chief, Joseph Bradley (Kyle Chandler). And the deeper she digs, the more she digs in, becoming single-mindedly and obsessively convinced that the courier is the key to tracking down the man she's been hunting since September 11, 2001.
In its graphic depiction of torture and supposed suggestion that it was from this that the essential information was unearthed that would lead to the raid on the bin Laden compound, Zero Dark Thirty created a lot of controversy. Is it condoning the use of such methods, perhaps suggesting that the ends justify the means? Or are the filmmakers merely anchoring the horrific acts of torture that did occur within the context of the terrors of the 9/11 attacks? Maybe just presenting the reasons for the ruthless, driven behavior of those wishing to bring the perpetrators to justice? The great thing is that Bigelow and screenwriter Mark Boal present the situation that actually went on - in all its moral complexity. Ultimately it leaves the audience to decide for itself while getting on with delivering a tense thriller with a great action-packed last-act.
Zero Dark Thirty earned five Oscar nominations - for Best Picture, Actress (Chastain), Film Editing, Sound Editing, and Original Screenplay - winning for Best Sound Editing (Paul N.J. Ottosson).
Video: 1.85:1. Audio: DTS-HD Master Audio 5.1, Dolby Digital 2.0. Extras: "No Small Feat," "The Compound," "Geared Up" and "Targeting Jessica Chastain" featurettes; DVD, and UltraViolet digital copy for streaming/downloading. Studio: Sony.
Badlands
In Badlands (1973) a 25-year-old garbage collector (Martin Sheen) and his impressionable 15-year-old girlfriend (Sissy Spacek) kill her disapproving father (Warren Oates) and take to the road on a trail of homicidal destruction across the 1950s Midwestern United States. In the hands of first-time director Terrence Malick this familiar story of boy meets girl meets gat - previously tackled by Nicholas Ray in They Live by Night and Arthur Penn in Bonnie and Clyde, and later by Robert Altman in Thieves Like Us and Oliver Stone in Natural Born Killers - took on a more dreamlike, impressionistic quality in its enigmatic approach to narrative and character.
The strange, almost surreally unglamorous illogicality to the murders is observed rather than condemned or even commented upon. It just is what it is and the camera takes it all in. This poetic approach to investigating America's violence amongst the natural beauty of its landscapes would eventually find echoes in the director's Days of Heaven, The Thin Red Line, and The New World as did the unconventional editing and voice-over techniques, but here it announced the arrival of a cinematic artist and a major new talent.
Badlands is loosely based on the infamous Charles Starkweather and Caril Ann Fugate teenage-romance two-month killing spree of the late 1950s across Nebraska and Wyoming.
The Blu-ray features a 4K digital restoration transfer and an uncompressed monaural soundtrack.
Video: 1.85:1. Audio: LPCM Mono. Extras: "Making Badlands" new 42-minute documentary featuring interviews with Sheen and Spacek and production designer Jack Fisk, video interviews with producer Edward Pressman, associate editor Billy Weber, "Charles Starkweather" 1993 episode of the American Justice television series which focuses on Starkweather and Fugat, illustrated booklet featuring an essay by filmmaker Michael Almereyda. Studio: The Criterion Collection.
Rust and Bone
Killer whale trainer Stephanie (Marion Cotillard) meets nightclub bouncer Alain (Matthias Schoenaerts) late one night during a fracas in which she's injured.
Based on a short story collection by Craig Davidson and directed by Jacques Audiard (Read My Lips, A Prophet, The Beat That Skipped My Heart), Rust and Bone (De rouille et d'os) is an offbeat romantic drama set in Belgium that takes a startling twist to your regular love story when Stephanie suffers a horrible whale-training accident. . . .
Anyway, it brings the two together, he wishing to be a kick boxer, she wishing she still had legs, and gradually they help build each other's confidence, to the point where he begins to fight and she gets artificial limbs, each beginning to discover their own particular redemption.
Video: 2.40:1. Audio: French DTS-HD Master Audio 5.1. Extras: commentary by Audiard and co-writer Thomas Bidegain, six deleted scenes with commentary
"Making Rust and Bone: A Film by Antonin Peretjatko," "VFX Breakdown by Mikros," and "On the Red Carpet: Toronto International Film Festival" featurettes. Studio: Sony.

The Life and Death of Colonel Blimp
Widely revered as perhaps the finest and certainly one of the most beautiful, brilliant, and endearing British films of all time, The Life and Death of Colonel Blimp (1943), written, produced and directed by the team of Michael Powell and Emeric Pressburger (The Red Shoes, Stairway to Heaven, Black Narcissus) is a one-of-a-kind delight, a Technicolor masterpiece that will endure and be beloved throughout the ages.
The film revolves around the evolving friendship between Clive Wynne-Candy (Roger Livesey) and Theodore Kretschmar-Schuldorff (Anton Walbrook), patriotic officers both, who come together over the course of their adult lives from 1902 – 1942, as seen through a series of flashbacks from the perspective of old war-horse Candy as he looks back on the people and experiences that have shaped his life and beliefs.
The two first meet by fighting a dual together - one that Candy, on leave from fighting in the Boer War, has gotten himself into whilst defending Britain's honor, Theo being chosen to represent the Imperial German Army which Candy has inadvertently insulted. The two, on seriously wounding one another and spending their convalescence in the same hospital, become fast friends, looked after by English teacher Edith Hunter (Deborah Kerr) whom they both admire. Theo confesses to having fallen in love with Edith and that they are engaged and Candy congratulates him, only, on returning to England, to realize that he, too, is in love with her but has missed his chance.
In WWI Candy's ideas of chivalry are beginning to be called into question through the bloody, mechanized warfare, the slaughter on both sides, and the new ruthlessness it brings. In France Candy meets a nurse named Barbara (Deborah Kerr) - a much younger woman who looks an awful lot like Edith did -whom he falls in love with and later marries. But when Candy tracks down Theo in a prison camp, his old friend ignores him, bitter at Germany's defeat and humiliating subjugation and the new imbalance in their relationship. It is just such an imbalance that leads to Theo's post-war powerlessness and his country's political and financial instability that slowly moves Germany towards Nazism.
In the second half of the film Candy's dealing with the changes that are reshaping his own country between the world wars further challenge his principles. When the battle for survival finally begins his belief in the rules of warfare is shown to be completely anachronistic when it comes to dealing with Hitler.
Churchill is said to have been infuriated by the film and tried to stop its production, supposedly because it would give a new lease of life to the Blimp conception of the British Army officer, but possibly also because of its sympathetic presentation of a German officer and the film's overly honest, forthright, and realistic appraisal that Britain must be as dishonorable and ruthless as the Nazis in order to defeat them.
The Life and Death of Colonel Blimp was shot by cinematographer Georges Perinal (The Blood of a Poet, Le Million, The Fallen Idol), who had won an Oscar for his work on Powell and Pressburger's The Thief of Bagdad, and the soundtrack was composed by Allan Gray (The African Queen, Stairway to Heaven, "I Know Where I'm Going!").
The new 4K digital master is from the 2012 Film Foundation restoration and is accompanied by an uncompressed monaural soundtrack and extras that include a commentary by Powell and Martin Scorsese.
Video: 1.37:1. Audio: LPCM Mono. Extras: 14-minute introduction by Martin Scorsese, 1998 commentary by Powell and Scorsese, "A Profile of The Life and Death of Colonel Blimp" 24-minute featurettes, restoration demonstration with Scorsese on the new 4K restoration with comparison clips, "Optimism and Sheer Will" featurettes, production stills gallery, "David Low's Colonel Blimp" on how caricaturist and illustrator Low created the cartoon character, illustrated booklet featuring an essay by critic Molly Haskell. Studio: The Criterion Collection.
LATEST VIDEO