This Week in Movies & TV, April 9, 2013: Leaders & Other Lunatics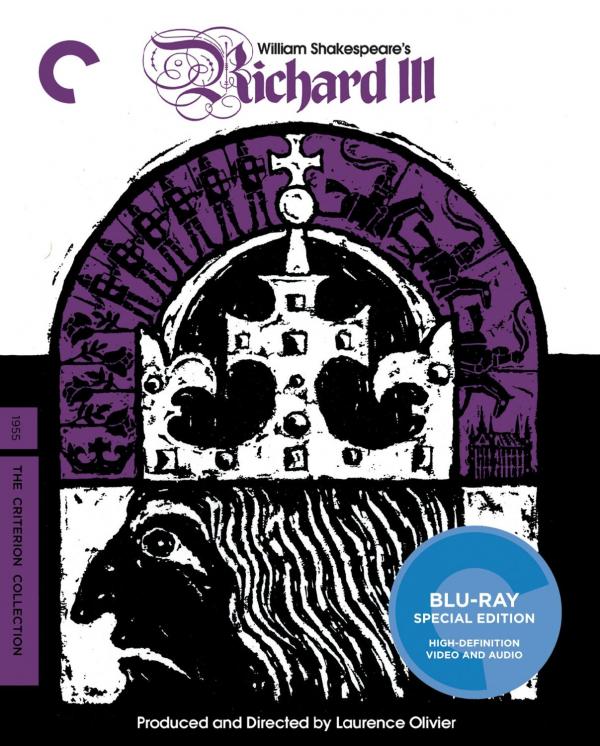 Richard III
I'm no bard or balladeer, but I'd like to sing the praises of this Blu-ray (not to bury it). At its opening, telling of the historical situation near the end of the War of the Roses - fought between the two rival branches of the royal House of Plantagenet, the house of Lancaster heraldically symbolized by the red rose and York by the white rose - Richard III (1955) evokes gasps at the unsullied beauty of the colors used in illustration of the noble words inscribed upon unscrolling parchment.
Just as fair are its images, looking as if birthed just hours ago, not 58 summers passed. With no picture pierced by rushing ages, nor scratched by claws of jealous Time, nor losing bloom through passing of youth like the wilting petals of the House of York that writer Shakespeare did set his story in, telling of a treachery, of a cunning, manipulative king that would be, seeking to steal the English crown from his brother Edward IV (Cedric Hardwicke).
The transfer - from a new 161-minute high-definition digital master made using the Film Foundation and Janus Films' 2012 restoration from the original VistaVision negative - is most sumptuously pleasing.
Glorious, truly, is its Technicolor - some of the best mine eye hath laid upon since The Adventures of Robin Hood, the royal reds, blues, greens, and yellows in solid blocks of each fellow's velvet outfit a range of vibrant primaries. Skin tones are sometimes a bit undifferentiated and pink or brown in the odd dim shot, but otherwise all's well, with a wide range of tones including subtle shades like the pale purple mourning weeds of Lady Anne (Claire Bloom). Blacks, such as her collar and that of Richard, Duke of Gloucester (Laurence Olivier), are inky. Despite the richness of the colors, patterns are distinct and there's no bleeding.
Plentiful detail throughout reveals texture to monks' rough woolen robes, dents, and roughness to plastered walls, and ornate decoration of carved trestles and griffin sculptures off in the background of deep-focus, in-depth compositions. Such well-defined shots also allow director-producer Olivier to put his Richard in the foreground spying through a mid-ground window on the victims of his intrigues outside, all sharp and distinct. There's no excessive grain at all, just enough to maintain the film-like look.
The lossless 1-channel mono soundtrack is clear and full, the music of fifes and drums or chanting monks all distinct, solid, and bassy. There's a slight hiss in places but not enough to distract from the Bard's immortal words. Olivier expresses each of those words as if 'twere natural, modern speech, making each line completely understandable. It's all crisp and clear whether a whispered aside to the audience or a rousing cry. Other actors sometimes play to the gods, but for the most part it's a very unstagey, cinematic presentation, Olivier using visual language well, with layers of characters joined within the shot to communicate meaning.
Richard III is the third of Olivier's trilogy of Shakespeare adaptations and arguably the best. Other players in the brilliant cast include Ralph Richardson, John Gielgud, Stanley Baker, and Laurence Naismith.
Video: 1.85:1. Audio: LPCM Mono. Extras: commentary by playwright and stage director Russell Lees and former governor of the Royal Shakespeare Company John Wilders, interview with Olivier from a 1966 episode of the BBC series Great Acting hosted by theater critic Kenneth Tynan, gallery of behind-the-scenes and production stills and posters accompanied by excerpts from Olivier's autobiography, 12-minute television trailer featuring footage of Olivier, producer Alexander Korda, and other cast and crew from the film, booklet featuring an essay by film critic Amy Taubin. Studio: The Criterion Collection.
Naked Lunch
Mixing elements of William S. Burroughs' novel with incidents from the Beat writer's personal life, this loose 1992 adaptation by director David Cronenberg of the hallucinatory, stream of conscious fantasy Naked Lunch manages to be both pure Burroughs and pure Cronenberg, mingling the themes and obsession of both artists.
The film is situated mainly in the head of Bill Lee (Peter Weller), an unsuccessful writer and successful drug addict whom, working as an exterminator, develops a habit for intravenously injecting his roach-killing bug powder. After accidentally shooting his wife Joan (Judy Davis) - a fellow addict who turned him on to the bug powder - in the head with a gun, Bill, on the advice of his typewrite, who occasionally turns into a large talking bug, he travels to the bizarre Interzone, a land of freedom where you can live as you see fit and attempt to make sense of your existence.
However, this Islamic port town he lives in, as an on-the-run ex-patriot, is also a sinister place where he becomes involved in a secret government plot by giant talking bugs who demand his loyalty. The subconscious world of dreams, drug inspired fantasies, and the creative process are all explored and run rampant through this extraordinary work that mixes humor, metaphor, and madness to create a unique work of cinema.
The high-definition digital transfer was approved by Cronenberg and extras include a commentary by him and Weller, readings from the novel by Burroughs, and photos of him by Allen Ginsberg.
Video: 1.78:1. Audio: DTS-HD Master Audio 2.0 Surround. Extras: commentary by Cronenberg and Weller, "Naked Making Lunch" 1992 television documentary by Chris Rodley, special effects gallery of artwork and photos alongside an essay by Cinefex magazine editor Jody Duncan, collection of original marketing materials, audio recording of Burroughs reading from Naked Lunch, gallery of photos taken by poet Allen Ginsberg of Burroughs, booklet featuring reprinted pieces by film critic Janet Maslin, director Chris Rodley, critic and novelist Gary Indiana, and Burroughs. Studio: The Criterion Collection.
The Dick Van Dyke Show: Season 1
Following the 2012 complete-collection Blu-ray release of the much beloved TV show that ran from October 3, 1961 until June 1, 1966 - a set that was highly acclaimed by die-hard fans - Image Entertainment is now releasing the series one season at a time, allowing the more casual viewer the chance to get to know (and maybe gradually get addicted) to the classic antics of comedy writer Rob Petrie (Dick Van Dyke) and his wife, Laura (Mary Tyler Moore). This 3-disc set contains all 30 episodes from the first season (1961–1962), each digitally remastered to its original full-length version. Considered among the top TV comedies of all-time and winner of 15 Emmy Awards, this groundbreaking sitcom series was renowned for the quality of its writing and acting. In "The Sick Boy and the Sitter," "My Blonde-Haired Brunette," "I Am My Brother's Keeper," "The Sleeping Brother," and other memorable episodes that aired on CBS, Rob and Laura celebrate and struggle with the ups and downs of their life at home together and Rob trades jokes with his cooky co-writers on the comedy/variety show while Laura deals with her wacky neighbors.
The Dick Van Dyke Show was created by Carl Reiner, based on his experiences as a writer with Sid Caesar and Imogena Coca on Your Show of Shows. This set includes commentaries by Reiner and Van Dyke and interviews with them, the directors, and the cast.
Video: 1.33:1. Audio: DTS-HD Master Audio Mono. Extras: commentaries on episodes 19 and 29 by Reiner and Van Dyke, "Head of the Family" original series pilot episode, interviews with cast and directors, Emmy Award telecast clips honoring the series, original commercials with the cast and network promos, photo galleries for episodes 1–6, 10–12, 21 and 23–30. Studio: Image Entertainment.
Boss: Season 2
Boss, the political drama TV series created by Farhad Safinia, follows the career of Mayor of Chicago, Tom Kane (Kelsey Grammer), who has recently been diagnosed with a degenerative brain disease. After almost losing his career and family in Season 1, Mayor Kane's maintains his control of Chicago with an iron fist in an iron glove, dominating friends and foe alike and handling his hidden debilitating neurological disorder with massive doses of medications - at a cost of intense side effects, such as dementia delusions. But he's willing to do anything to protect his ruthless rule.
Kane must battle those political enemies without the aid and support of longtime advisors Kitty O'Neil (Kathleen Robertson) and Ezra Stone (Martin Donovan), and his protégé Ben Zajac (Jeff Hephner), now replaced with new aides Mona Fredricks (Sanaa Lathan) and Ian Todd (Jonathan Groff).
Because of her husband's circumstances - medical and otherwise - Kane's marriage-of-convenience wife Meredith (Connie Nielsen) is concerned about preserving her own power. And daughter, Emma (Hannah Ware) - their non-love child - must fight to control her own demons.
Grammer won a Golden Globe for his performance in Season 1. The 2-disc set contains all 10 episodes of Season 2 of the Starz Original series that come with 7.1-channel soundtracks.
Video: 1.78:1. Audio: DTS-HD Master Audio 7.1. Extras: commentaries with cast and crew on select episodes, "The King and His Court: Treacherous Ensemble" featurette. Studio: Lionsgate.
Gate of Hell
Japanese director Teinosuke Kinugasa's 1953 epic, the visually sumptuous Gate of Hell (Jigokumon), tells of an imperial samurai warrior who falls in love with the woman he rescues only to discover that she's already married.
The tale, based on a play by Kan Kikuchi, is set in the 12th-century when an Emperor's last stronghold is about to fall to rebels. Since the father and sister of the Emperor will be forced to leave, decoys are used to distract the rebels - beautiful lady-in-waiting Lady Kesa (Machiko Kyõ), pretending to be the Emperor's sister, and warrior Moritoh Enda (Kazuo Hasegawa), acting as her protector. When their carriage is attacked they manage to escape and he takes her to his family home. But his brother, Moritada (Kunitaro Sawamura) has joined the rebels and when Moritoh refuses to join, too, they fight, and while they do, Lady Kesa flees once more.
Eventually, after the last of the rebels are finally defeated by Lord Kiyomori (Koreya Senda), he decides to reward his loyal warrior for his brave services. As his prize Morito asks Lord Kiyomori to arrange a marriage with Lady Kesa, who is now a lady-in-waiting at court, but Lord Kiyomori reveals that Lady Kesa is already married to Lord Watanabe Wataru (Isao Yamagata), head of the Imperial Guards. Despite this revelation, Morito is convinced that they were meant to be together and attempts to win Lady Kesa's love, in the process letting his obsession and unrequited passion set in motion a series of tragic events.
Shot on Eastmancolor stock, Gate of Hell, with its lush, strikingly beautiful colors that look like a series of paintings, was hailed as an early triumph of Japanese color cinematography and was the first Japanese color film to be released outside Japan.It won the Grand Prix Prize at the Cannes Film Festival and Oscars for Best Foreign-Language Film and Best Costume Design (Sanzo Wada). Gate of Hell comes in new high-definition digital restoration with uncompressed monaural soundtrack.
Video: 1.37:1. Audio: Japanese LPCM Mono. Extras: booklet featuring an essay by film historian Stephen Prince. Studio: The Criterion Collection.
Hyde Park on Hudson
On the first ever visit of a reigning British monarch to America, new King George VI (Samuel West) and Queen Elizabeth (Olivia Colman) travel to a country estate in Hyde Park in upstate New York of 1939 for a weekend with President Franklin Delano Roosevelt (Bill Murray) on a mission to gain his support for Britain in the imminent war with Germany.
This bio-rom-com-dram is based on the diaries and private journals of FDR's mistress, his distant (sixth) cousin Margaret "Daisy" Suckley (Laura Linney) (discovered under her bed after her death) and the events are told from her perspective and through her voiceover. Daisy is often called to the 32nd President of the United States' home to offer sexual distraction from political problems and the stammering King Bertie (who we recently came across in The King's Speech) and his wife must deal with this and other affairs - domestic and international - that the paralyzed FDR and wife Eleanor (Olivia Williams) are involved in.
Hyde Park on Hudson was directed by Roger Michell (Notting Hill, Changing Lanes, Venus) based on a screenplay by American playwright Richard Nelson and co-stars Olivia Williams, Samuel West, and Elizabeth Marvel. Murray's performance received a Golden Globe Award nomination for Best Actor in a Motion Picture – Musical or Comedy.
Video: 2.40:1. Audio: DTS-HD Master Audio 5.1. Extras: commentary by director/producer Roger Michell and Producer Kevin Loader, "A Look Inside Hyde Park on Hudson" and "First Days" featurettes, deleted scenes; DVD, digital copy, and UltraViolet digital copy for streaming/downloading. Studio: Universal.
LATEST VIDEO