This Week in Movies & TV, April 16, 2013: Gore Issues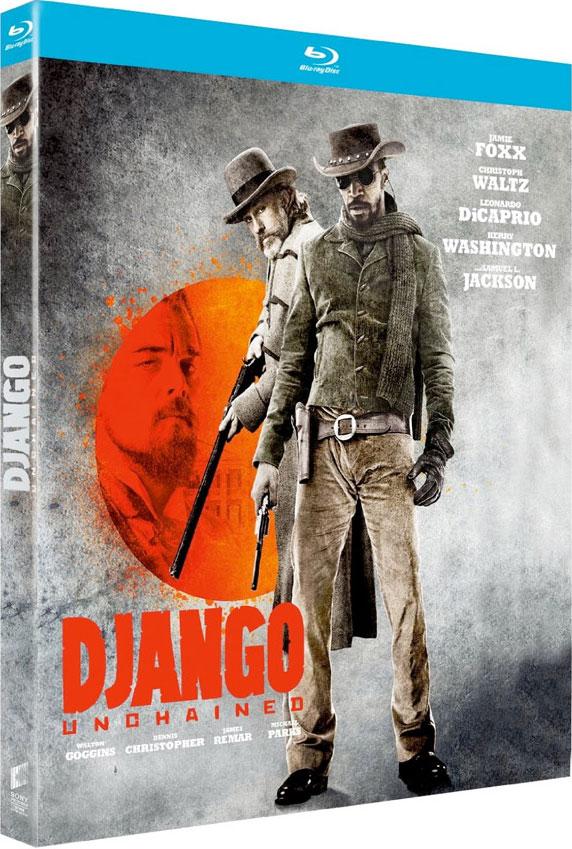 Django Unchained
Set in the South in 1858, two years before the Civil War, writer-director Quentin Tarantino's Spaghetti-sauced Western (or more accurately Southern) Django Unchained tells of Django (Jamie Foxx), a slave bought and freed by a German-born bounty hunter, Dr. King Schultz (Christoph Waltz), in return for helping him track and kill the murderous Brittle brothers. After a series of adventures together seeking Southern killers and rustlers, the two set out to rescue Django's wife, Broomhilda (Kerry Washington), from the infamously brutal Calvin Candie (Leonardo DiCaprio), a tyrannical Mississippi plantation owner supported by his devious but loyal house slave, Stephen (a memorable Samuel L. Jackson). Along the way you get to see every brutality, butchering, and outrageous atrocity that any man can think to inflict on another man in the name of free trade and slavery.
Image quality is a very mixed bag. The picture is frequently overexposed and faded, partially to evoke the hot, bright South but also in emulation of a bad print of a 1970s movie screened at a midnight show. Flashbacks are even more exaggerated, to the point of monotones. Colors in such scenes are reduced to pale greens, browns, corns, greys, and off-whites. Detail is also reduced by the burnout, tabletops being all glare and the picture rather flat. At other times contrast is a lot better with rich colors, like the tasty amber of beer and the scarlet of Django's outfit and laughable quantities of blood exploding from bodies that would have made Sam Peckinpah applaud. Then blacks, such as the sheriff's jacket, are deep and the whites of Django's cravat, Steven's shirt, and that cotton are bright. In such images coats and woolen collars have texture and weave, patterns in vests intricacy and detail is good enough to read names on wanted posters and make out wood grain and individual hairs in beards.
Music - sometimes taken from the 1960s and '70s Spaghetti Westerns such as the theme by Luis Bacalov from the 1966 film Django - initially stays in the front channels. The surrounds at this point are used for highly convincing atmospherics such as birds on the plantation or bells, dog barks, and children's cries in the towns. Nonetheless, it and the dialogue are clear, full, and open, with subtle effects like a chiming clock very distinct. Eclectic tracks composed specifically for the film - including "100 Black Coffins" by Rick Ross and produced by and featuring Jamie Foxx, "Who Did That To You?" by John Legend, "Ancora Qui" by Ennio Morricone and Elsa, and "Freedom" by Anthony Hamilton and Elayna Boynton - fare a lot better with full use of all channels, instruments well separated, as when bassy drum and guitar are up front and snare and vocals play in the surrounds, the final shootout music immersing you completely in choirs, trumpets, and slow-beating drums.
Explosions could sound deeper, but the debris showers down upon you convincingly and plentiful LFE slam in elsewhere. There's thunderous whiplashing as Django takes revenge on the man who lashed his wife, pounding of horses' hooves as the embryonic KKK assemble, and floorboard-shaking drumming on one Spaghetti song. Booming shots issue from long-range rifles and pistol shots snap sharply. Voices are well placed and wagons and slow, spurred walks panned accurately.
Django Unchained co-stars Bruce Dern, Don Johnson (having fun as the bigger-than-life Big Daddy), Franco Nero, James Russo, James Remar, Walton Goggins, and Tarantino. It was nominated for five Oscars, including Best Picture, Original Screenplay, Supporting Actor, Cinematography and Sound Editing, winning for Best Original Screenplay and Supporting Actor (Waltz).
Video: 2.40:1. Audio: DTS-HD Master Audio 5.1. Extras: "Remembering J. Michael Riva: The Production Design of Django Unchained," "Reimagining the Spaghetti Western: The Horses and Stunts of Django Unchained," and "The Costume Designs of Sharen Davis" featurettes, Tarantino XX Blu-ray collection promo, Django Unchained soundtrack promo; DVD, iTunes digital copy, and UltraViolet digital copy for streaming/downloading. Studio: Starz/Anchor Bay.
Major Dundee
In the brutal Civil War era classic Western, Major Dundee (1965), by legendary writer-director Bloody Sam Peckinpah (The Wild Bunch, Straw Dogs, Pat Garrett and Billy the Kid, Bring Me the Head of Alfredo Garcia), an Ahab-like obsessively ambitious Union officer leads a rag-tag cavalry expedition into Mexico to hunt down murderous Apaches.
Initially, Major Amos Dundee (Charlton Heston) is stuck in charge of a prisoner-of-war camp in the New Mexico Territory as a punishment for his over-zealousness in the Civil War. But, hearing that a band of Apaches headed up by war chief Sierra Charriba (Michael Pate) have massacred a family of ranchers and a relief column of cavalry, Dundee sees his chance to find fame and glory by raising his own private army and illegally leading them into Mexico to hunt down the murderers. The barely obedient squad is made up of Confederate prisoners led by Captain Tyreen (Richard Harris) - an old West Point pal and Rebel adversary - criminals, Indian scouts, ex-slaves, and a grizzled, one-armed scout (James Coburn having great fun).
Along the way they battle the Apaches who, in an ambush, take their supplies, forcing Dundee's outfit to raid a village occupied by French troops loyal to Emperor Maximilian. Tragically, it turns out to the villagers have less food than they, but then there is the hot rebel widow, Teresa Santiago (Senta Berger), whose whiles supply Dundee and Tyreen with another unnecessary reason to spar.
Now Dundee has to battle the French, the Apaches, Tyreen, and his own demons while holding together his wild bunch long enough to track and trap his original prey.
Major Dundee was written by Harry Julian Fink and the cast includes Slim Pickens, Jim Hutton, Michael Anderson Jr., and regular members of Peckinpah's stock company such as Warren Oates, Ben Johnson, R.G. Armstrong, and L.Q. Jones.
This two Blu-ray set has the 2005 Extended Cut on Disc 1 - a 136-minute version unearthed from Sony Pictures' archives given a new musical score by Christopher Caliendo - as well as the Theatrical Cut on Disc 2, with extras on both discs.
Video: 2.35:1. Audio: DTS-HD Master Audio 5.1 (extended cut), DTS-HD Master Audio 1.0 (theatrical cut). Extras: isolated Christopher Caliendo music track from the extended cut and isolated Daniele Amfitheatriof music track from the theatrical cut, commentary by film historians Nick Redman, Paul Seydor, Garner Simmons, and David Weddle, silent extended outtakes, trailer artwork outtakes, exhibitor promo reel excerpt, "Major Dundee and Teresa" extended scene, "Knife Fight" incomplete deleted scene. Studio: Twilight Time.
Repo Man
In this 1984 cult sci-fi comedy feature debut from British writer-director Alex Cox (Sid & Nancy, Straight to Hell, Walker), Bud (Harry Dean Stanton), a seasoned, cynical repo man in rundown downtown Los Angeles, hires and takes under his wing purposeless, attitudinal, drifter Otto Maddox (Emilio Estevez) and teaches him the ropes of repossession of automobiles. At the same time Bud gives a brutally honest education on existence, modern life, and the banality of their money-grubbing society under nuclear-arms-racing Cold-Warring Ronald Reagan.
After a stint wandering the streets broke, the young rebellious punk rocker - raised by pot-smoking, middle-class, televangelist, ex-hippy parents - finds the demeaning, unrewarding job of stealing back cars highly rewarding, exciting, and engaging, loving the intense adventures involving incensed vehicle owners, car chases, the CIA, and, of course, space-aliens.
At the heart of this nonsensical, independent, low-budget film is a 1964 Chevy Malibu - last seen in Roswell, New Mexico - that government agents are searching for. Since the feds are offering $20,000 reward for it, the repo men set about tracking down and reclaiming the car but, unfortunately, the Rodriguez brothers (Del Zamora and Eddie Velez), local, brutal repo-nators, have the same idea.
Repo Man has a terrific early-eighties L.A. punk soundtrack that includes now-classic numbers by Iggy Pop, Black Flag, Suicidal Tendencies, The Circle Jerks, The Plugz, Burning Sensations, Fear, and The Plugz' version of "Secret Agent Man" ("Hombre Secreto").
This new high-definition digital restoration is approved by Cox.
Video: 1.78:1. Audio: LPCM Mono. Extras: censored version of the film prepared for TV by Cox, commentary by Cox, executive producer Michael Nesmith, casting director Victoria Thomas, and actors Sy Richardson, Zander Schloss, and Del Zamora, interviews with Cox, Richardson, and Zamora, producers Peter McCarthy and Jonathan Wacks, actors Olivia Barash, Dick Rude, Miguel Sandoval, and Stanton, musicians Keith Morris and Iggy, and Sam Cohen (inventor of the neutron bomb), deleted scenes, 68-page booklet featuring an essay by critic Sam McPheeters, illustrated production history by Cox with his original comic and film proposal, and a 1987 interview with real-life repo man Mark Lewis. Studio: The Criterion Collection.
Small Apartments
Based on the novella by Chris Millis (who wrote the screenplay), Small Apartments is an indie comedy directed by Jonas Åkerlund (one-time drummer for the Swedish black metal band Bathory, director of the acclaimed music video of "Smack My Bitch Up" by The Prodigy, and winner of a Best Music Video Grammy for "Ray of Light" by Madonna). It tells of Franklin Franklin (Matt Lucas), a hairless deadbeat obsessed with Switzerland, a man so clumsy he accidentally kills his landlord, Mr. Olivetti (Peter Stormare). Now he's faced with the challenge of getting rid of the body that's lying on his kitchen floor, despite all the interruptions by fellow seedy LA apartment complex eccentrics including stoner Tommy Balls (Johnny Knoxville) and his girlfriend (Rebel Wilson), testy, aging artist Mr. Allspice (James Caan), and young wanna-be stripper Simone (Juno Temple) from across the way who Franklin sometimes watches through binoculars. Finally, Franklin takes the body back to Olivetti's house and tries to make it look like a suicide, even setting fire to the corpse.
Fortunately, Franklin's brother Bernard (James Marsden), who had been living in a mental hospital, has died of a brain tumor leaving behind an envelope holding a key to a locker containing a recorded message. That message reveals . . . that Bernard had stolen a fortune and has left it for Franklin in a Swiss bank account along with a fake passport for Franklin. Meanwhile, Burt Walnut (Billy Crystal), a drunken fire investigator looking into Mr. Olivetti's death, is questioning tenants about Olivetti - and he's closing in on Franklin.
Small Apartments co-stars Dolph Lundgren, Rosie Perez, and Amanda Plummer.
Video: 1.77:1. Audio: DTS-HD Master Audio 5.1. Extras: "How To Build A Gravity Bong" and "Small Apartments: Behind The Scenes" featurettes. Studio: Sony.
Spies of Warsaw
Based on the book by historical spy novelist Alan Furst (adapted by Dick Clement and Ian La Frenais), Spies of Warsaw is a two-part, 180 minute BBC mini-series drama directed by Coky Giedroyc and set in Poland, Paris and Berlin in the years just before World War II.
In 1937, a new aristocratic attaché at the French embassy in Warsaw, Colonel Jean-Francois Mercier (David Tennant aka Doctor Who) - while attending diplomatic salons, banquets, and balls - is soon involved in the city's demimonde and dark alleys of intrigue and espionage.
While having a passionate love affair with Anna Szarbek (Janet Montgomery) - a Parisian lawyer for the League of Nations of Polish heritage whom he meets on a train - and conducting a little life-endangering undercover intel gathering through a small network of agents, Mercier comes across a colorful cast of characters who are struggling in the shadows to compete for influence and control over the future of Poland, now threatened by both Joseph Stalin to the east and Adolf Hitler to the West.
Video: 1.78:1. Audio: DTS-HD 2.0. Extras: "David Tennant on Spies of Warsaw" featurette; UltraViolet digital copy for streaming/downloading. Studio: BBC.
LATEST VIDEO