We Bought a Zoo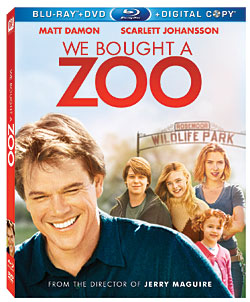 Mee begins looking for a new home and finds a charming two-story house in the country with just one problem—it includes a condemned zoo with a stipulation from the former owner that the animals must be taken care of by the purchaser. When Rosie's eyes light up at the sight of the animals, Mee decides to buy the place and reopen the zoo to the public. Knowing nothing about how to run a zoo, the Mee family must rely on an eclectic group of passionate zookeepers to refurbish the property in order to pass a government inspection and open to the public before their savings account runs dry.
The film is based on the true story of Benjamin Mee, who faced similar circumstances when he refurbished and reopened the Dartmoor Zoological Park in Devon, England. Director Cameron Crowe captures the pain of the family and how this challenge helped rebuild their confidence and help them heal.
New releases generally look outstanding on Blu-ray, and the video encode on this disc is picture perfect. Detail is impeccable, especially in clothing and the animals' fur. Black levels are deep and inky and the color palette is full of lush green grass and pretty blue skies. The audio track features intelligible dialogue; impressive surround ambience with wind, rain, and thunder; and as usual with a Crowe film, a pretty impressive soundtrack.
Supplements include an audio commentary, deleted and extended scenes, a thorough making-of documentary, a closer look at the score, a gag real, a photo gallery, and a theatrical trailer. Rounding things out is an excellent look at the real Mee as he discusses his real-life challenge of reopening a zoo.
Sadly, I've had two very close friends experience the loss of a spouse, and this movie hit me emotionally. Crowe handles the situation with class. This film receives my highest recommendation.
Blu-Ray
Studio: 20th Century Fox, 2011
Aspect Ratio: 1.85:1
Audio Format: DTS-HD Master Audio 5.1
Length: 124 mins.
MPAA Rating: PG
Director: Cameron Crowe
Starring: Matt Damon, Scarlett Johansson, Thomas Haden Church
Losing your spouse has to be one of the most heart-wrenching experiences anyone could ever face. Throw in a couple of young kids who must also cope with the loss, and the surviving parent is in store for a very rough ride. When we meet Benjamin Mee, it's been six months since his wife passed. His two kids, 14-year-old Dylan and 7-year-old Rosie, are trying to adjust but aren't faring well. The widowed dad is reminded of his wife wherever he goes in town, and Dylan gets expelled from school due to his unique art and a theft problem. It's definitely time for a change of scenery.
LATEST VIDEO