On The Waterfront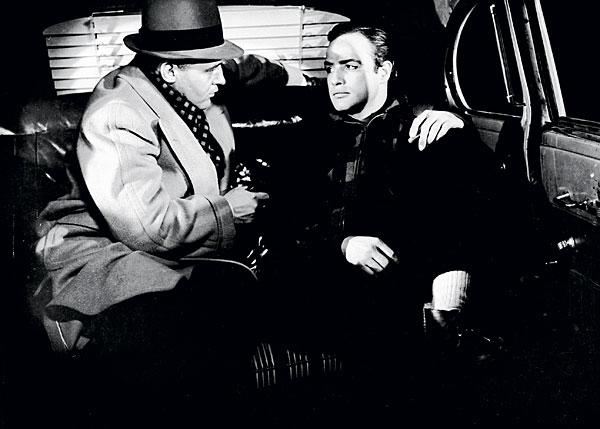 But first, a bit about Brando. Watch him play Terry Doyle, the conscience-struck dockworker who informs on his Mob overlords, and you'll see where every rebel actor through the decades since—Nicholson, De Niro, Cage, Penn, Pacino—learned the stuff, and the remarkable thing is that Brando remains peerless. This is an electrifying performance, which decades of imitations and parodies have done nothing to diminish. All the actors in the film—Steiger, Karl Malden, Lee J. Cobb, and the heart-swooning Eva Marie Saint in her first film role—came out of New York method schools, and they're all strong. The dialogue by Budd Schulberg, who spent months getting to know real dockworkers in Hoboken, Red Hook, and Manhattan's West Side, reeks of authenticity. Eliza Kazan's direction is as natural and potent as his work would ever get. Boris Kaufman's cinematography, shot on location, is the sort of high art that never calls attention to itself.
Which takes us back to this glorious black-and-white transfer: crisp, clear, with a sense of depth, contrasts ranging from squinting mists to darkest shadows, and a fine film grain. (It's pristine but not too pristine.) The soundtrack, which includes a score by Leonard Bernstein that veers from brash to lush to mournful, can be heard in uncompressed mono or DTS 5.1. Both options are excellent.
The extras include documentaries about Kazan, the making of the film, the real-life story that inspired the script, how Bernstein composed the score, even why the film has been shown in three aspect ratios. (You can even watch all three. Disc 1 shows it in 1.66:1. Disc 2 has it in 1.85:1 and 1.33:1. Kaufman preferred 1.66; so do I.) They're all worthwhile. (The audio-commentary track, with two critics, is amiable but adds little.)
I can't praise this package too much. It's a touchstone model of what the Blu-ray medium can be.
Blu-Ray
Studio: Criterion Collection, 1954
Aspect Ratio: 1.66:1
Audio Format: Uncompressed mono
Length: 108 mins.
MPAA Rating: Unrated
Director: Eliza Kazan
Starring: Marlon Brando, Eva Marie Saint, Karl Malden
All of you know the taxicab scene from On the Waterfront in which Marlon Brando tells Rod Steiger, "I coulda had class. I coulda been a contender. I coulda been somebody, instead of a bum, which is what I am. Let's face it." But I'd bet not many have recently seen the whole movie—and never have you seen it looking as breathtaking as it does on this Blu-ray Disc, a wondrous collaboration between Sony's 4K digital-restoration lab and the Criterion Collection's special-features team.