Vizio XVT3D580CM 3D LCD HDTV HT Labs Measures
HT Labs Measures
Full-On/Full-Off Contrast Ratio: 16,700:1
The 2D measurements were taken in the Movie picture mode (the 3D picture mode for 3D) through an HDMI input.
Starting with 2D, for the above result, the backlight was set to 38, the contrast to 42, the brightness to 52, and LED Smart Dimming was turned on. The measured 2D peak-white level was 33.4 foot-lamberts, and the black level was 0.002 ft-L. Turning off Smart Dimming increased the black level to 0.008 ft-L for a full-on/full-off contrast ratio of 4,171:1. With Smart Dimming on once again, and in the maximum backlight setting (100), the peak-white level was 71.9 ft-L, the black level 0.004, and the full-on/full-off contrast ratio 17,975:1.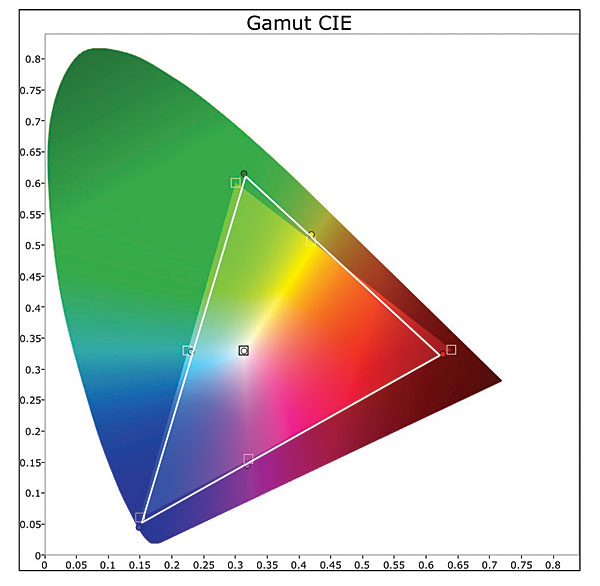 There is no gamma control. The fixed gamma averaged 2.14 but varied significantly: 2.57 at 20 percent, 2.34 at 30 percent, 2.01 at 60 percent, 1.8 at 80 percent, and 2.28 at 90 percent (higher gamma numbers indicate a darker image at that brightness point, lower gammas a lighter image). Recommendations for the optimum gamma vary some-what but generally range from 2.2 to 2.4. (The source can also influence the optimum playback gamma, though if properly mastered, it shouldn't.)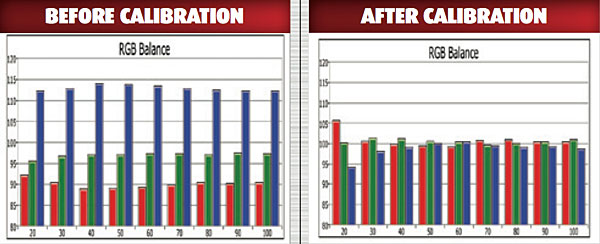 In the Custom color temperature setting, the average pre-calibration gray-scale Delta E was a mediocre 9.78 (maximum 15.1 at 100 percent brightness). Post-calibration, also in Custom, the average was dramatically better: an average of 0.89 (maximum 1.88 at 100 percent). (Delta E is a figure of merit indicating how close the color comes to the D65 HD standard at each point in the brightness range. Values below 3 are generally considered visually indistinguishable from ideal.) The post-calibration color gamut, with Color Enhancement off, had an average color Delta E of 4.95. Only the post-calibration CIE (color gamut) chart is shown here. The color points were slightly off but not dramatically so, and the color luminance values (not shown in the two-dimensional CIE chart) were off by a bit more, but the deviations were subtle, and the set's post-calibration color, overall, was hard to fault.

The 3D calibration charts are not shown here. Pre-calibration, the 3D Delta E in the Custom color temperature setting averaged 6.81 (maximum 9.32 at 100 percent). Post-calibration, it was 0.68 (maximum 1.79 at 100 percent). The post-calibration color Delta E averaged 3.3.—TJN
LATEST VIDEO