Vienna Acoustics Beethoven Baby Grand Speaker System Page 3
Performance Similar to the Big Beethovens
The Beethoven Baby Grand has a vivid, rich, and inviting tonal balance. Those were descriptors I used in my 2006 Beethoven Concert Grand review, and they are equally useful in describing the Baby Grand sound. "On top," I wrote in 2006, "the speaker was silky smooth, airy, open, and neither overly aggressive (unless pushed) nor frustratingly polite and soft. Bass extension—down to the 30-Hz area—was on the full, rich, supple side, but never sloppy or thick. The midrange was equally expressive and vivid, but not to where it was cloying or sounded like coloration. The speaker's rhythmic agility was well matched to its transient performance: not the fastest and cleanest, but pleasing and natural to the point where I felt the bestsounding recordings I own were worth a spin, while the shriller, less listenable ones became more pleasing."
Considering the generally crispy nature of most processed soundtracks, this balance seems to be ideal for watching movies, while also providing long-term listening pleasure with music. And, in fact, that was the case during the months the system was in my living room.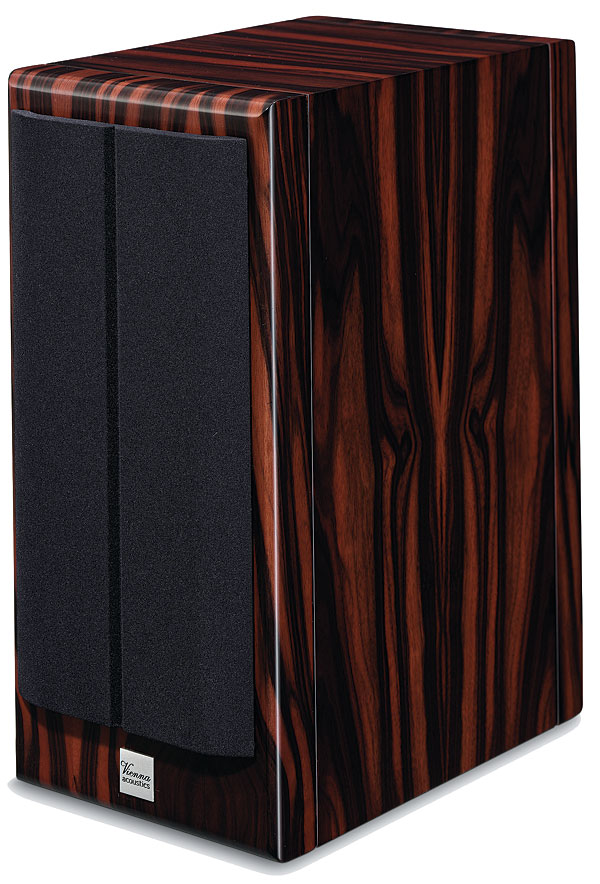 I used some of the same CDs and LPs (using an Ariston turntable and Shure M97xe into the Marantz AV7005's phono input). These included Shirley Horn's You Won't Forget Me CD and Johnny Hartman's Once in Every Life LP. Again, Hartman's deep baritone was reproduced cleanly without bloat, while the late Billy Taylor's piano lacked a bit of the percussive edge I know is on the recording.
I've heard and reviewed many Vienna Acoustics loudspeakers over the years, and these Beethoven Baby Grands strike me as having the best overall balance of any of them, though, as suggested above, they sound very similar to my distant memories of the bigger Beethoven Concert Grands. However, they seemed to produce less of a presence-region dip than I remember, although that characteristic is still there.
Of course the Baby Grands have neither the dynamic nor SPL capabilities of the big Klimts, nor do they go quite as low, but they come close enough for a fraction of the cost. And within their still impressive capabilities, they manage to get out of the way and let the music, effects, and dialogue float effortlessly and well focused within a tall, wide, and deep three-dimensional space.
Conclusion
$11,250 isn't exactly pocket change. On the other hand, that's not an excessive amount for fine furniture. Here you get beautifully finished furniture that sounds good, too. The $4,500-per-pair Beethoven Baby Grand looks good, is beautifully built, and has a series of sonic attributes that I find work well with both movies and music.
It has more oomph than a smaller two-way monitor, yet it doesn't take up more floor space. It goes deeper and produces a bigger soundstage. Its smooth tonal balance creates an unobtrusive, non-mechanical (though thoroughly involving) sonic picture. Set up correctly, you won't "see" these speakers while you listen.
The towers blend seamlessly with the Maestro center speaker, which, though compact, gave me the impression that it goes deep. The Haydn Grand SE surround speakers would probably make a great front pair in a more modest system. As surrounds, they're probably overkill for film content. But on surround music, they really sing and blend seamlessly with the front speakers to produce a notably transparent 3D bubble.
The new Principal Grand subwoofer goes effortlessly down into the subterranean region while maintaining musicality. It also packs a wallop. It's the opposite of those compact, small-driver fart boxes that you should only use when space truly is the final frontier.
Negatives? If the 2006 Stereophile measurements are a guide, the 91-dB efficiency spec is probably seriously overstated. The larger Beethovens measured about 88 dB, which is considerably lower. So don't waste your money on these speakers unless you're prepared to drive them with powerful, high-quality amplification. I also found the word new overused in the publicity literature. All of the driver, crossover network, and other technologies that the brochures describe, they also described as new in 2006 when I reviewed the Concert Grands.
And, of course, there are those for whom the Baby Grand's smooth, forgiving character—largely the result of that aforementioned presence-region dip—would seem to deviate too far from flat. That's the Vienna Acoustics sonic signature. They're not "accurate" in the classic, technical sense. But they are musical, and if you can spend the money for a meticulously built, superbly engineered surround sound system that strives for both phyical and sonic beauty (though perhaps sacrificing tonal linearity in the process), the Vienna Acoustics Beethoven Baby Grand system should be on your short list. It could mean the end of a long wait for a physically substantial 5.1-channel speaker system in your living room.