Vienna Acoustics Beethoven Baby Grand Speaker System Page 2
In the high-performance twochannel audio world, $4,500 per pair for near full-frequency-response performance in such an attractive and well-built package is considered a bargain, assuming the sonic performance lives up to the physical plant's promise. In fact, the slightly larger Beethovens I reviewed in HT's May 2006 issue (only 2 inches taller and 7 pounds heavier) sold then for $4,500.
Maestro Grand Center and Haydn Grand Symphony Edition Surround
The matching Maestro Grand center-channel speaker, though modestly sized, houses a pair of 6-inch X3P Spidercone drivers in a front-firing dual-port bass-reflex configuration. There's an offset 1-inch silk-dome tweeter that features a triple-stack neodymium magnet assembly, which is mounted within an iris-shaped mounting block that's designed to reduce resonance.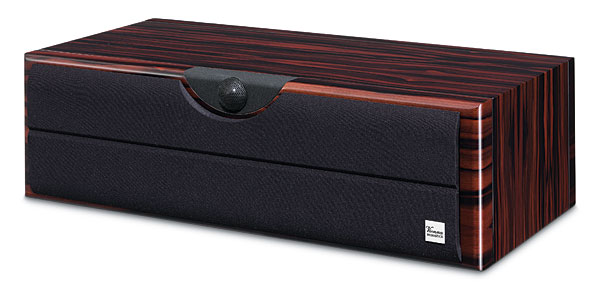 The Maestro shares crossover and other technology with the Beethoven Baby Grand tower, as does the Haydn Grand Symphony Edition. The Haydn resembles an upright Maestro minus one woofer, and with the front port intriguingly placed behind the well-isolated tweeter. This is a refined, third-generation version of a speaker Vienna Acoustics has manufactured since 1995.
Principal Grand Subwoofer
Working with Scan-Speak, Vienna created a new 12-inch proprietary pulp-paper carbon-filled cone driver for its new bottom-ported Principal Grand subwoofer. It's designed to "add the last octave of bass reinforcement," powered by a "conservatively rated" 300-watt amplifier, the specs and design details of which Vienna does not offer. The relatively modestly sized box is finished with the same care and attention to detail as other Vienna Acoustics speakers. There are line- and speaker-level inputs and variable crossover and gain settings, as well as a phase switch.
System setup was relatively quick and easy since Patrick Butler of Vienna's new American distribution company has set up many speaker systems in my room while he represented the brand with another distributor. This system should be relatively easy to set up even in an unfamiliar room. All channels were driven full range, including the Haydns, while the Principal's line-level input handled only the LFE channel. Butler aimed the Beethoven Baby Grands at my listening position with the tweeters on axis.
After the setup was complete, we watched some concert footage. It quickly became obvious that this system is a real smoothie, but it also has a nicely extended and airy top end, free of grain and unpleasant etch. The Vienna team left satisfied that my big Parasound Halo A 51 amp would get the most from the speakers.
Modestly Sized Package Produces Squeals
The first movie I watched was the war/family drama Brothers with Tobey Maguire, Jake Gyllenhaal, and Natalie Portman. The first cut between the domestic scenes that set up the film and the war action produced an enormous SPL jump, depth-charge bass, and a cavernous sense of open space. Despite its relatively modest size, the Beethoven system produced the full-throttle transition from the family living room to the Afghan skies where Maguire's helicopter gets shot down and crashes. The Vienna system reproduced the compression/rarefaction effects of the helicopter blades with a physicality that only a system capable of moving a great deal of air in the listening room can produce.
Indeed, with your eyes closed, you'd know you weren't listening to five mini-satellites, but you would probably suspect that a much larger front array had manipulated such a large volume of air and produced such a tall and wide soundstage. The system's absence of etch and grain contributed to the highly desired sensation of speakers MIA, replaced by a seamless wall of sound with well defined but not overly sharp images. Given the combined four 6-inch midrange drivers in the Maestro and the Haydns and the four woofers and two midrange drivers in the Beethovens, plus the 12-inch subwoofer, it shouldn't come as any surprise that this modestly sized system can effortlessly give the impression of a larger system. Vienna packs a lot of drivers into relatively small boxes and, more important, does so without producing bass congestion and excessive bottom-end warmth.
Aided by a capable subwoofer, this system produced high SPLs without strain. In fact, it seems to be better in this regard than the Concert Grand version, which, when cranked up to concert-hall levels, could become dynamically compressed and lose its smooth composure.