URC Looks to take Total Control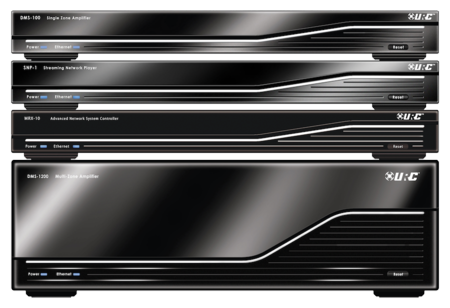 Friday the 13th is nothing to fear this month as remote control giant URC releases the first wave of its new Total Control platform of housewide automation, control, and audio distribution components today. Google's Android@Home announcement may have gotten more press this week, but as Brent Butterworth wrote earlier this week, the veterans are still very much in the custom installation game.
Earlier this week, URC invited several journalists out to its Harrison, NY headquarters and unveiled plans to get out of the living room and into the rest of the home. "It's time to think outside of a single room," Russ Hoffman, URC's education and content development manager said, "and outside of just A/V into controlling lights, drapes, thermostat, cameras and security."
As company founder and CEO Chang K. Park commented, "I thought that someday control would be a forethought, not an afterthought. I think that someday is now."
One of the goals of the new Total Control platform is to make it easy for installers to program, yet advanced enough to offer customization. With connected devices becoming more and more commonplace, and the industry leading towards IP controlled devices, the entire Total Control system will be "native to the network." Because many homes have already been prewired with Cat5 cabling, URC hopes that Total Control will be an easy retrofit solution as well.
The heart of the system will be the new MRX-10 master controller ($699), the main processor that will store all of the programming logic and codes to run the entire home. The "intelligence" has been taken out of the remote and placed into the processor. The MRX-10 has many connections and can control components via infrared, RS-232 serial, IP, relays, and contact closure, and can also use sensors to trigger events based on power state. The system can be expanded by adding additional MRX-1 networked base stations ($399) to control remotely located gear. The TRC-780 ($299) RF remote will be available at launch, providing full two-way feedback of the status of the home's sub-systems, with the sexier, TRC-1280 ($899) WiFi touchscreen model being available later in the year. Also on tap are in-wall keypad and touchscreen controllers. We were also shown a screenshot of Total Control running on an iPad, indicating that a application will be forthcoming.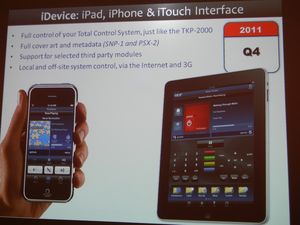 To ensure network reliability, and to eliminate crashes and buffering of the uncompressed audio streams, URC is introducing the MFSPOE-8, an 8-port managed switch with power-over-Ethernet for system connections. This should greatly help in troubleshooting as URC's techs will know exactly which network components are involved. Also, with traffic optimized for audio, URC claims no latency – delay – between audio listening zones, and that was certainly the case in the demo we were given.
Because the controller "lives" on the network, another welcome addition to the new line is the ability to remotely access the system to make programming tweaks and fixes. This is a win-win for both customer and installer as it will save truck rolls and system downtime, and allow for quicker turnaround, instead of forcing installers to fit service calls into already busy schedules.
Also new from URC is a full line of housewide audio distribution components, including the DMS-1200 ($2199) a 50-watt x 12 multi-zone amp, and the DMS-100 ($599) a single-zone, 50-watt x 2 model. A new source in the line-up is the SNP-1, a streaming network player. The SNP-1 will take advantage of all manner of streaming content – SiriusXM, vTuner, Rhapsody, Pandora, Internet radio – as well as music stored on a local area network. The system is expandable up to 32 audio listening zones. URC claims they put a great amount of care into designing the amplifiers, looking to not just create another "me too!" digital amplifier but focusing on a design that would deliver the highest level of audio performance.