Unknown (Blu-ray)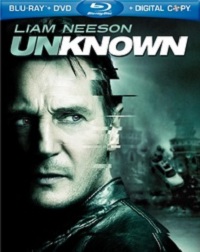 Arriving in Berlin for a technology conference, Dr. Martin Harris (Liam Neeson) must make a mad dash back to the airport in order to find his left-behind briefcase that contains some valuable information and his passport. In his haste, he leaves his wife (January Jones) at the hotel check-in and doesn't tell her where he's headed. After a horrific accident, he awakens in a hospital four days later and is troubled to learn that no one has come looking for him. He tracks down his wife at the conference and discovers that she doesn't recognize him, and another man (Aidan Quinn) has assumed his identity. Is he going mad?
With his starring role in Taken, Neeson showed he had the chops to handle the action genre and he delivers another solid performance here. The pacing is fantastic and the story keeps you on the edge of your seat until the tidy and disappointing ending.
Video Highlights

AVC/1080p encode on a BD-50 disc
Excellent detail
Cool color palette with a bluish tinge
Revealing flesh tones
Inky blacks
Audio Highlights

DTS-HD MA 5.1 soundtrack
Engaging track
Solid LFE, especially during the action scenes
Intelligible dialog
Warner delivers an excellent presentation in both the audio and video departments. The video sports solid detail, revealing shadows, and some great exterior shots of Berlin. The audio track starts out subdued but really packs a punch when Harris is trying to piece his life back together.
Bonus Materials

This is a solid action thriller with a great premise. The ending is rather weak and some of the acting isn't that great, especially January Jones, but if you're in the mood for the genre be sure to give it a look.
Release Date: June 21, 2011
Studio: Warner
Movie: 6/10
Picture: 9/10
Sound: 9/10

Review System
Source
Oppo BDP-93 Blu-ray player

Display
JVC DLA-RS1 projector
Stewart FireHawk screen (76.5" wide, 16:9)
Electronics
Integra DTC-80.2 pre/pro
Anthem PVA-7 power amplifier
Belkin PVA-PF60 power conditioner
Speakers
M&K S-150s (L, C, R)
M&K SS-150s (LS, RS, SBL, SBR)
SVS PC-Ultra subwoofer
Cables
Monoprice HDMI cables (source to pre/pro)
Best Deal analog-audio cables
PureLink HDC Fiber Optic HDMI Cable System (15 meters) from pre/pro to projector

Acoustical treatments from GIK Acoustics
LATEST VIDEO