Universal Remote Roundup
A home theaterphile's guide to universal remotes.
Most audio/video buffs would agree that the most frustrating thing about having a home theater is the loss of coffee-table space. Magazines have been replaced by numerous remotes to control receivers, televisions, DVRs, DVD players, even air conditioners. On occasion, one of these remotes might be able to control multiple components, but it's rare that a single remote will be compatible with every component in your system. Hence the market for universal remotes. We've all seen them, either on the racks at electronics stores for $30 or reviewed here, retailing in the neighborhood of $700. However, many of us are hesitant to spend more on a remote than on a DVD player. But don't panic. Those $30 remotes may be just the thing you and your coffee table are looking for. Some of them are easy enough to use that any non-buffs in your household won't have to go back to school for their electrical-engineering degrees.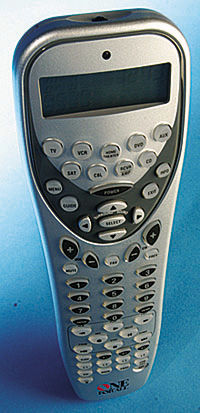 One For All URC 8910, $35
Starting off, the One For All URC 8910 can control eight components, and it includes some nice features. If you add a new piece of equipment to your system, you can access upgrade codes over the phone. So, unlike most computers, the URC 8910 won't go out of date in six months. The URC 8910 also remembers your personalized settings when the batteries run out, and it's those personalized settings that make this remote interesting. In the Home Theater mode, you can operate specific functions on different components without having to use the remote to switch between them. For example, all of the playback controls can handle the DVD player, while the audio controls adjust the receiver, and the channel controls alter the television. This will help keep family members sane, as will the Commercial Skip button. Once you program and enable this feature, you'll be able to switch to another channel while a commercial is on, and the remote will change the channel back after a designated time period. With these functions and the ability to upgrade, this remote packs quite a punch for its price.
Highlights
• Commercials disappear at the touch of a button
• Priced to get you into the game
At A Glance: One For All URC 8910 Universal remote Control
Features
RF or IR: IR
Other connection types: None
Learning or Preprogrammed: Both
Buttons reassignable: Yes
Number of devices controlled: 8
Number of macros: 3
Backlighting: Yes
Batteries: 4 AAA, not included
Dimensions (H x W x D, inches): 9.13 x 2.63 x 2.19
Weight (ounces): 8 (without batteries)
Price: $35
Ratings: One For all urc 8910 universal remote control
Build Quality: 89
• Sturdy, plastic casing
• Firm button response
Value: 93
• You get plenty of bang for your buck
Features: 92
• Never miss the return of your show while checking the football score during a commercial
Performance: 89
• LCD shows which code is being used
• Limited memory for programming buttons
Ergonomics: 88
• Display can be difficult to read unless you look straight at it
Overall Rating: 90
This is a solid starter remote for someone who does not want to delve deep into the remote world.
General Information
URC 8910 Universal Remote Control, $35
One For All
www.ofausa.com
Dealer Locator Code ONE
RadioShack Kameleon 6-in-1, $60
RadioShack's Kameleon remote, measuring only 0.69 inches deep, brings a sleek, futuristic look to this group. The entire front of the remote lights up when you touch it. Unlike conventional LCD touchscreens, though, the Kameleon has hard buttons below the face that give tactile and aural confirmation for the finger and ear. Conveniently, the remote only illuminates the controls for the selected component. Like the One For All, you can upgrade this remote with current codes over the phone to keep it up to date. It also has a volume-lock feature that allows you to assign the volume control to one device no matter which mode the remote is in. While the backlit display is attractive and could become conversation fodder at your next dinner party, it is very sensitive and sometimes lights up seemingly on its own. Nonetheless, the Kameleon combines the smooth looks of an LCD display with the sensitivity of hard buttons.
Highlights
• Futuristic, mesmerizing backlit display
• Super-sleek, lightweight design
At A Glance: RadioShack Kameleon 6-in-1 Universal Remote Control
Ratings: RadioShack Kameleon 6-in-1 Universal Remote Control
Build Quality: 91
• Aluminum case gives it a different feel from other remotes
• Screwdriver required to access the battery compartment
Value: 92
• Over-the-phone upgrading keeps the remote on your coffee table for more years
Features: 89
• No more switching between components to change the volume
Performance: 90
• Can be difficult to differentiate between buttons without looking at the screen
Ergonomics: 94
• Ultra-thin feel takes some getting used to but is worth it
• Beautiful, bright display
Overall Rating: 91
The Kameleon is slightly limited in the features department, with most of the money going to the stylish look.
General Information
Kameleon 6-in-1 Universal Remote Control, $60
RadioShack
(800) 442-7221
www.radioshack.com
Dealer Locator Code RSK