True Blood: The Complete Third Season (Blu-ray)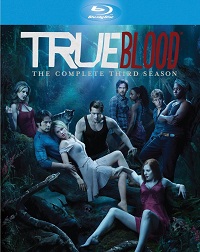 Season three finds Bill (Stephan Moyer) kidnapped and Sookie Anna Paquin) heading to Mississippi to find him. There she becomes entangled in a world ruled by a powerful Vampire King and the werewolves who do his bidding. Meanwhile, back in Bon Temps, new threats emerge that make previous problems seem tame by comparison.
Am I the only guy that's sick of vampires? I've never been a huge fan of this series but have stuck with it for the sake of our readers, but I'm not sure I can handle another season of it. Sure, through its 12 episodes there is the occasional winner, but overall it's an up-and-down affair and isn't one of HBO's greatest hits.
Video Highlights

AVC/1080p encode on a BD-50 discs
Bold color saturation, especially red and green
Excellent detail
Inky blacks and revealing shadows
Audio Highlights

DTS-HD MA 5.1 soundtrack
Intelligible dialog
Impressive score featuring crisp dynamics
Creative sound design with ample discrete effects
Like the previous two seasons, the presentation is outstanding with plenty of detail, inky blacks, and bold colors. The audio track is the best part of the show and features crisp dynamics and a plethora of discrete effects.
Bonus Materials

Enhanced Viewing Experience (PIP)
Audio Commentaries
Post Mortems on each episode
Character Perspectives
Anatomy of a Scene: Episode 2
True Blood Lines interactive guide
Previews and Recaps of each episode
Snoop Dog music video
If you're a fan of the show, you'll definitely want to add this to your collection due to the outstanding presentation. If you're as sick of vampires as I am, then this isn't the show for you. Recommended for fans only.
Release Date: May 31, 2011
Studio: HBO
Movie: 6/10
Picture: 9/10
Sound: 10/10

Review System
Source
Oppo BDP-93 Blu-ray player

Display
JVC DLA-RS40 projector
Stewart FireHawk screen (76.5" wide, 16:9)
Electronics
Integra DTC-80.2 pre/pro
Anthem PVA-7 power amplifier
Belkin PVA-PF60 power conditioner
Speakers
M&K S-150s (L, C, R)
M&K SS-150s (LS, RS, SBL, SBR)
SVS PC-Ultra subwoofer
Cables
Monoprice HDMI cables (source to pre/pro)
Best Deal analog-audio cables
PureLink HDC Fiber Optic HDMI Cable System (15 meters) from pre/pro to projector

Acoustical treatments from GIK Acoustics
LATEST VIDEO