Tracking Surround: AC/DC: Live at Donington, on Blu-ray Disc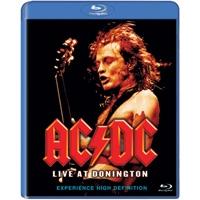 Live at Donington Columbia
---
Show •••• Picture •••½ Blu-ray Disc Mix •••• Extras •••
It's getting less likely that a surround mix of Back in Black will appear, but here's the next best thing.
Sure, the picture on this Blu-ray Disc is quite good for a theatrical film that was shot at a festival in 1991 - even if the image hasn't been totally restored, what with its occasional black lines running down the screen and its (ridiculously) still-present reel-change markings. And sure, even though the "Iso-cam" angle often isn't isolated on its subject, and even though Angus and Malcolm Young's concert commentary is really an after-the-viewing Q&A that stops at 30 minutes, the extras do include a discography commentary.
But still, the real star here is the uncompressed PCM 5.1 mix, with more layers and a greater sense of air than the Dolby Digital 5.1 of the DVD edition, yet with no loss in power. And that power comes from mixer Mike Fraser's decision not to render a huge outdoor field of ambience but to fire guitars from all corners. So, yes, you get "Back in Black," "Hell's Bells," and "You Shook Me All Night Long" plus the likes of "Highway to Hell," all with Malcolm in both left channels, Angus in both right ones, and you in hard-rock heaven. Or, as Angus says: "No room for the timid."
more Entertainment reviews Back to Homepage What's New on S&V
LATEST VIDEO